Christopher James Berman or "Boomer" as he is so often called is an American television sportscaster who rose to fame following his move to the sports network ESPN in 1979. Chris Berman was one of the more distinguishable voices to have ever worked for the cable network. He played a key role to build a legacy for his show SportsCenter and ESPN itself.
Berman joined ESPN as an anchor for SportsCenter and during his time with the network, he has hosted Sunday NFL Countdown, anchored Monday Night Countdown and commentated on NFL games. He then went on to make his name and was well known for his creative and often quirky catchphrases. Here we will look at the life of the famous sportscaster.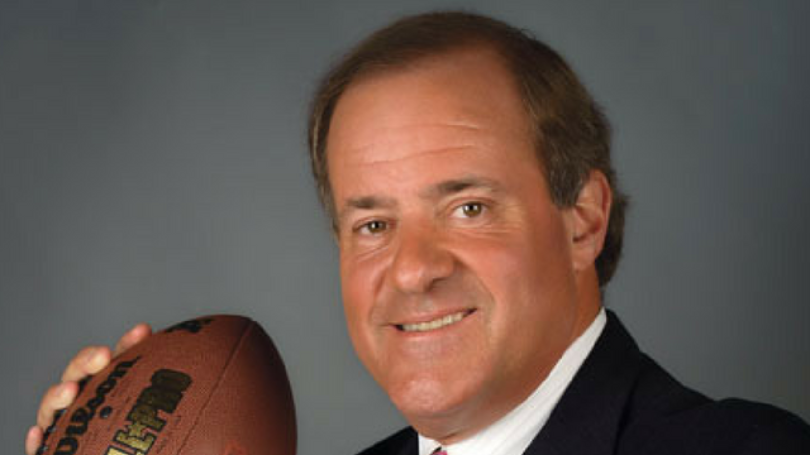 Caption: Berman posing with the football
Source: wymt.com
Chris Berman: Early Life, Education, and Career
Chris Berman was born on May 10, 1955, in Greenwich, Connecticut. He was raised in a Jewish family with parents Peggy Shevell, who worked as a reporter for the Time magazine and James Keliner Berman, a Corporate Executive Vise President. He went to Hackley School and completed his schooling in 1970. Berman graduated from Brown University in 1977 with a degree in History. While studying at Brown University, Berman had already started working as a commentator and a sports director for the school's radio station. After graduating Berman worked for different media platforms. One of them as a weekend sports anchor for a television station in Hartford which paid him only $23 a day.
In October 1979, a little known 24-year-old Berman was offered with a position of an anchor for a young but growing sports cable network ESPN. Berman started out serving as an anchor for SportsCenter for its 3 am an edition. Since then he has hosted, commentated on, anchored for countless shows for the network. Berman was on air for almost three decades. This made him one of the longest-tenured employees ever to have worked for ESPN. His unmistakable voice, work ethic, love for sports and versatile talent has helped him reach the heights. He was even named "National Sportscaster of the Year" by National Sportscasters and Sports Association, six times.

Caption: Berman with his late wife Kathy
Source: tmz.com
Chris Berman: Personal Life
In 1983, Berman got married to Katherine "Kathy" Alexinski and later became a father to two children, Meredith and Douglas. Though, his wife Kathy passed away on May 10, 2017, from a traffic collision in Woodbury.
Berman's career was not limited to just of a sportscaster. Whilst having been a major personality in American sporting network, he was involved in many different roles. He appeared in movies, comedy shows and music videos which goes on to show his versatility.
Chris Berman: Net Worth
Chris Berman was one of the major players that helped ESPN grow to what it is now. And as of 2018, he is believed to have a net worth of $20 million with a salary of $5 million. His job as an anchor, commentator and a host for ESPN was a major source for his financial wellbeing. He now lives in a mansion covering an area of 4,320 sq. ft.
With over three decades as a sportscaster, the 63-year-old took ESPN to a whole new level. He gave it a recognition with his own unorthodox style full of nicknames and catchphrases and a voice that never seems to get old.