Greta Van Fleet : know about the band members, age, date of birth, music, songs, albums and tours
Greta Van Fleet Songs and Albums
Greta Van Fleet is relatively a newly formed band in the field of rock and roll ( ESTD. 2012 ). Since they have started in music, they have released 2 albums. The band has released both their album in the year 2017 prior to which they used to do gigs and practice sessions.
The songs along with the album names from Greta Van Fleet  are listed below.
Black Smoke Rising(April 21, 2017)
Highway Tune
Safari Song
Black Smoke Rising
Flower Power
From the Fires(November 10, 2017)
Talk on The Street
Edge of Darkness
A Change is Gonna Come
Meet on the Ledge
When the Curtain Falls
Greta Van Fleet Band members, age and Date of birth.
Greta Van Fleet comprises of 4 band members 3 of them being brothers Josh Kiszka, Jake Kiszka, Sam Kiszka and their family friend Danny Wagner.
Josh Kiszka Vocals (22 years / April 23, 1996)
Jake Kiszka Guitar and Vocals  (22 years / April 23, 1996)
Sam Kiszka Bass and Keyboards (19 years / April 3, 1999)
Danny Wagner Drums (18 years / December 29, 1999)
Greta van fleet : Overview
"99% of what passes for rock & roll these days- silence is more compelling." If you have seen the movie "Almost Famous", chances are you remember this classic Lester Bangs quote. And you cannot help but worry for the future of rock and roll. According to the movie, it has now become an industry of cool with pretentious artists trying to make a name for themselves rather than create art. But in the recent years, we have seen a meteoric rise for some talented groups. Some have been creating or even recreating amazing music and one of them is Greta Van Fleet.
Caption: Kiszka brothers and Danny Wagner on a Photoshoot
Source: billboard.com
Greta Van Fleet is a rock band from Frankenmuth, Michigan. The band was founded in the year 2012 and since then have been dubbed as "The future of rock" or even the "Modern-day Led Zeppelin" by many. Let us now dwell deeper into the history of the band, their rise to stardom and their future.
Greta Van Fleet : The Start 
A band from rural Frankenmuth, Michigan with three family members and a friend, actually making it- sounds too good to be true. But in this case, it proved to be true for the Kiszka boys. The band was formed in 2012 with members Sam Kiszka who doubles on bass and keyboards, twin brothers Josh on vocals, Jake on guitar and the drummer Danny Wagner. These four did the unthinkable in mere four songs, channeling the existing and revolutionary music from the 60's, connecting generations of people apart.
The Kiszka boys were born and raised in a close family; within a small community of just under 5,000 people. Their father was a musician who  brought up their sons with impromptu jam sessions at family gatherings. The boys throughout the years have taken things that they have heard and shaped those influences into their own unique music styles.
Greta Van Fleet : The Journey
It is not common for music groups consisting of three brothers which included a set of twins. Surprisingly, it was the case with this group. The brothers still live together which makes the practice sessions easy for the group with Danny coming over to play.
The brothers have admitted about the difficulties of structuring a bad whilst siblings not having the same opinions on certain aspects of music. But they are a group with a passion for music and they have been able to communicate way better from the early years.
Caption: Greta Van Fleet for the Rolling Stone Magazine
Source: rollingstone.com
For new bands poised on the edge of glory, the success does not factor in without a price. The experience can be rewarding once the countless hours of practice translates into fame. This though demands more with meetings, layers, labels and interviews to promote the music. But the young boys from Michigan are very dedicated to the music and getting it out there. And in an interview with Scream Magazine, the high schoolers did admit about this being their full-time occupation.
Greta Van Fleet : The Fame
We did talk about the band representing 60's era of music. And this era was the one to set a path for rock and roll. With bands such as The Beatles, The Rolling Stones, The Who there was a lot for future generations to learn. And Greta Van Fleet did an amazing job utilizing the resources. While listening to the album, given an unmarked CD, the resemblance to that ever so lasting music of the Led Zeppelin is undeniable. The songs Highway Tune, Black Smoke Rising and Safari Song with that voice and the guitar riffs can be indistinguishable for many.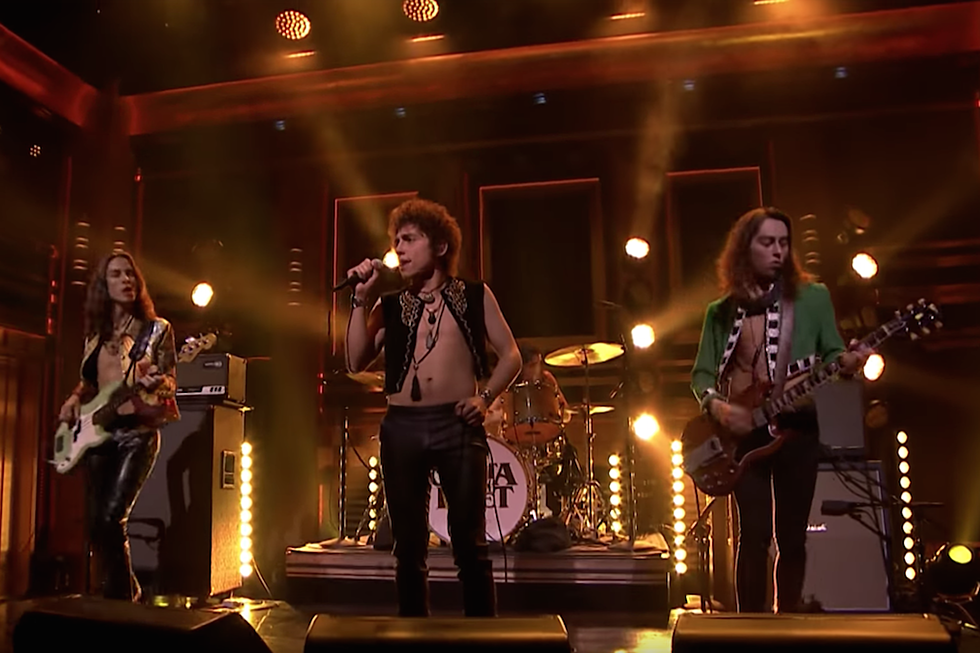 Caption: Greta Van Fleets TV Debut on The Tonight Show starring Jimmy Fallon
Source: loudwire.com
Sam Kiszka is aware of the resemblance but he and the band try to distance themselves from any comparison. This group is definitely inspired by and want to continue the legacy "Led Zeppelin" has left behind but they do not want to be associated as a cover band. Having said that, even Robert Plant, the Zeppelin vocalist when asked about up-and-coming bands ended up branding Greta Van Fleet as the new Led Zeppelin.
Greta Van Fleet : The Future
The band may be influenced by the music in the late 60's. But there is no denying, their approach for delivering music is all about today. Despite their young age, Greta Van Fleet has a ton of material in the can, ready to be exposed. They have already been on countless tours and have many exciting things lined up for the future.
The first few songs from the band were mind-blowing, to say the least. So, we can and should be excited about the future and we believe it is pretty safe to say rock and roll are under good, talented and promising hands.