Kellin Quinn is the talented rock singer who is particularly known for being the lead singer of rock band, 'Sleeping with Sirens'. Quinn has been part of this post-hardcore band since the year 2009 and has now come a long way since his humble beginnings. Kellin and his band have changed how rock is looked upon and given their own, new twist to it.
Quinn is an extremely talented artist with powerful vocals but besides that, he is more known for his songwriting and composing. He creates songs with meanings, which end up making a deeper impact on many people. Kellin is also a remarkable keyboardist, and the talented artist is one of the more sought-after names in the rock genre.

Caption: Kellin with his band.
Source: rocksound.tv
Kellin Quinn: Early Life, Education, and Career
Quinn was born on 24th April 1986 in Oregon, the United States to father Jesus and mother Mary Quinn. Kellin grew up in a considerably large family with two sisters and 2 brothers. However, his parents got divorced when he was just three years old. Because of this very reason, Quinn had a difficult childhood.
Kellin Quinn, from a very young age, was fascinated by music and used to play trumpet in school. He soon discovered the ability he had in music and decided to pursue a career in the very field. Later, Quinn joined the band Closer 2 Closer where he was singing in local pubs. During that period, he came together with some talented artists and formed his own band 'Sleeping with Sirens' where he was the lead vocalist. Other names in the band include Justin Hills, Jack Fowler, and Gabe Barham. The band 'Slepeing with Sirens' became an instant success and the members were touring all across the globe.
Kellin Quinn: Personal Life
Kellin Quinn is married to his longtime girlfriend Katelynne Quinn since April 2013. The couple got married in a small ceremony in Maui in the presence of their family and closest friends. His wife is a model who has worked for clothing line Anthem Made and has a famous blog, 'Youth Quaker', where she blogs about new fashion.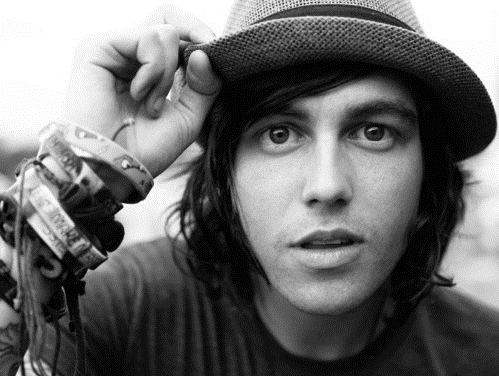 Caption: Kellin on a photoshoot.
Source: weheartit.com
Kellin and Katelynne dated for some years before getting married and now they have a daughter named Copeland Quinn Bostwick. Kellin also has 2 stepsons Rowan and Liam. The family seems to be living a joyous life together and we wish them a bright future.
Kellin Quinn: Net Worth
Kellin is a young man in his prime enjoying a luxurious life. His net worth is reported to be around $2 million. He makes the most of it from his music and partly with endorsements.
Quinn is also active on Instagram and has a massive fan following with over 1.7 million fans from all over the world. More information on his band is also available on southpawrock.com