Norman Kali is an American production assistant, actor and a director who is probably famous as the boyfriend of the beautiful actress Evangeline Lilly. Kali has had the joy of working with some of the biggest names in the industry alongside Peter Jackson in "The Hobbit: The Desolation of Smaug". However, he also has been working on smaller projects like "The Big Bounce", "Undercovers", etc.
Currently, Kali is a stay-at-home father who is very supportive of Lilly and her career. He also has been looking after their kids in her absence. Despite spending a lot of time with his family, Norman is an adventurous spirit who loves the outdoors, rock climbing and surfing. Let us now get to know more about this amazing man.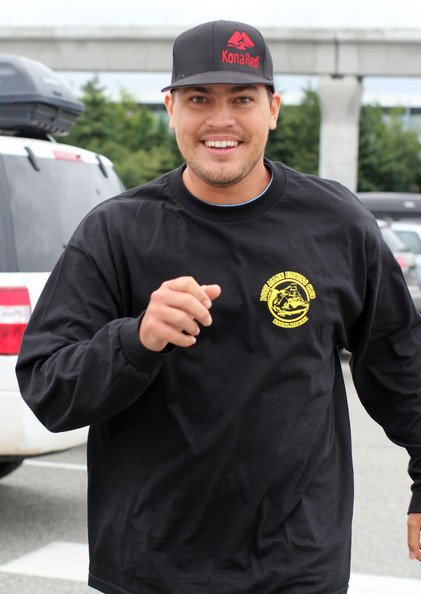 Caption: Kali on the streets.
Source: zimbio.com
Norman Kali: Early Life, Education, and Career
Norman Kali was born in 1978 in Hawaii, USA. Very little is known about his early life and that includes information regarding his siblings or his parents. Nevertheless, we have come to know that at the age of 16, he got dropped out of his school. He then moved on to Los Angeles with a dream of making it in Hollywood.
Caption: Norman Kali as Laketown spy on Hobbit: The Desolation of Smaug.
Source: vignette.wikia.nocookie.net
After moving to the capital of Hollywood, Norman began making his name working on various capacities on different TV shows and movies. He started out as a production assistant on TV shows like Lost and got similar jobs in movies like "50 First Dates" which starred Jackie Sandler's husband Adam Sandler. You may also be able to remember him from movies like "Special Delivery" and "The Prince of Motor City"; that is if you like looking at the end credits. More notably Kali was also behind the special effects for movies like "Tropic Thunder" and "The Hobbit: The Desolation of Smaug."
Norman Kali: Personal Life
Norman and Evangeline first met when Norman was working as a production assistant on the set of the TV show "Lost." The two soon fell in love and the Canadian actress later relocated to Hawaii to live with Kali. According to rumors, Lilly got pregnant in 2011 with Kali's child and then she put her career on a hold. On the 21st of May, 2011, she gave birth to a son, Kahekilli and four years later they gave birth to a daughter.
As of today, the couple is living in Hawaii together with two of their kids. Kali has been putting his career in a small hold to look after his kids. He fully supports his wife and in helping out with the kids he is making sure that she reaches the peak in Hollywood. As things stand, Norman and Evangeline do not seem any need to get married. They are in a loving relationship but we hope to see some announcements from these beautiful people soon.
Caption: Norman and Lilly with their child.
Sources: pinterest.com
Kali is also a very athletic man who is a fitness freak. He loves the outdoors and loves to swim, surf and climb rocks. He is also a man who likes to stay away from the unwanted attention of the media. Kali appreciates the simple side of life and we admire him for his life choices and wish him all the luck.