Owen Hart was a Canadian-American professional wrestler who was known by his ring name, "The Blue Blazer". Hart had an illustrious career in which he impressed crowds all over the world with his impressive technique and skills. Owen famously wrestled for the New Japan Pro Wrestling, World Wrestling Federation and the World Championship Wrestling, to name a few.
Owen's father was also a professional wrestler and he trained young Owen in the basement studio. Hart joined his father's professional team in 1986 and 1988 and then entered the World Wrestling Federation (WWF). Owen died on May 23, 1999, as he fell 90 feet during a pre-match publicity stunt. Let us now get to know more about his life and further, also read about Seth Rollins.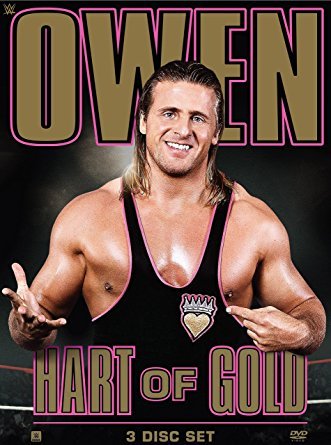 Caption: Cover of the "WWE: Owen Hart Documentary"
Source: amazon.com
Owen Hart: Early Life, Education, and Career
Owen Hart was born on May 7, 1966, in Alberta, Canada to the Hart wrestling family. Owen's father Stu, in his prime was also a professional wrestler and his mother Helen was a house maker. He grew up in a big family with 11 siblings and few of his brothers went on to wrestle like Owen himself. The Hart boys studied wrestling from an early age in a basement studio under the watchful eye of their talented father.
Caption: Owen with his father Stu and brother Bret
Source: sportskeeda.com
Owen wrestled at the amateur level and became a Canadian college champion. He then went on to make his professional debut in 1986 as a part of his father's Stampede Wrestling tour. He toured in Europe, Japan, Mexico, and Canada before finally entering the WWF in 1988.
"The Rocket" or "The Blue Blazer as he was so often called", Hart became a popular name in the WWF. He had a fierce but staged rivalry with one of his sibling and a 5-time WWF champion Bret. This "rivalry" attracted viewers and later they teamed up to form "The Hart Foundation" in 1993. Individually, Owen won the "King of the Ring" title in 1994 and the Intercontinental in 1997.
Owen Hart: Demise
Caption: Paramedics attempt to revive Owen Hart
Source: bbc.co.uk
In the early-1999s, Hart was considering a retirement from wrestling to spend more time with his family and wanted to give coaching a go. Owen had a son Oje and a daughter Athena with his wife Martha.
Owen passed away on 23rd of May, 1999 at Kansas City's Kemper Arena during a pre-match publicity stunt. The accident occurred in front of more than 16,000 fans, with most of them not realizing the extent of the damage. He fell from 90 feet when a release mechanism disengaged on a cable affixed to the ceiling from the safety vest he was wearing. He died of internal bleeding as his head hit one of wrestling ring's padded turnbuckles.
Owen Hart: Net Worth
Owen Hart before he died was believed to have a net worth of $14 million, although it is not quite certain due to his unfortunate demise. Hart did make a lot of money during his career, working with several wrestling foundations. He was an established athlete in the industry with a lot to offer, as a player or a trainer.