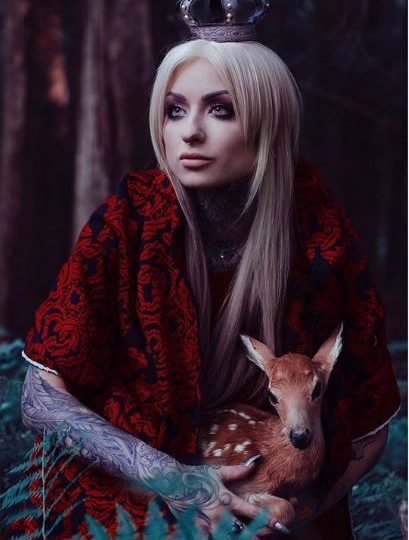 Ryan Ashley Net Worth, Personal Life, Career, Tattoos, Biography
Ryan Ashley is a Tattoo artist who has taken this artistry to a whole new level of brilliance full of creative sparks. Throughout the years, tattoos have been a way to express oneself. This is precisely what Ryan has been doing with her black and grey tattoos. She has inked her whole body in beautiful works of art and showcases her creativity with these body arts.
Ashley found fame after she participated in a reality TV tattoo competition show called "Ink Master: Angels". The show aired for the Paramount Network and is a spin-off of the original Ink Master competition. For the original show, Ashley was able to win the title in its 8th season. Let us now get to know more about the tattoo artist.
Ryan Ashley: Early Life and Education
Ryan Ashley Malarkey was born on the 29th of April in 1987. The artist from Pennsylvania grew up with a dream to pursue fashion designing. She was an artistic lady and had a passion for creating art. Ashley belongs to Caucasian ethnicity and is an American.
For her education, Ryan enrolled at the Fashion Institute of Technology. After studying fashion designing for a couple of years, she graduated in 2007 and was able to win the Critic's Choice award from her class. Right after graduating, Ashley was hired by a private clothing company. With them, Ryan worked as a fashion designer and an artist for a few years.
Ryan Ashley: Career
After graduating Ryan began changing her approach to art and began working as a tattoo artist. After deciding to pursue the field, Ryan moved back to her home in Pennsylvania where she took a role of an apprentice at a private tattoo studio. During her time at the studio, she was able to learn the basics and then began working on her own designs.
Likewise, after spending almost a year at the studio, Ryan was growing as an entrepreneur. She now owns her own private tattoo studio in her home state. She is also the co-owner of an e-commerce platform where she has been selling some strange merchandise like bath bombs and skulls.
Next, Ashley announced her participation in the 8th season of Ink Master Tattoo artist competition in 2016. She was able to win the competition and making her the first female to do so. Right after winning, Ashley starred on a spin-off show of the Ink Master and it was called Ink Masters: Angels.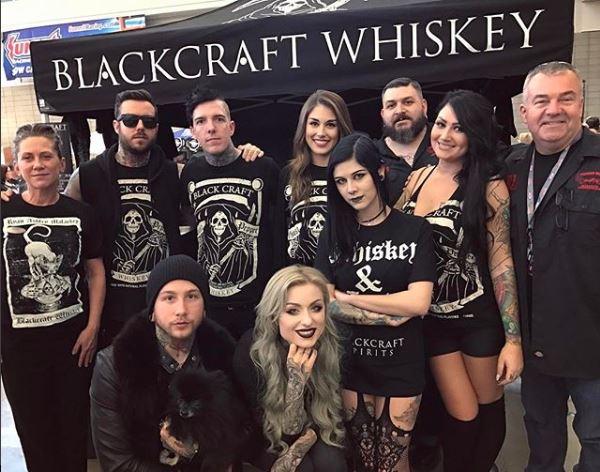 Caption: Ryan promoting BlackCraft Whiskey with her friends.
Source: instagram.com
On the spin-off, Ashley traveled all over the country and held tournaments and competitions in different cities. Moreover, they were in the hunt for new upcoming artists and Ryan continued this role for its second season too in March of 2018.
Ryan Ashley: Personal Life
As of today, Ryan is in a relationship with Josh Balz, who is a local keyboardist. After dating and being together for years, Ashley and Josh got engaged in 2016. Not much is known about their further plans but we wish them all the joy in their life.
Currently, Ryan and Josh are co-owners of a shop, 'The Strange & Unusual Oddities Parlor'. They seem to be living a blissful life in Black Mountain, Pensylvania with two amazing dogs, Toronto and Casper.
Ryan Ashley: Tattoos and Social Media
Caption: Ryan showcasing her inks.
Source: instagram.com
Ink goddess, creative genius, tattoo artist, call her what you want, Ashley throughout the years has done some of the most amazing work on her customers. However, it is on herself that Ryan has done some of the most beautiful work. Moreover, her tattoos carry symbolic meanings and are extremely diverse. Some of her famous tats are:
an owl
a fox
retro pocket watch
rat dressed as an Orthodox bishop
naked woman in jewelry.
Ryan Ashley is an active personality in social media platforms. She is famous on Instagram where she goes by the handle ryanashleymalarkey. On the platform, she has just over 946k followers and the numbers constantly keep rising.