Adam Richman is a multi-talented personality in the entertainment industry. He has worked as a musician, record producer, TV, and film producer. However, his most notable work was as a TV host for "food reality shows". Many of us dream of traveling around the world and try different cuisine. Adam is someone who did not just accomplish that feat but also feasted at free of cost.
The popular host of Man Vs Food explored big food dishes of different American cities. He underwent a variety of food eating challenges and usually, conquered the world of food. Let us now find out more about the eating sensation.
Caption: Adam Richman arrives at the Los Angeles Premiere 'A Million Ways To Die In The West'
Source: time.com
Adam Richman: Early Life, Education, and Career
Adam Richman was born on May 16, 1974, in Brooklyn, New York. The versatile host was born in a Jewish family and he spent the best half of his early days growing up in Sheepshead Bay. Richman completed his early schooling from the same area before joining Talmud Torah High School. Next, he got enrolled in Midwood High School and then Adam got his International Studies degree from the Emory University in Atlanta. Education was important to Adam and he again went on to study at the Yale School of Drama and obtained his master's degree.
Caption: Young Adam on his yearbook, 'Yale School of Drama, Class of 2003.'
Source: instagram.com
Richman started his career way back in 2004. He was chosen for the role of Butcher God in an episode of the show 'Joan of Arcadia'. He then went on to play for the show 'All My Children', where he played a small role of the character Andy. After 4 years of small roles and a lot of hard work he finally got his breakthrough. In the year 2008, he was selected as the host for the new show, 'Man vs Food'. It was the beginning of a successful journey for him and this helped him gain popularity all over the world.
Adam Richman: Adam vs Food
Adam's work for the new TV show 'Man vs Food' began on December 3, 2008. This reality show explored different cities and the food they offered. The show always ended with competitions at local restaurants where Adam had to face a huge pile of food. To win, Adam, 'the man' had should be able to complete a large quantity of food in a given time. The show saw Richman explore different cultures, make discoveries and promote several unique places to eat in America.
The show was a huge hit and a fan favorite. He did receive amazing reviews and got a lot of fan following but after 4 years on TV, Richman announced his retirement from competitive eating. It was a sad farewell but understandably, Adam wanted to pay better attention to his health. It was something he just couldn't do for work while having to travel and eat fried food for competition.
Adam Richman: Life after the Show
Adam was seeking a healthy lifestyle and weight loss when he decided to quit the show. He was depressed because of the fact that he had gained so much weight which led to self-esteem issues. However, after retiring he lost a bulk of weight which was mostly by reducing white flour and dairy. Apparently, Richman ate normal meals in small quantities and prioritized protein in his diet. He then followed it with a water therapy which saw him drink 3.7 liters of water daily. Richman exercised a lot and hired a personal trainer to train him on kickboxing, cross fit, weight training and yoga.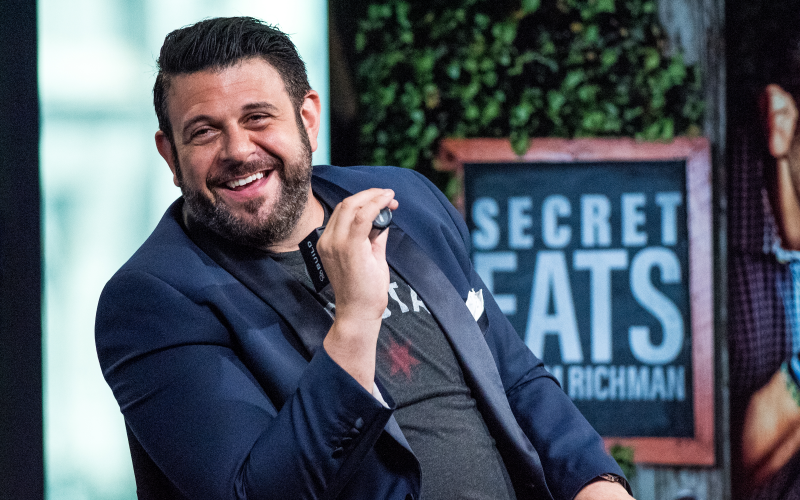 Caption: Richman on his show, 'Secret Eats with Adam Richman'
Source: yahoo.com
He had to endure a lot before and after quitting the show but he was a hard-working man. It all paid off when he lost 70 pounds and his story was motivational for many. Now looking at Richman, you cannot believe the transformation he has been able to go through and it is the true epitome of dedication.
Currently, Adam is not married and is a single man. There have been rumors about him dating American journalist Tamron Hall and even the British pop singer Myleene Klass. However, as it later turned out, these were just rumors without concrete evidence. Richman is now deservedly living a quiet life away from the eyes of the media.
Adam Richman: Net Worth
Adam Richman's story of success is quite remarkable. He is the sole proof that with a little creativity and an amazing personality, you can create money out of simple things. Richman was a self-trained foodie who loved to explore and eat and this combination turned into a lucrative career. He shared his passion for food to the world and inspired people to travel, explore and eat. Richman for each episode of Man vs Food earned a whopping $35000 and his net world is believed to be in the range of $10 million.
Richman is also active on several social media platforms; noticeably on Instagram and Twitter. He is followed by 650,000 fans on Twitter and 24,5000 fans on Twitter. We wish Adam an amazing future and have our fingers crossed to see him soon on TV again.