Annabelle Frances Wallis is a British actress popular for her roles in 'The Tudors', 'Annabelle', and the 'Mummy'. However, she has starred in several movies throughout her career.
Before any of the things happened, she did many short movies in Portugal before she moved to London. Later, she started going to auditions for commercials and dramas as well. She believes that if you put energy out, it'll surely come back. So, that is what she followed in life.
Who is Annabelle Wallis?
Annabelle Frances Wallis is an English actress born on September 5th, 1984, in Oxfordshire, England. However, she spent her childhood in Cascais, Portugal for around 17 years before moving to London. Some trusted sites believe that they emigrated from the UK when she was just 18-month-old baby.
Speaking of her education, she went to 'Saint Dominic's International School' in Sao Domingos de Rana. There's no information about her college and degree. However, some believe that she went to acting school before she decided to focus on a full-time acting career.
Moreover, she was brought up in a family full of actors which directed her more to be one. Also, Wallis is more of a secretive person when it comes to love life and all. She believes, when she loves a person, it means so much to her that she'd like to keep it safe with her. We'll talk about this more on her personal life section.
Annabelle Wallis' Career
Her first film project would be a 2005 Bollywood movie called 'Din Jo Bhi Kahey' as Sophie Besson/Savitri Pradhan. She was featured as one of the main characters alongside popular Bollywood actor 'Amitabh Bachchan'.
Later, she did a movie called 'True True Lie' in 2006, followed by 'Steel Trap', 'Body of Lies', and 'Right Hand Drive' in 2007, 2008, and 2009 respectively. After many projects, in 2011, she finally had the chance to feature in a popular sequel 'X-Men: First Class' as Amy.
Subsequently, Wallis managed to play several other top-notch movies like 'Snow White and the Huntsman' (No Credit) in 2012, 'Annabelle' in 2014,  'The Mummy' in 2017, 'Annabelle: Creation' in the same year, and many more.
Moreover, She did several TV shows too. Some of them are: 'Jericho', 'Diana: Last Days of a Princess', 'The Tudors', 'Peaky Blinders', 'The Musketeers', 'Star Trek: Short Treks', and recently, 'The Loudest Voice'.
For her roles, she was nominated for 2015 'MTV Movie & TV Awards' for her performance in 'Annabelle' and 'Alliance of Women Film Journalists' in 2017 for her role in 'The Mummy'.
Annabelle Wallis' Net Worth
Since she did many projects throughout her life, it's pretty certain that Wallis already hit 7 digits net worth by now. Also, according to some genuine sites, they believe that her net worth is around $2 million. However, our endless research suggests that she has over $4 million in total.
So, based on our research, we've calculated the average salary she'd get from a movie, and since, she has managed to involve herself in several top-notch movies, it's out of the question that she only has $2 million in her bank account. For instance, the 'X-Men: First Class' hit over $353 million in Box-Office, 'The Conjuring' hit nearly $257 million, and so forth.'
Hence, by now, you guys must have a slight knowledge of her salary and total net worth. And besides, we just mentioned two of her movies, there are several other movies she played that made millions of dollars.
Annabelle Wallis' Cars (Vehicles)
It appears as though she owns an Audi (SUV). However, she has posted a lot of pictures of other cars as well. Some of them are: 'Range Rover', and 'Jaguar F-type'.
But she says she doesn't own the Range Rover and they just lent it to her for a drive. Moreover, she has uploaded several pictures of the Jaguar, and it almost looks like she owns one of it. But we can't confirm it yet.
And through her recent Instagram post, she was on a motorcycle driving by through a compound. Maybe that's one of her rides. The appearance of the bike looks like it's a 'Norton Commando'.
https://www.instagram.com/p/Bwr5LONAOEj/
Annabelle Wallis' Personal Life
Annabelle Wallis' dating history is a complicated one. She dated James Rousseau from 2010-2014. Later, she started dating Chris Martin (Coldplay Lead Vocals) from 2015. However, it didn't last and they broke up in 2017. At present, she is dating Chris Pine, and people believe they started dating from April 2018, and that they're still together.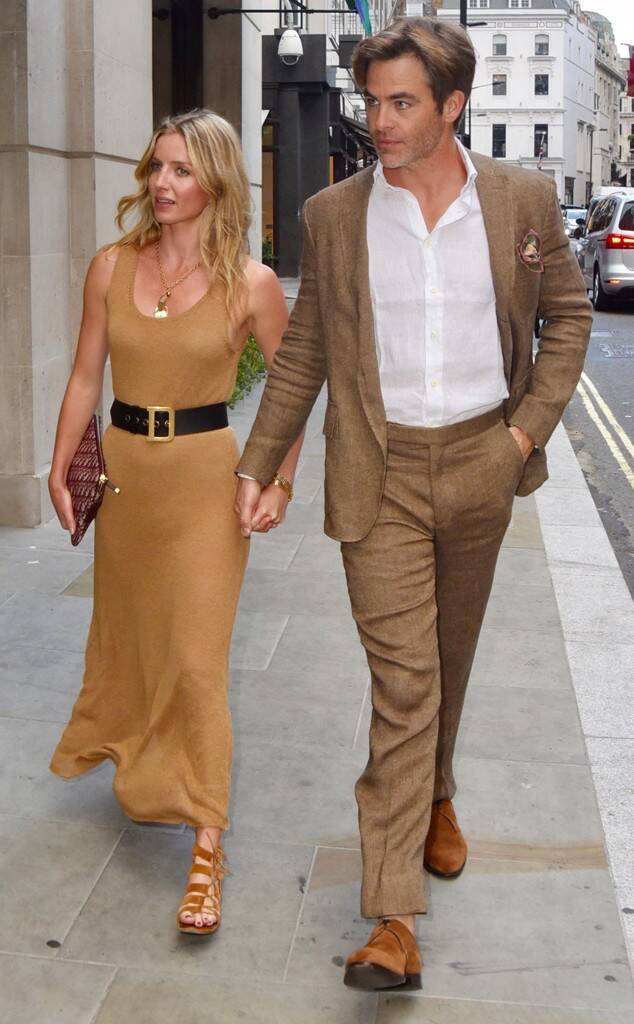 Moreover, there are rumors about her dating 'Jared Leto', 'Jon Hamm', and 'Tom Cruise' too. But there are no genuine sites that confirmed the news about their dating. They just saw them together at one point and that's it.