Ben Shapiro is a conservative political commentator based in the United States. He has a multi-faceted career as a lawyer, radio host, author and columnist. Additionally, Shapiro is also an alumnus of Harvard Law school and the University of California in Los Angeles. At present, Shapiro is married and has two children from the marriage.
He is most famously known for the series of books he has published till the date. Moreover, there is a long list of these books written by Shapiro, most of which have conservative content in them.
Ben Shapiro: height, nationality, early life, and career
Ben Shapiro was born on January 15, 1984, in Los Angeles, California which makes his nationality an American. Talking briefly about his personality, there has been quite a lot of speculations about the actual "Ben Shapiro height". In appearance, he looks a bit shorter, so many people estimate his height to be around 5'6 which he claims is false.  Ben Shapiro's height as per his claims is 5 ft and 9 inches. Shapiro has to constantly defend the talks about his height to the media.
Originally, Ben Shapiro belongs to a Jewish family who migrated from Russia. He attended the Walter Reed Middle school and  Yeshiva University High School from where he graduated at the age of 16. Similarly, he received a Bachelor of Arts degree from UCLA in the year 2004 with summa cum laude and finally in the year 2007, a graduate degree from Harvard Law School while gaining an honor of cum laude. 
He began his career as a nationally syndicated columnist in the United States at the age of 17. Till the age of 21, he was already the author of two books which were; Brainwashed: How Universities Indoctrinate America's Youth and Porn Generation: How Social Liberalism Is Corrupting Our Future. Later in the year 2011, he published another book too.
He began a website named "TruthRevolt" which was a U.S. news and activism website. He also became the editor-at-large at the Breitbart News. In 2015, he founded the Daily Wire where he hosts a podcast called the Ben Shapiro Show which eventually became a hit.
Ben Shapiro: wife, children, and sister
Shapiro married his wife, Mor Toledano who is originally an Israeli citizen with Moroccan on descentry. She and Shapiro married in the year 2008. Together they have two children, a daughter born in the year 2014 and a son born in the year 2016. Shapiro and his wife, both practice Orthodox Judaism.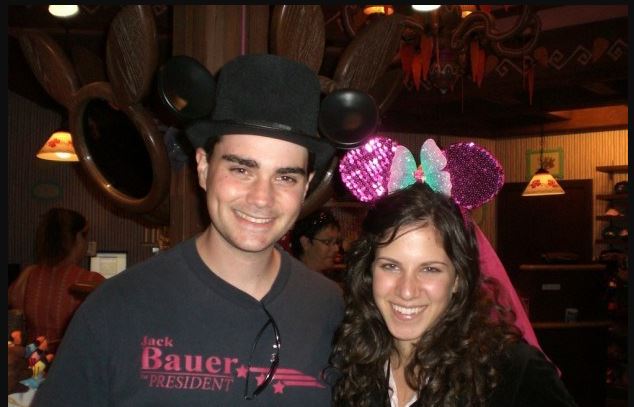 Caption: Ben with his wife
Source: nailbuzz
They have been married for 10 long years and are going great together. However, there are no controversies as compared to his opinions and commentary which always creates controversies in the media.
Shapiro has a sister who is an opera singer named Abigail Shapiro. The year 2016 was the worst year for her because the people who were targeting her brother apparently started to target her as well. Further, she got disgusting comments and remarks from different people through emails and different platforms too.
Ben Shapiro: Total Net Worth
Ben Shapiro is a scholar in his field. After authoring several successful books, and a journalism career above the ordinary, Shapiro has acquired a strong position for himself. In addition, he also gives lectures in several renowned universities of the United States. Shapiro has a total net worth estimation of $2 million.
Facts don't care about your feelings.

— Ben Shapiro (@benshapiro) February 5, 2016
Shapiro is also active on social media websites like Twitter, where he frequently gives opinions about the present political affairs and global affairs. Shapiro also has an Instagram account where he often posts related to his work with a hint to his personal life. In conclusion, it looks like Shapiro is a social media fan too.