Boston Russell is none other than the first son of legendary Hollywood actor  Kurt Russell and his first wife Season Hubley. He is the son of two famous actors and performer in Hollywood who are known for their on-screen success. Boston is the only son of Season Hubley after which she never had any children.
Boston, age 38, unlike his other step-siblings is not an actor in general. Let's get to know more about Boston's personal life, career, net worth and more.
Caption: Boston is attending Priemere of movie "Poseidon"
Source: gettyimages
Boston Russell: early life, career, and nationality
Russell was born as Boston Oliver Grant Russell on February 16, 1980, in Los Angeles, California which makes his nationality an American. Boston was born to Kurt Russell and his former wife, actress and singer Season Hubley. Kurt and Season first met on the sets of 'Elvis', which is a 1979 biopic for television of the legendary singer Elvis Presley. While being cast opposite each other, Kurt and Season started getting attracted to each other in real life. Similalry they also played together in another movie, Escape from New York in the year 1981. The couple married in the year 1979 but their marriage could not last longer than four years. During the marriage, Kurt got in an affair with Goldie Hawn which led to the divorce in the year 1983.
Caption: childhood memories of Boston Russell
Source: list
As later Kurt married Goldie and has a son with the actress who is the half-sibling of Boston named Wyatt Russell. Similarly, Boston also has two other half-siblings from Goldie's first marriage, Oliver and Kate Hudson who are also actors. Though most of his siblings are now actors, Boston hasn't really played in movies as such. However, Boston has been credited for some behind the scenes work for movies like 'Executive Decision' (1996), television program '60 Minutes'.
Boston Russell personal life and girlfriend
Being one of the children of some of Hollywood's biggest stars, Boston is definitely in the constant media eye. But he sure likes to keep his life very private and out of the limelight. Though his siblings are not hesitant to present their life exclusively, Boston chooses a normal life over a celebrity's life. Talking about his personal life, Russell doesn't reveal much of his dating life and girlfriend. As the Russell son is now in his late thirties it is almost time for him to settle down with a family. Regardless, so far he has not revealed any information about his personal plans and a prospective partner.
Boston Russell net worth
Boston Russell is not a name that will ring a bell to many people unless his father's name Kurt is mentioned. Living a life of privacy, Boston doesn't like any mediation to his private dealings. Most of his works have been off camera and behind the curtains which makes his income and salary difficult to trace down. This is why we do not have his net worth estimation at the moment.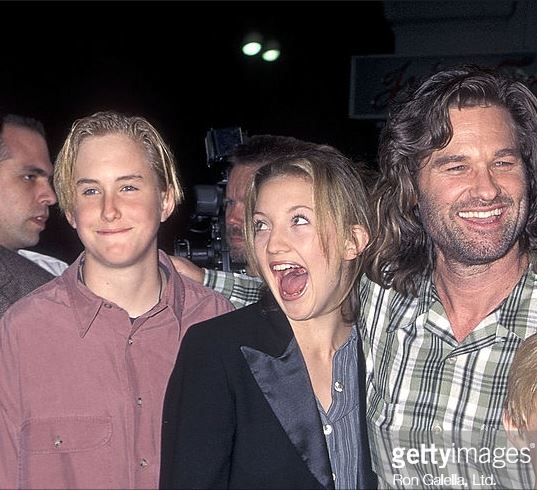 Caption: Boston along with his step-siblings and father Kurt
Source: gettyimages
Boston Russell being his private-self doesn't have any social media accounts where we can access his personal life. It seems like he isn't really a fan of social media.