Crystal Westbrooks is a famous actress, internet celebrity and a model who came into prominence after making appearances for the TV series, 'The Westbrooks'. She is also massively popular on the internet and its social media platforms. Crystal for many years now has been posting stunning pictures of herself on Instagram and Tumblr and for this very reason, she has over 1 million followers.
Throughout the years, Westbrooks has been a very lovable figure and her style somehow always ends up trending. Because of this love, she now owns an online shopping site that sells swimsuits. Westbrooks also has her line of hair care products. Keep reading to know more about the free-spirited model. Get to know who is Hannah Hart.
Crystal Westbrooks: Early Life and Education
Crystal Westbrooks was born on the 6th of March, in 1993. The Florida born kid grew up in a large family with 9 members. She has 3 elder sisters Brooke, Morgan, and Bree. Crystal also has a younger sibling who goes by the name India and she is an internet celebrity.
For her education, Westbrooks went to the Ambler Avenue Elementary School in California. She later spent her high schooling years at the Santiago High School in Corona and graduated in 2011. During her years in high school, she did compete for the cross-country track and was a cheerleader. After completing her high school, she went on to get a degree in business finance from the Texas Southern University in 2016.
Crystal Westbrooks: Career
After the fame of her young sister India, she began posting her pictures on platforms like Tumblr and Instagram. She eventually started gaining a huge number of followers and eventually grabbed that celebrity status. Crystal first posted on Instagram on the 30th of August in 2013 and she has over 1 million followers as of today.
Social media became a hugely influential factor in the success of Westbrooks. This gave way to new modeling opportunities and she was getting more contracts than ever. She was first taken on by Harley Dreux, a fashion retailer. She was a model for the retailer and then she also worked for Tiffany Jewels, The Queen Pegasus Makeup and Eburns Styling.
After a lot of attention, the Westbrooks sisters started a show and called it 'The Westbrooks'. The show aired its first episode on 2015 on Black Entertainment Television. It was about the lives of Westbrooks and was showcasing the family relationships. After a few episodes, the show was understandably thought of as a copy of The Kardashians. There were talks about the potential of the show and the damage it could do to the relationship between these sisters. However, Crystal along with her sisters made an appearance on the show The Zoo. There she cleared up all the misconceptions or at least tried to.
Crystal Westbrooks: Personal Life, Net Worth, and Social Media
Westbrooks is a free-spirited human and because of this very reason, her friends call her 'Hippie'. She is extremely likable and it is her nature that makes everyone fall in love with her. As of yet, there have been no reports about her romantic affairs. Westbrooks is a career-orientated person and wants to pursue acting at some point. Reading between the lines, we have also found few reports that suggest her plans to start her own line of HD cameras.
Crystal, however, is not just flesh and bones. She has the brain of an entrepreneur who is constantly seeking to come up with new ideas. Apart from her modeling career, she has been launching affordable swimsuits on her website. As of 2018, her net worth is somewhere around $5 million.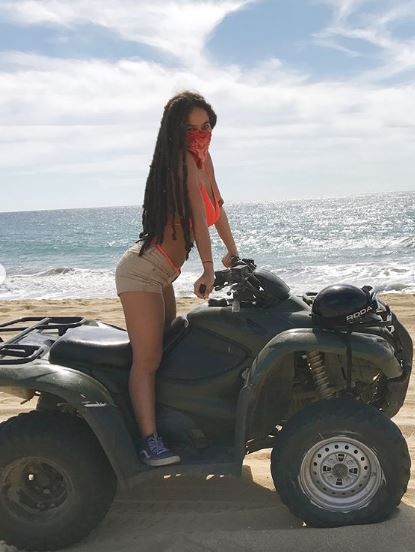 Caption: Westbrooks on a beach quadbike.
Source: instagram.com
Instagram has been one of the major platforms that brought her all this success, so Crystal is obviously active on it. As of September 2018, she has just over 1.1 million followers. She has been using the platform to promote herself and endorse brands.