Cynthia Rhodes is a famous American actress who is best known for her iconic roles in the movies; Dirty Dancing, Flashdance.  She debuted from the movie "Xanadu" which is a romantic fantasy, back in the 1940s. Rhodes is from a conservative background due to which she refused to play roles which demanded nudity. As a result, she did not make an appearance in many movies in her career span. People remember  Cynthia for her exceptional performance in the movie "Staying Alive", which had been directed by Sylvester Stallone. The actress is also a brilliant dancer and used to be a member of the pop group "Animotion".  Back in the day, Rhodes also used to be a dancer for the band "The Tubes".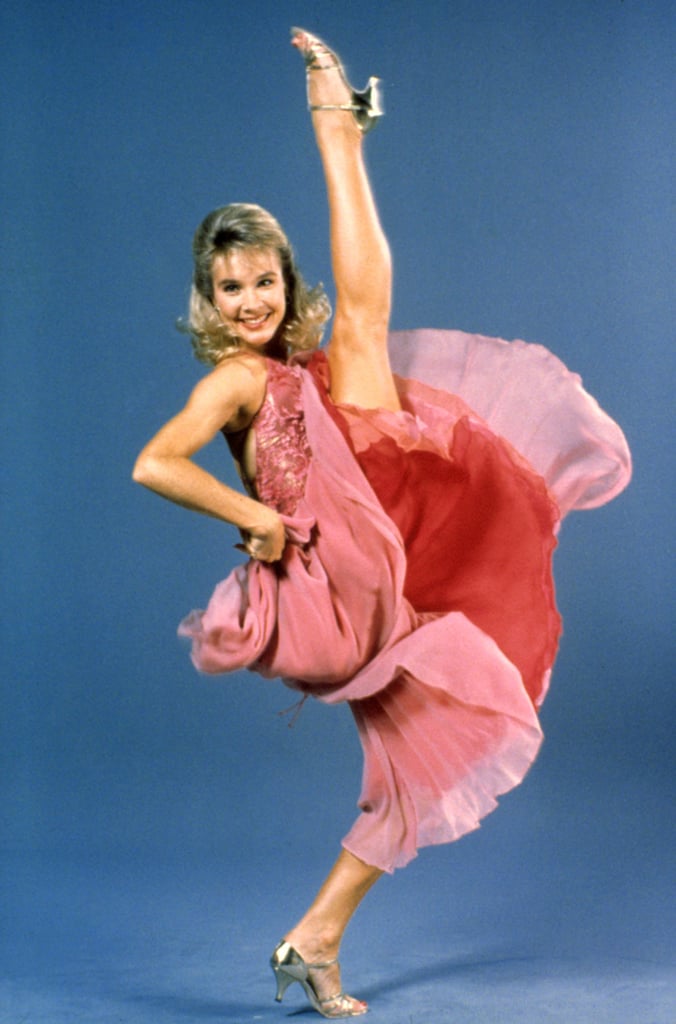 Caption: Cynthia Rhodes as Penny Johnson
Source: popsugar.com
Cynthia Rhodes: Early Life and Education
Caption: Cynthia Rhodes
Source:pinterest.com
Cynthia Rhodes first opened her eyes on the 21st of November 1956, in Nashville, Tennessee.  She grew up with her loving parents, father Adrian Rhodes, and mother Edna Rhodes. She belongs to a Christian background and was raised as a Baptist. Rhodes went to Glencliff High School. Details about her further studies are unknown at the moment.
Cynthia Rhodes: Career
Cynthia Rhodes worked as a singer and dancer at a park in America before she got her first movie. She debuted with the movie" Xanadu" in 1980. It was directed by Robert Greenwald. Commercially, the film wasn't successful but it won the Ivor Novello Award for the best song. Next, she was seen in the American drama"Flashdance" where she was seen in a supporting role. Surprisingly the movie was a commercial hit even though it received heavy criticism.  Rhodes then appeared in the film 'Staying Alive' one of the major roles of her career, in 1983. Even though it was heavily criticized, it grossed $65 million on a budget of $22 million. It was a commercial success which was co-written, co-produced and directed by Sylvester Stallone.
Caption: Cynthia Rhodes- Dirty Dancing
Source: mirror.co.uk
The upcoming year, Cynthia was seen in the movie "Runway" where she played the main role. It was a sci-fi film. The movie received mixed reviews from the critics but was a commercial failure. It was written and directed by Michael Crichton. Rhodes went on to play a supporting role in the movie "Dirty Dancing". The film was a blockbuster earning nearly $214 million on a budget of $6 million. The movie also won an Oscar with a Golden Globe and Grammy Award.
Rhodes last film of her career is "Curse of the Crystal Eye" in 1991. As Rhodes is from a cultural background she never got into controversies or posed nude for the movies. She maintained a clear image throughout her career and also turned down offers to get featured in several magazines like "Playboy" like Barbi Benton. The talented actress was also a part of the rock band" Animotion". She collaborated with them for songs like "Calling it love" and "Room to Move".
Cynthia Rhodes: Relationships and Family
Caption: Cynthia Rhodes with her family
Source: waytofamous.com
Cynthia Rhodes lives a happy life and she is not married anymore. She divorced Richard Maxx in 2014 after being together for twenty-five years.  Richard Marx is a musician who has released a total of twelve albums. Rhodes and Marx first met in 1983. Richard and Rhodes fell in love and got married in 1989. They dated each other for two years. Richard is seven years younger to Rhodes. The couple is blessed with three children.
Cynthia Rhodes: Net Worth
The actress has stopped doing films a long time ago. However, the estimated net worth of the actress is expected to be a whopping $9 million.