Elaine Chappelle is known better as Dave Chappelle's wife, who is one of America's funniest and favourite stand-up comedian. Elaine is a child of Filipino immigrants who grew up in Brooklyn, New York. She has had a fair share of difficulties in the past but is enjoying a happy life with one of the funniest people on this planet. Chappelle is certainly not one of the names on the famous list of celebrities but she has the reputation of being a good wife and an avid supporter of her husband.
Chappelle, age 44, is also a mother of three. She throughout the years has been extremely supportive of Dave during his ups and downs. Let's get to know better about Elaine Chappelle's life, career, and net worth.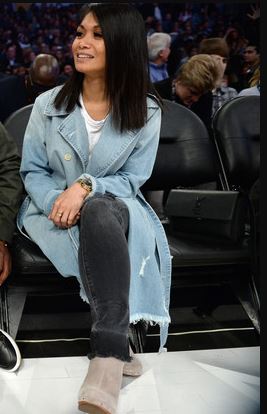 Caption: Elaine attending the NBA all-star 2018 with her husband
Source: Zimbio
Elaine Chappelle: early life, career, and nationality
Elaine Chappelle was born on  August 31, 1974, in Brooklyn, New York, which makes her nationality an American. Her name is originally Elaine Mendoza Erfe. Chappelle's parents were actually Phillipino immigrants who moved to the United States. Though this information is available there is less information on Elaine's upbringing, family life, and her career. Dave Chappelle's wife Elaine, always dreamt of being a chef in her life however she did not pursue this dream as she married the comedian star, Dave Chappelle.
https://www.instagram.com/p/BekaQjNnKV3/?hl=en
Elaine Chappelle: personal life and family
Dave Chappelle certainly needs no introduction as the stand-up comedian is quite famous for his amazing humour and personality that cracks up people. Before being Dave Chappelle's wife, Elaine was initially reluctant to go out with him because of his loud personality. However she did go out with him and after a couple of dates, as they fell in love.  The couple were in love and thus decided to marry one another. Finally, in the year 2001, Elaine and David tied the knot and she officially became Dave Chappelle's wife, Elaine Chappelle.
The couple since has been together are inseparable so far. Despite Chappelle being raised as a Christian her whole life, she married Dave who converted to Islam before the marriage. She did not give up Christianity but she and Dave are living together in harmony despite the major differences. Together husband Dave Chappelle & wife Elaine have three children,  Ibrahim Chappelle, Sonal Chappelle, and Sulayman Chappelle. The family is surely a happy one and celebrates diversity within the family.
Caption: Dave Chappelle and family
Source: bossip.com
Elaine Chappelle: Net Worth
Elaine Chappelle along with her big family lives in a Yellow Springs Ohio, on a 65-acre ranch where Dave's father actually used to teach music. While Dave went to South Africa for sorting out some issues of his personal life, Elaine single handled the media backlash about her husband claiming to run away and ending the marriage as well. Of course, Dave did not run, he came back to his wife and is back at making people laugh but people really appreciate Elaine for her patience and support to her husband.
Caption: Comedian Dave Chappelle and wife Elaine
Source: rihangle.com
Elaine Chappelle personal income and earnings are near to zero as she is a housewife looking after her home and family. However, She shares a significant wealth from her husband Dave who has an estimated net worth of $42 million! All thanks to his talent and humour contributing to his net worth.