Jelena Noura Hadid famously known as Gigi Hadid is an American fashion model. She is a popular model who has walked on the ramp for various brands such as Tommy Hilfiger, Victoria Secrets etc. She also supermodel siblings; Bella Hadid and Anwar Hadid.  Gigi was noticed after her debut in the Top 50 Models at Models.com. Gigi is a talented young supermodel who also began her acting career with the short movie "Virgin Eyes" which was released in 2012.
The blonde beauty was also featured in the television series "The Real Housewives of Beverly Hills". She can also be seen in the hit number 'Bad Blood' from Taylor Swift's album '1989' which was released in 2014 and also 'How Deep Is Your Love' by Calvin Harris.  Furthermore, Gigi has also made headlines after dating Zayn Malik. Gigi is also the leading lady in the blockbuster track 'Pillowtalk' by Zayn Malik.  The supermodel was also the face of the famous American clothing brand "Guess". She is an enthusiastic horse rider. Gigi loves being in touch with her fans and shares her updates which explain her 40 million followers on her Instagram account. It goes by the name @gigihadid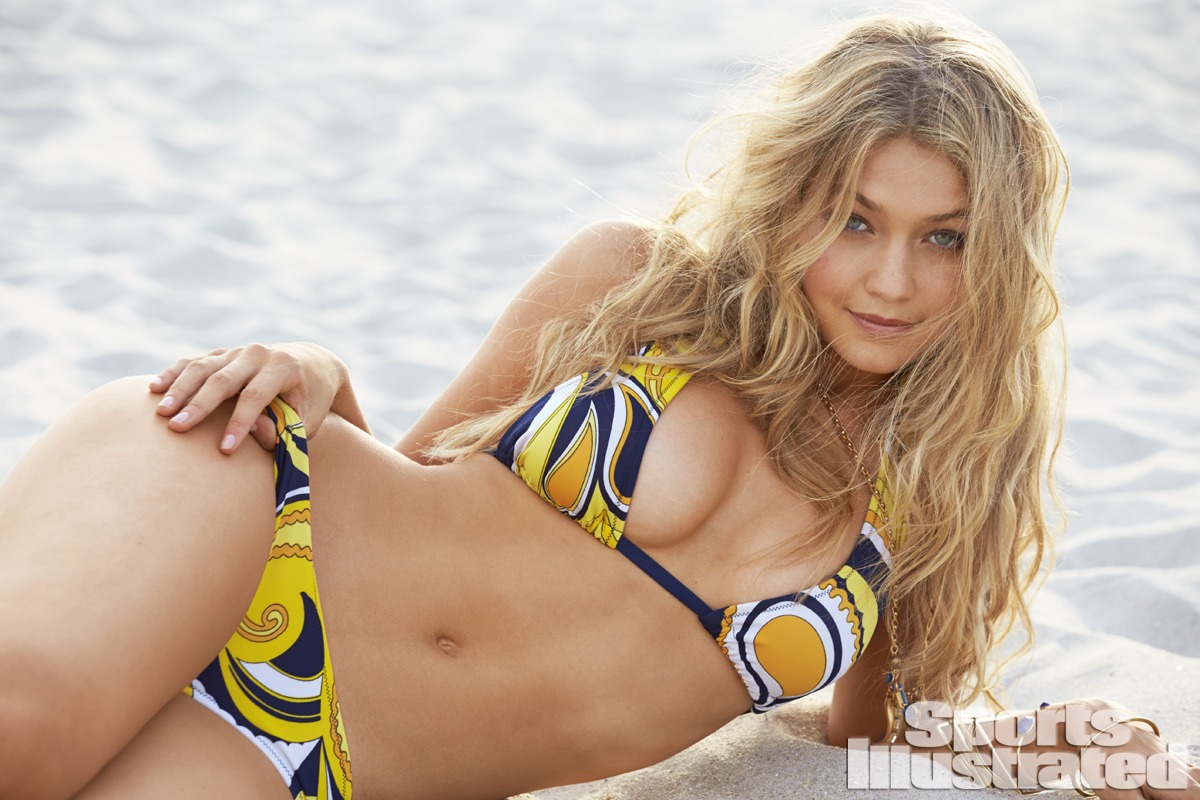 Caption: Photoshoot for Swimwear brand Seafolly.
Source: si.com
 Gigi Hadid: Early Life and Education
Gigi Hadid first graced this earth on April 23, 1995, in Los Angeles. Her parents, Mohamed Hadid is a real estate developer and Yolanda Hadid, a former model. She has two siblings; Bella Hadid and Anwar Hadid who are both models. After her parents' divorce in 2000, her mother married David Foster, a Canadian songwriter, and musician. Hadid has five step-sisters as well.
Caption: Gigi for Victoria's Secret fashion show
Source: hawtcelebs.com
The model graduated from Malibu High School, California in 2013. She was an athlete and was into volleyball and horse riding. Later on, Gigi moved to New York to pursue her further studies and commence her acting career as well. She started studying criminal psychology at the New School in Lower Manhattan in New York City. However, she dropped out of it to focus more on her modeling career.
Gigi Hadid: Professional Career
Gigi Hadid began her modeling career when she was only two years old but didn't continue as she required a lot of training to formally proceed.  After finishing her secondary school, she did an agreement with IMG Models in 2011. The following year she was featured as the brand ambassador for the brand "Guess".
The supermodel has walked on the ramps for various high-end brands such as Versace, Chanel, Victoria Secret, Guess, and Tommy Hilfiger. She has graced the cover of top fashion magazine "Vogue" a number of times. Hadid's appearance in "The Real Housewives of Beverly Hills"  was her debut in her television career. Next, she was featured in the music video "Bad Blood" by Taylor Swift which also won the Grammy Award for "Best Music Video". Also, she was seen in Calvin Harris's "How Deep Is Your Love" which was a huge hit.
Caption: Gigi Hadid at Versace Fashion show.
Source: hawtcelebs.com
"Pillow talk" has to be one of Hadid's most significant works where she features alongside her boyfriend, Zayn Malik, a famous singer, and songwriter. The song which released on 29th January 2016, was a huge success and was number one in both the US and UK.  Hadid has also collaborated with the brand Tommy Hilfiger and Messika Jewellery and has produced her own line of clothes and jewelry.
Gigi Hadid: Relationship with Zayn Malik, Boyfriends
Caption: Gigi Hadid & Zayn Malik
Source: billboard.com
Gigi Hadid is currently in a relationship with the famous singer and musician Zayn Malik. They have been together since 2016 and look truly in love with each other. They post pictures of their romance on their social media. Previously, the supermodel was with the singer Cody Simpson whom she dated for a year. Then with Joe Jonas, who is also a musician.
Gigi Hadid: Awards and Achievements
Gigi Hadid received the British Fashion Award for "International Model of the Year" in 2016 presented by British Fashion Council. The same year she also received the TRL Awards for "Best Look".  The supermodel also received the First Annual Fashion Los Angeles Award for "Model of the Year" in 2015.
Gigi Hadid: Net Worth
Gigi Hadid has an expensive taste when it comes to clothing, bags, and shoes. Once she spent $2000 on a manicure which became a pretty huge deal. With a variety of luxury belongings and a super chic lifestyle with business collaborations, Gigi Hadid's net worth is somewhere around  $13 million.
Gigi Hadid is also quite passionate when it comes to her wheels. She has a collection of various luxury cars which is estimated to be worth a million dollars and is from various manufacturers like Aston Martin, Rolls Royce, and BMW. In addition to her Cars, she has also got a huge collection of shoes and clothes which is estimated to be in the hundred thousand dollar range.