Goo Hara was a South Korean singer and dancer. She also recognized as a member of the South Korean girl group 'Kara'. The girl band disbanded on 15 January 2016 due to her and other members Park Gyu-Ri and Han Seung-Yeon left DSP Media upon the expiration of their contract. She then signed a contract with the management agency KeyEast.
Unfortunately, the singer was found dead at her home on 24 November 2019 and ruled as a suicide. Further, her close friend Sulli, South Korean Idol found dead just over a month before she suspected suicide after struggling with online bullying. Further, Goo's funeral held privately at Gangnam Severance Hospital by her family and friends.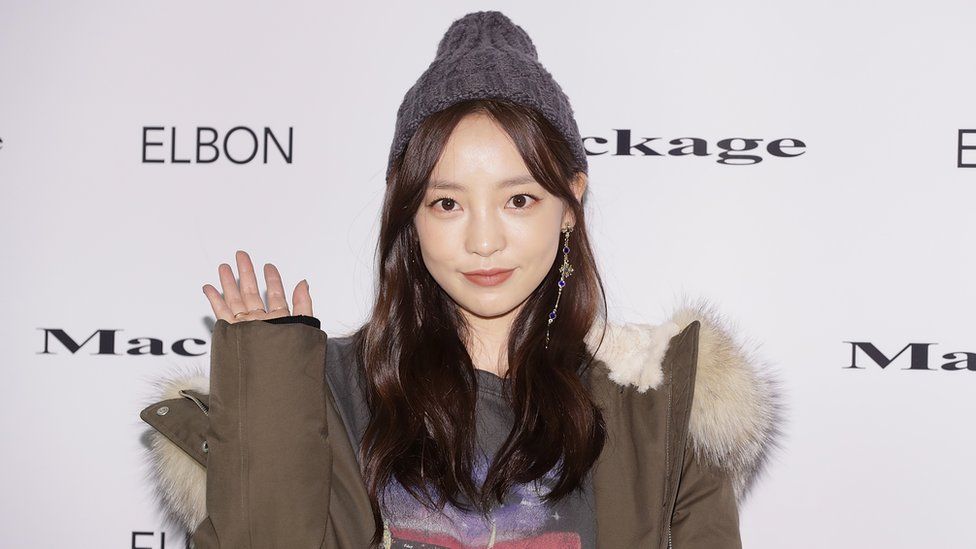 Caption: The South Korean singer, Goo Hara.
Source: BBC
Goo Hara: Bio, Family, Education
The late singer was on 3 January 1991 in Gwangju, South Korea. She has not revealed about her parents but reclaimed that her parents separated when she was eight years old. Further, the report says that her mother abandoned the siblings at the time. She and her elder brother raised by her grandmother while her father did minor jobs to support the family.
Regarding her education, she attended Woonchun Elementary School and Jeonnam Middle School. During her school days, she trained as a track and field athlete for two years. She then traveled to Seoul where she joined  Jeonju Fine Arts High School as well as participated in SM Entertainment's youth appearance tournament in 2005. Following that, she transferred to Dongmyung Girls' Information Industry High School. After graduating, she joined Sungshin Women's University.
Goo Hara: Career & Life Achievements
She started her career as a member of the South Korean girl group 'Kara' after the departure of member Kim Sung-hee. However, she with the other three Kara members involved in a lawsuit after the announcement of their termination of the contract with DSP Media. But she didn't know about it and later rejoined the company and made their comeback in August 2012. Other than this, she also made an appearance in the reality show 'Invincible Youth'.
As an actress, she debuted her acting career in the role of Choi Da-Hye in CBS City Hunter starring Lee Min-Ho. In 2016, the band Kara disbanded, and then she signed KeyEast. In the same year, she joined the variety show 'Seoul Mate' and the web movie 'Sound of a Footstep'. She hosted the JTB's beauty show 'My Mad Beauty Diary' in 2018. Also, she debuted as a soloist in Japan and released the song 'Wild'.
Goo Hara: Personal Life & Boyfriend
Coming over to her personal life, she had a very turbulent relationship with her ex-boyfriend. She began dating hairdresser Choi Jong Bum and they first met on the set of the beauty television program 'My Mad Beauty Diary'. However, it is unclear their exact beginning of love life but they had a vicious step ahead in their romance.
In September 2018, Goo's boyfriend Choi broke in and had an argument that resulted in a violent assault while allegedly trying to break up with her. She later revealed the incident was two-sided and shared the injuries from the incident. From the incident, she suffered from a cervical sprain, facial contusions, and sprain, as well as uterus and vagina hemorrhage.
She then filed a lawsuit against Mr. Choi when he threatened her for releasing a sex video without her consent. The first trial held in April 2019 where Choi only accepted the property destruction while denying most of the charges. Following that, she attempted suicide on 26 May, however, she found unconscious and immediately taken to hospital.
Death:
On 24 November 2019, she found dead in her apartment in Cheongdam-dong, Gangnam. Her death was ruled as a possible suicide after the police found a suicide note by her side. After her death, her ex-boyfriend faced a difficult time as one of his friends told the sources. Additionally, her elder brother started a petition to revise South Korea's inheritance law to prevent parents from inheriting after their negligence from their parental duties.
Caption: Goo Hara and ex-boyfriend Choi Jong Bum
Source: YouTube
Goo Hara: Net Worth & Social Media Profiles
The late singer and dancer had made a huge fortune from her career in the South Korean music industry. Therefore, she had an estimated net worth of around $9.5 million at the time of her death. Further, she had endorsed and promoted products which have helped her to grasp a profitable amount.
She has an international fan page under her Twitter account @sweetharacom having more than 2.7k followers. There is a verified Instagram account @koohara_ with 1.6 million followers that have not deactivated yet.
Goo Hara: Body Measurements, Plastic Surgery
The late Korean pop sensation had a slim and lean body that stands to a height of 5 feet 4 inches or 1.64 meters. Her body weighed around 44 kg with unknown body measurements of chest, waist, or hips. She had brown eyes as well as hair color.
Moreover, she told that she had done dental and minor facial cosmetic surgery. She also added that she had always had double eyelids and undergone the knife to make them more defined.
Read about famous celebrities like Suzanne Whang, Beenzino, Hwasa, Choi Young Jae.