Today the biography is about James Corden who has taken over the internet since 2016. With his witty personality and a great sense of humor, he has made a huge number of fans. He has made millions of dollars for himself and lives a very lavish lifestyle.
James is currently living in California with his beloved life and kids. Head on to this article for full details on James Corden's wife and children, as well as on his career, net worth, and achievements.
James Corden Age and Early Life
James Corden was born on 22nd August 1978 which makes him currently 41 years of age. He was born to Margaret Corden, a social worker, and Malcolm Corden, who was a musician in a band (Royal Air Force Band).
James was born in Hillingdon, Greater London and grew up in Hazlemere, Buckinghamshire. He went to Holmer Green Upper School and Park Middle School with his two sisters. Although he was raised in an Army church, he doesn't consider himself as a Christian.
Is James Corden Married? Know about his Wife and Kids
James Corden is married to a television producer, Julia Carey. She initially started her career as an actress. She has featured in a couple of TV shows like Enemy at the Door, A Bunch of Fives, Wings, etc. The love birds met on a charity event of Save the Children back in 2009.
In an interview with the people, James revealed that his friend, who is also an actor, Dominic Cooper forced him to attend the meeting and later introduced him to Julia. He said,
The first thing I said to her was, Hi Jules. You might be the most beautiful women in the world'. And she replied saying, well, thank you very much. That sounds like something you say a lot.
He added,
Then I replied, I've never said it before in my life.
And ever since, they have been living happily together. James formally proposed to Julia in December 2010. Two years later, on 15th September 2012, the couple got married at Babington House in Somerset.
The couple is now parents to three babies. The first son, Max Corden, was born in 2011, and later they gave birth to two daughters, Charlotte Corden, and Carey Corden, in October 2014 and December 2017.
Julia is very supportive of her husband and James never misses a chance to express his gratitude to his wife. He gives all the credits of his success and awards to his beloved wife.
What is James Corden's Net Worth? His House, Cars, Career, and Achievements
With the popularity of The Late Late Show and Carpool Karaoke, James has surely made enough to live in luxury. To be exact, Cordon's estimated net worth as of 2019 is $12 million.
Inside of Corden's Career
Before gaining fame from the above-mentioned shows, James Corden was actually an actor. His debut role was in the TV series, Fat Friends which ran from 2000 to 2005. His career then started to flourish and became the co-writer, co-creator as well as the star in another British sitcom, Gavin & Stacey. 
Gavin and Stacey Mob Singing that England anthem pic.twitter.com/hIgH57Azin

— Betting Offers (@BETTlNGOffers) February 3, 2019
Later in 2015, he became the replacement of Craig Ferguson who was previously the host of The Late Late Show. Corden makes about $5 million from this show and the rest earnings come from his acting career and his carpool videos.
He then started uploading Carpool Karaoke with famous celebrities which helped to further polish his career. One of those with Adele became the most viral video back in 2016 which has totaled more than 200 million views.
James Corden's Awards and Achievements
Corden won BAFTA Television Award for Best Comedy Performance in the British tv show, Gavin & Stacey. Similarly, he also won a Tony Award for Best Actor in a Play for his play in One Man, Two Guvnors. 
James' House and Cars
James Corden currently lives in a $9.4 million (£7.5m) mansion with his wife and three kids. The house is located in Los Angeles and consists of five bedrooms and eight bathrooms.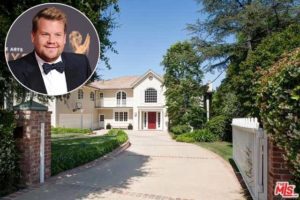 Although James does a lot of videos inside his car, he has not yet publicized how many cars he owns and the worth of it. But being a millionaire, he surely has a couple of high-class cars.