Jamie Dimon is an American billionaire businessman and famous personality. He is widely recognized as the chairman and chief executive officer (CEO) of the largest of the big four American banks, JPMorgan Chase. Since 2005, he has been serving for the bank and before that, he worked with Bank One which merged with JP Morgan Chase in 2004.
Furthermore, he has previously worked on the board of directors of the Federal Reserve Bank of New York. Additionally, he is one of the few bank chief executives to become a billionaire, according to sources. He currently attracted the media attention for his comments on Bitcoin or Cryptocurrency to stay away from it. Let us scroll over to know more information on the businessman.
Caption: The billionaire businessman, Jamie Dimon.
Source: CNN
Jamie Dimon: Bio, Family, Education
The businessman was born on 13 March 1956 in New York City, the United States. He is one of the three sons of Greek immigrants, Theodore and Themos Dimon. He grew up with his older brother Peter and a fraternal twin brother Ted. Dimon attended The Browning School and then graduated summa cum laude majoring in psychology and economics at Tufts University.
After graduation, he worked for two years in management consulting. Following that, he attended Harvard Business School and graduated with an MBA degree as a Baker Scholar in 1982. During the summer vacation, he worked at Goldman Sachs. After graduating, he chose to work as an assistant at American Express over Goldman Sachs, Morgan Stanley, and Lehman Brothers at the suggestion of Sandy Weill.
Jamie Dimon: Career & Life Achievements
In 1985, he left American Express along with Sandy Weill and then took over Commercial Credit, a consumer finance company, from Control Data. Dimon served as the chief financial officer at the age of 30. He along with Weill formed a large financial services conglomerate, Citigroup in 1998 and left the company in November 1998.
In March 2000, Dimon became CEO of the nation's fifth-largest bank Bank One. But in July 2004, JPMorgan Chase purchased the bank, and following that Dimon became president and chief operating officer of the company. In 2005, he promoted to the CEO of JPMorgan Chase and later named as Chairman and President on 31 December 2006. Since then he has been serving for the position in the JP Morgan Chase.
Jamie Dimon: Personal Life & Wife
He has married a beautiful lady Judith Ellen Kent in 1983 and the same year, he has announced their engagement through the New York Times. Judith originally based hails from Bethesda, Maryland, and daughter of the president of an insurance and real estate company in Rockville. Further, the couple first met in Cambridge while studying at Harvard School in the early 1980s.
They are parents to three grown-up daughters: Julia (1985), Laura (1987), and Kara (1989). His daughters: Julia and Kara both attended Duke University while Laura studied at Barnard College for her undergraduate education. Apart from that, she was diagnosed with throat cancer in 2014 and had received eight weeks of radiation and chemotherapy in the same year. Furthermore, he underwent heart surgery at the age of 63 in March 2020. JP Morgan's spokesperson announced that he recovered well from the surgery.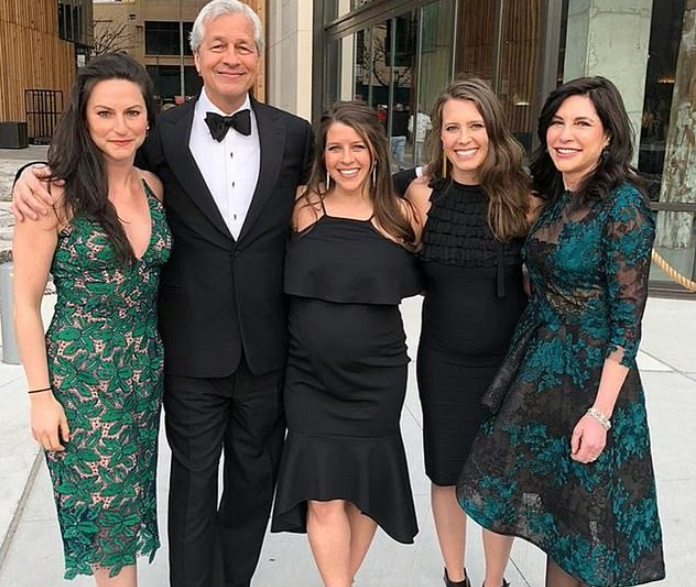 Caption: Jamie Dimon with his wife and daughters
Source: Dailymail
Jamie Dimon: Net Worth & Social Media Profiles
The JPMorgan Chase & Co-Chief Executive Officer Jamie Dimon paid $31.5 million as of 2020. In which he will get an annual base salary of $1.5 million with the performance-based incentive of $30 million, according to sources. Therefore, he has a net worth of around $1.9 billion as of 2021. Additionally, he has bought a few properties including his New York house that worth over $2 million.
It seems that he is not much active over different social media platforms like Instagram and Facebook. However, on Twitter, he has an unverified account @emo_jamie_dimon with more than 9.4k followers.
Jamie Dimon: Body Measurements
The co-CEO has an average body-looking structure that stands to a height of 5 feet 11 inches or 1.78 meters. Other than this, there is no information on his body weight or body measurements. He has silver-white hair color with green eyes color.
Read about Gayle Benson, Robert Kraft, Ansel Elgort, Ishan Goel.