Jeffree Star is an American entrepreneur and former singer, further, he left the music industry in 2013. Moreover, he has released his first and only studio album 'Beauty Killer' including the song 'Lollipop Luxury' in 2009 featuring Nicki Minaj. Additionally, he has founded and launched his own cosmetics line called Jeffree Star Cosmetics.
Despite known for his public feuds with other beauty gurus like Kylie Jenner, James Charles, and Manny Gutierrez, Star is loved by many for his incredible makeup skills and personality. Also, recently in 2020, beauty YouTuber, Kameron Lester cut off his ties with Star's cosmetics as well as Shane Dawson. Further, Lester added he has treated him like 'Toke Black Kid' according to Eonline on 17 June 2020.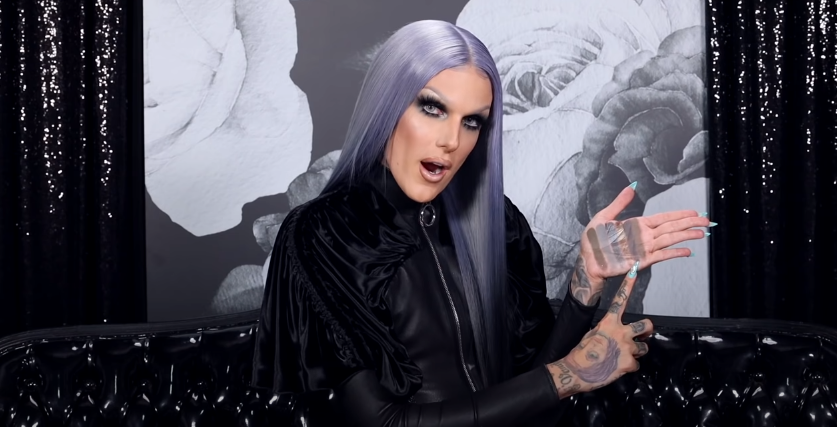 Caption: Jeffree Star, the beauty YouTuber.
Source: YouTube
Jeffree Star:  Bio, Family, Education
Star was born as Jeffrey Lynn Steininger Jr. on 15 November 1985 in Los Angeles County, California. and raised in Orange County, California. He was raised by his mother Marra Shubyann Lindstrom Steininger. Since his father, Jeffrey L. Steininger, committed suicide when he was six years old. Further, he has not revealed information on his siblings.
From a young age, he began to experiment with his mother's makeup regularly. In his junior high, he convinced his mother to let him wear makeup. After completing high school, he moved to Los Angeles where he began to support himself by doing various makeup, modeling, and music jobs.
Jeffree Star: Career & Life Achievements
He started his career as a makeup artist and fashion enthusiast. As stated earlier, he entered into the fashion world after graduating his high school. In 2104, he launched his e-commerce cosmetic brand, 'Jeffree Star Cosmetics'. After leaving his musical career, he used up his limited saving to create his cosmetics brand.
Star later began promoting his brand and uploading on YouTube that led him to the success of his YouTube channel. His channel '@jeffreestar' with 18.5 million subscribers and over 2.3 billion views as of 2020. He joined YouTube on 15 February 2006 but gained popularity after he began to promote his brands.
Star first began to use popular social networking website MySpace to enhance his music as well as fashion design career. There he used to blog about his life while making social commentary on his self-image and confidence as well as fame, beauty, and life. Also, he gained fame as one of the most popular independent artists after gathering the daily rankings making him in the top tier on the website.
Jeffree Star: Personal Life & Girlfriend
Coming over to his personal life, he recently split from his long boyfriend after five years. He was dating a guy named Nathan Schwandt who was heavily involved in Star's cosmetics business. They started dating since early 2015 after that they had their first meeting on Instagram. Recently in January 2020, he posted an emotional video on his break up on his YouTube channel.
Moreover, the YouTuber had also involved in some controversy like quarreling with other media personalities. It includes his ten years long friend/artist Kat Von D who accused Star of using drugs, racism, and bullying. Also, he reported to criticized negatively to the top cosmetics brand of Kylie Jenner and Jerrod Blandino. Further, he was also accused of using racial slurs on multiple occasions for which he has promptly apologized for remarks.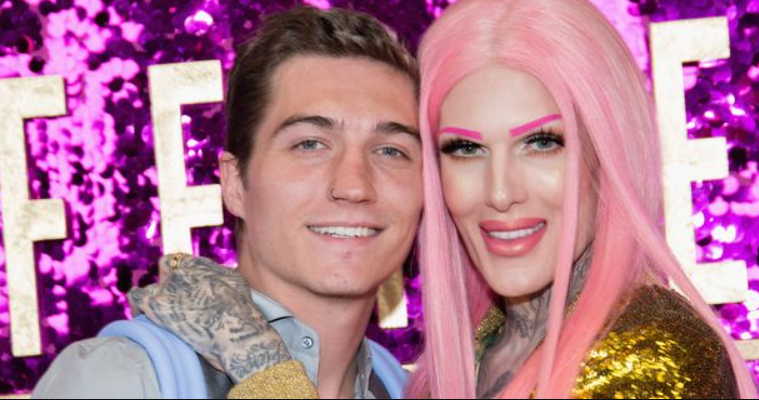 Caption: Jeffree and ex-boyfriend Nathan Schwandt
Source: Seventeen
Jeffree Star: Net worth & Social Media Profiles
According to the beauty guru, his independent cosmetics line is helping to earn him around $150 million a year. Also, being one of the most successful beauty YouTubers which helps him to gather at least $40,000 a week from his videos alone. According to Forbes, he made a huge amount of $18 million from his YouTube endeavors in 2018 and became the fifth-highest-paid YouTuber in that year. Therefore, he has an estimation of above $50 million as of 2019.
The YouTuber is not only on YouTube, but he is also active on other social media platforms like Instagram. On Instagram, he has a verified account @jeffreestar with 15.9 million followers. He also has a Twitter account @jeffreestar with 7.7 million followers. On Facebook, he has a verified account with more than 3 million followers. In addition, he also possesses an Instagram account on his cosmetics line with 7.5 million followers.
Jeffree Star: Body Measurements & Tattoos
The YouTuber has a slim and attractive body that stands to a height of 5 feet 7 inches or 1.70 meters and weighs around 60 Kg. He has black eyes color with pink dyed short hair. Further, he is an avid tattoo lover and has a unique story behind all the tattoos he had inked. More than 70 tattoos and tattooed by her ex-friend Kat Von D.
Let us know some of his tattoos: In his chest, he has inked the portrait of Audrey Hepburn. Then another portrait of her grandmother near to the Hepburn design. Next, Mona Lisa painting, a tattoo that appears to be largest and stretching across the entirety of his left rib cage. Further, there are other more tattoos according to the elite daily.
https://www.instagram.com/p/B5JTvO7htuz/