The word televangelism can be described as the Christians who decided to spread the word or evangelize through radio or televisions. Likewise, today in the nation, we can see there are many televangelism or religious leaders who televised to millions of viewers over the world. One of the biggest Christian ministers of date is Joel Osteen.
Osteen is currently a senior pastor at the Lakewood Church and leads the largest Christian congregations in the US. He remarks that he tries to teach Biblical principles in a simple way and focuses on positive attitudes. Further, he opposed discussing same-sex marriages, abortion, and politics. In addition, he has been also involved in the controversy of the response of the Hurricane Harvey controversy.
Caption: Joel Osteen, a senior pastor of Lakewood Church and also an author.
Source: USAToday
Joel Osteen: Bio, Family, Education
Osteen was born as Joel Scott Osteen on 5 March 1963, in Houston, Texas to the Southern Baptist pastor, father John Osteen. His father has founded Lakewood Church which has now become one of the largest congregations in the nation. Her mother is Dolores Pilgrim Osteen whose identity is not available in the media. He has five siblings; older Paul, Lisa, Tamara, and younger sister April are also involved in full-time ministry. Further, he has also a half-sibling Justin who does missionary work in New York.
He graduated from a public high school, Humble High School, Humble, Texas in 1981. Later, he enrolled in Oral Roberts University, Tulsa, Oklahoma. There he studied radio and television communications but didn't graduate. In 1982, he moved back to his hometown where he founded Lakewood's television program.
Joel Osteen: Career & Life Achievements
For 17 years, he produced his father's television sermons until his father died of a sudden heart attack on 17 January 1999. During those years, hie father always asked him to preach but he finds it better to work behind the scenes. Later, after two weeks of his father's death, he began to preach regularly. Then on 3rd October, he became a senior pastor of the Lakewood Church. Since then, the number of attendees has been increasing day-by-day. Now, the church building has 16,800 seats and attends about 52,000 attendees per week.
Moreover, Osteen's preparation in sermon involves memorizing and taping his sermons. He focuses on the goodness of gods and teaching the people about Christianity.
Besides, he is also one of the best-seller authors in the nation. His first book 'Your Best Life Now: 7 Steps to Living at Your Full Potential' was released in 2004. It got the first position on the 'The New York Times Best Seller' list. Following his second book that also reached the list and sold four million copies. Till now, he has released over 10 books which are sometimes criticized for promoting prosperity theology.
Joel Osteen: Personal Life & Wife
Joel is married to his wife Victoria Iloff for over 3 decades and also worked together over decades. Televangelist first met his future wife when he went to buy a watch over his to-be-bride mother's shop. They started to date around the year 1985 and eventually exchanged vows on 4 April 1987. A brief look at his wife, Victoria born on 28 March 1961, in Hunstville, Alabama to the mathematician father Donald IIoff who later took a position on NASA. So, the family moved to Houston, Texas while she was just two.
From their 30 years of marriage, they have produced two children; son Jonathan and daughter Alexandra. His son has made a career in music and acts as lead vocalist for his band that plays at 'Lakewood Church' in Houston, Texas. Additionally, the Osteen family had attended the 2010 Easter breakfast at the White House during the presidency of Barack Obama.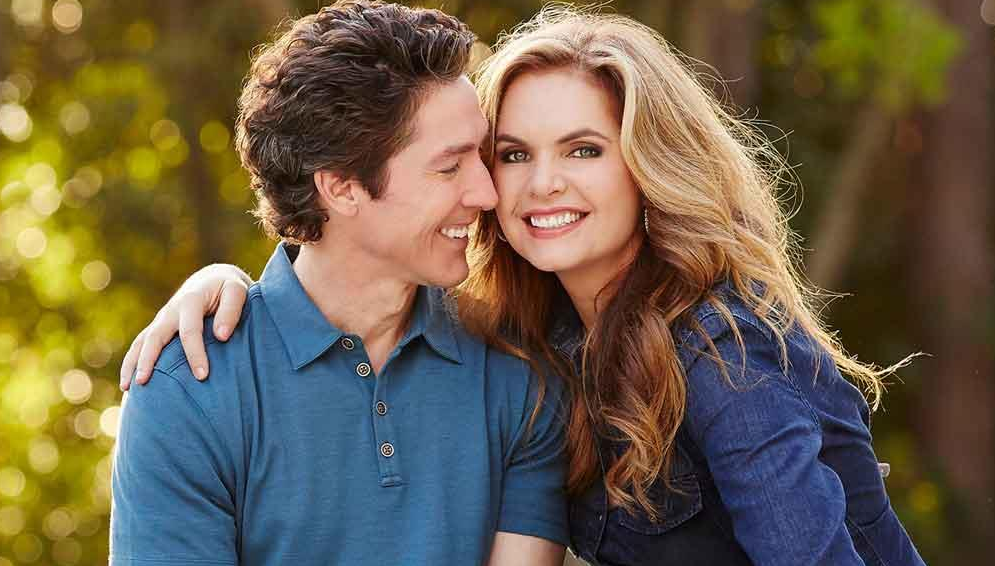 Caption: Joel Osteen and wife Victoria Osteen
Source: @joelosteen.com
In the aftermath of the Hurricane Harvey in 2017, he was involved in a significant criticism for not making the church available as an emergency shelter. In his defend, he has stated the door of the church has been shut by the floodwaters. Other controversies were with the American Dollar band who has sued the Lakewood Church and Joel for copyright infringement. In 2012, the case went in favor of Osteen but gave the band to amend the case.
Joel Osteen: Net Worth & Social Media Profiles
As of now, his net worth is estimated to be around $50 million. Back in 2017, his net worth has claimed to be around $40-$60 million. Therefore, he has claimed that as a senior pastor, he has never gained a salary from the annual church's budget of $70 million. His earning comes from his best-selling books as an author. Moreover, the family resides in a 17,000 sq foot mansion in River Oaks that has an estimated value of $10.5 million.
The televangelist is also highly active over different social media platforms where he shares his beliefs and aware of god's words. He has an Instagram account @joelosteen with 3.5 million followers. On Twitter, he has an account @JoelOsteen with 9.13 million followers. Also, he has a Facebook account with over 21 million followers.
Joel Osteen: Body Measurements
Talking about his height and weight, he has a tall height of 5 feet 11 inches or 1.80 meters. Other than this, there is no information on his body measurements. He follows the healthy living theory with a healthy mind.
Also Read about celebrities like Alanna Masterson, Brooke Daniels, Jordan Masterson, Mimi Rogers.