Jon Stewart is a multifaceted personality in the United States. He is a comedian, producer, a writer, director, and TV personality famously known as the host of, "The Daily Show" which aired on Comedy Central from 1999-2015. Stewart is one of the best TV show hosts in the U.S. He is mostly known for his satirical presentation in his show, "The Daily Show" together with John Oliver which aired for 16 long years.
Besides his television career, Stewart is also involved in a variety of projects like acting, writing, stand up comedy and many others like public speaking as well which proves him as an all-rounder.
Caption: Jon Stewart
Source: Time.com
Jon Stewart: Early Life and Nationality
Jon Stewart was born on November 28, 1962, in New York City which makes his nationality an American. Both his parents belonged to teaching backgrounds. Stewart's mother was a teacher and an educational consultant while his father was a physics professor at the College of New Jersey. His parents divorced when he was just eleven which hugely affected him, as a matter of fact, he had an estranged relationship with his father.
Jon Stewart: Education and Career
Caption: Host Jon Stewart of Comedy Centrals "The Daily Show"
Source: Fortune.com
He graduated from the College of William and Mary, Virginia, in 1984. Stewart was a funny man back in school which aspired him to try his hand at comedy which is why he returned to New York. Finally, he made a stand-up comedy debut at, "The Bitter End". Shortly after he became a regular performer at "Comedy Cellar". Later Stewart also proved his writing skills after he bagged his first television show as a writer in  "Caroline's Comedy Hour". Stewart hosted several small programs on TV channels like Comedy Central and MTV until finally finding fame from, "The Jon Stewart Show" on MTV, which went on to become a major success.
Eventually, Stewart signed some of the major TV projects with reputed names like CBS and BBC. In 1999, he joined the show, "The Daily Show" as a host after Craig Kilborn left to host, "The Late Late Show" replacing Tom Synder. The show usually commented on the major political events using satire and witty humor. The show was successful and went on air for years. However, Stewart departed from the show later in 2015 with a final broadcast on August 6, 2015.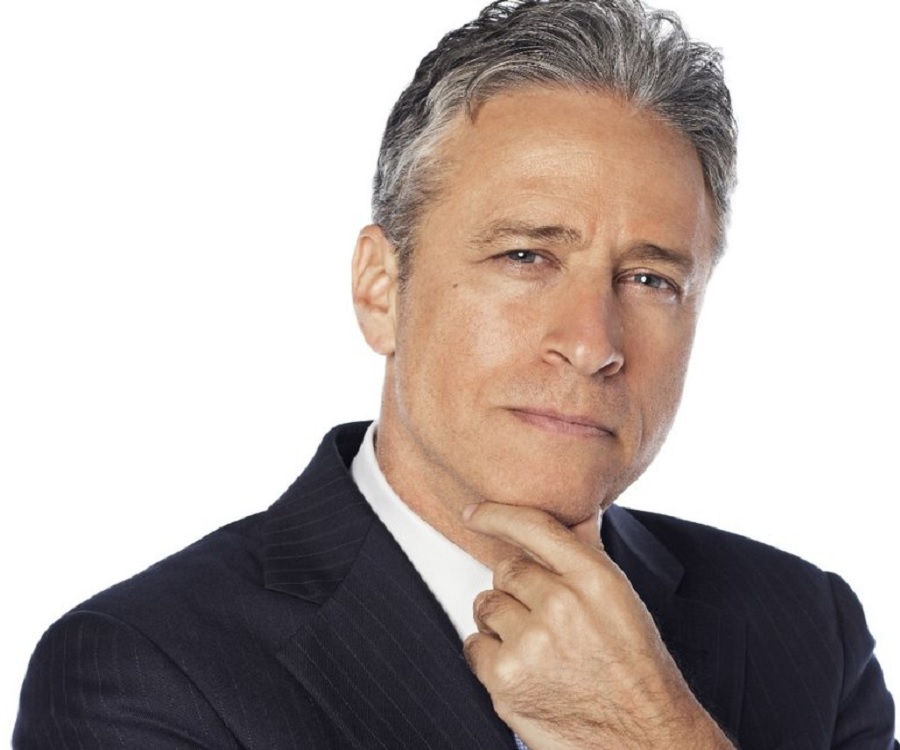 Caption: Stylist Jon Stewart
Source: TheFamousPeople
Apart from that Jon is also a New York Time's best selling author for his book, "Naked Pictures of Famous People", which is a collection of humorous stories and essays. In addition, Stewart even acted in many Hollywood movies including some big names like "Batman v Superman: Dawn of Justice" (2016) and "The First Wives Club" (1996) "Evan Almighty" (2007) and many other projects as such.
Jon Stewart: Personal Life, Wife and Children
Stewart's personal life is as interesting as his career. He has been married for 17 years to his wife Tracey Lynn Mcshane. The couple met through a blind date set up by a production assistant for the movie, "Wishful Thinking" in 1997. After dating a while, Stewart proposed Tracey through a crossword puzzle in New York Times to which she said yes and they married.
Together the couple has two children born through in-vitro fertilization. They also bought a 12-acre farm in New Jersey which they use as a sanctuary for abused animals.
Caption: Jon Stewart with his Wife Tracey Lynn Mcshane
Source: nydailynews.com
Jon Stewart: Total Net Worth and Awards
Jon Stewart with his diverse career and a successful history is sure a rich man. But how much does he actually owe is a topic of curiosity. His total net worth is estimated at $80 million which is an impressive number. Moreover, his hard work and dedication to his career have led him to become who he is today.
Stewart has received many awards throughout his career. The awards include an Emmy, which he received for his Television career. Shortly, he also received a Grammy award for his album, "America (The Book): A Citizen's Guide to Democracy Inaction." Additionally, he was among one of the names in the list of the "100 influential people" by Time Magazine.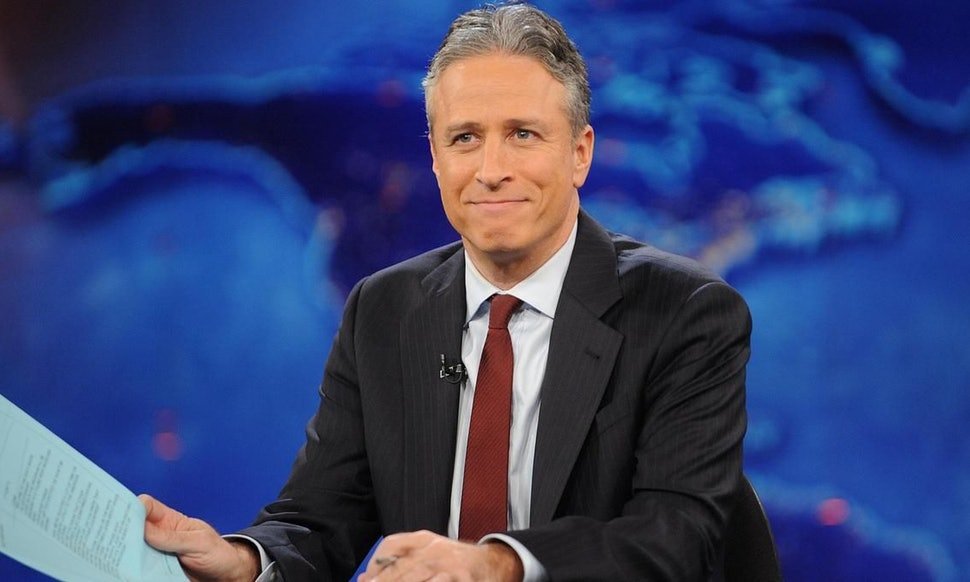 Caption: Jon Stewart hosting the show
Source: bustle.com