Kelsey Henson is a Canadian model, blogger, Instagram star, and fitness influencer popular as the wife of Hafþór Júlíus Björnsson. Additionally, Björnsson is an Icelandic professional actor who played the role of Gregor 'The Mountain' Clegane. He played the character for five seasons in the HBO series 'Game of Thrones'. Björnsson and Kelsey frequently attend red carpet events together and they are immediately drawn to the vast 19-inch gap in their heights.
Before Henson was popular as a celebrity partner, she worked in the construction sector in organizations.  Some of those companies include Voice Construction OPCO ULC, Guthrie Mechanical Services Ltd., and Tervita Company. She also worked at the Canadian Imperial Bank of Commerce as a financial services agent. Similarly, she was a waitress at Earls Kitchen + Bar in Fort McMurray, Alberta, where she met Björnsson for the very first time. Therefore, she holds many qualifications, including 'WHMIS Train the Teacher',' Tervita Basic Fire Extinguisher Training',' Health & Safety Management Concepts', and 'Basic Teaching Techniques.'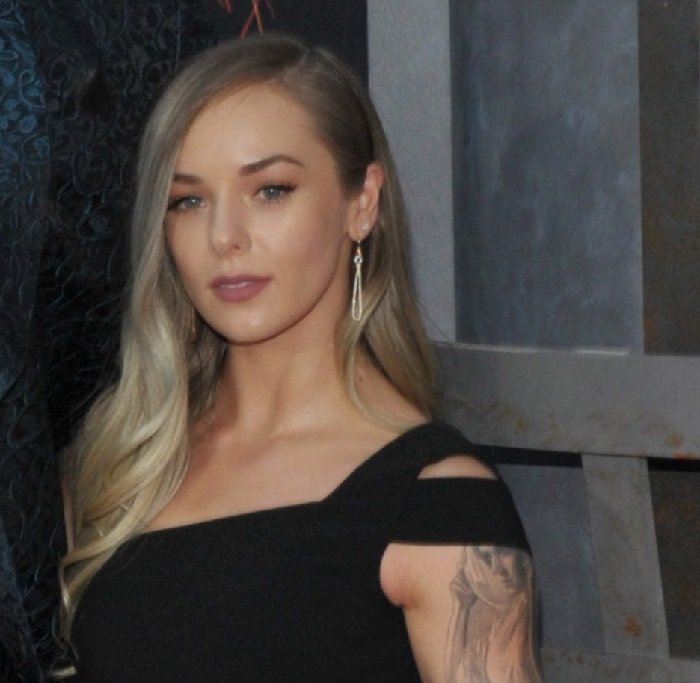 Caption: Kelsey Henson
Source: thesun
Kelsey Henson: Early Life, Education, and Family
Henson was born to her parents in Alberta, Canada, on 5 March 1990. Talking about her educational qualification, in 2012, she began studying Occupational Health & Safety at the University of Alberta and obtained her certificate in 2014. Later in 2017, from the Alberta Construction Safety Association (ACSA), she received two building safety designations, National Construction Safety Officer (NCSO) and Health & Safety Administrator (HSA). Similarly, talking about her family, she has a sister named Kathleen Henson. Her sister is an accomplished photographer. Besides, there are no details available about her parents.
Kelsey Henson: Career and Achievements
In April 2010, Kelsey Henson started her career working at the Canadian Imperial Bank of Commerce as a financial services representative. She quit the job when she joined the University of Alberta in October 2012. There she started working as a server at Fort McMurray, Alberta's Earls Kitchen + Bar. As a Project Administrator and Junior Safety Counselor, she joined Voice Construction OPCO ULC in May 2014. She started working as a building operator at Guthrie Mechanical Services Ltd. at Syncrude, Mildred Lake Village Camp in Fort McMurray, Alberta, after nearly a year, in April 2015, and she did so for six months.
In October 2015, she joined Tervita Corporation as a Field Services Administrator and continued to work until December 2017 in that role. She continued to work as a waitress at Earls Kitchen + Bar all this time, were at the end of 2017 she met her future husband,' Game of Thrones' famous Haf Debator Björnsson. Kelsey also volunteers at Fort McMurray's SPCA as a dog walker.
Also, read Nisha Yogeshwar, Lisa Stelly, Ian Jeffrey, Montia Sabbag
Kelsey Henson: Personal life and husband
Henson married Hafþór Júlíus Björnsson in the year 2018 just after one year of dating each other. The couple first met each other in the year 2017 at Earls Kitchen + Bar where Henson was working as a waitress. The couple has recently welcomed their newborn baby boy on 26 September 2020. Besides, talking bout her husband Björnsson, he has a daughter 'Theresa Líf' with his ex-girlfriend 'Thelma Björk Steinmann'.
Kelsey Henson: Net Worth and social media
The model has a total net worth of $5.8 Million US dollars. Her main source of income is her profession as a model and fitness influencer. Similarly, talking about her social media availability, she is available on Instagram as kelc33. Likewise, Henson is also accessible on Twitter as henson_kel. Henson has more than 460 k followers on Instagram and 270 followers on Twitter.
Kelsey Henson: Body measurements
The 30-year-old model is very beautiful to look at. She holds charming facial features, dazzling brown eyes, and has fair skin. Additionally, she stands 1.57 meters tall and weighs around 53 kgs. Besides, her other body measurements are 35-24-36.