American actress and model, Kimberley Conrad came to limelight with her association with the adult entertainment magazine 'Playboy'. The model was not just associated with the magazine agency professionally but personally as well. She married Hugh Hefner, the founder of 'Playboy' magazine as his second wife and later divorced. The founder of 'Playboy' has in total of four kids and Conrad is the biological mother of two namely Cooper Hefner and Marston Hefner.  Conard is a vegetarian and cares for animals a lot. She has worked for PETA and various animal rescue groups in Los Angeles, California. Her hobbies include adventurous kinds of stuff such as snowboarding.
The actress was in rumor last time because of her son, Cooper Hefner. Cooper Hefner had an unusual request for his mom on the occasion of Mother's Day. She gained enough attention and even created a kind of controversy because of this thing. IF you want to know why? scroll down to know.
Caption: Kimberley Conrad
Source: pictures.zimbio.com
Kimberley Conrad: Early Life, Family, Education
The model was born on 6 August 1962, at Moulton, Alabama, US. In 1966, her family moved from Moulton, Alabama to Reno, Nevada, US when she was only four years old. And subsequently moved to British Columbia in Canada when she was twelve. The model was determined to work as a model and she soon started her modeling career at the age of seventeen. She started getting recognized widely when she was featured in the adult entertainment magazine 'Playboy'. Playboy featured the beautiful model, Kimberley Conrad in numerous 'Playboy' videos and even published a "Playboy" newsstand special edition totally dedicated to her. She filed a lawsuit against Hugh Hefner in August 2009.
Because she caught the eye of the public and media because of her fame as Mrs. Hefner, detail information about her early life is not available. Talking about her family, people only know about her husband and children but not her parents. Not just the family background but the public also does not know about her educational qualification.
Caption: Kimberley Conrad in her early modeling days
Source:999dots.com
Kimberley Conrad: Career
Conard established her self in the fashion industry by working for  Elite Model Management in Vancouver, Canada under John Casablancas. Gradually, she involved in posing for 'Playboy' magazine when Vancouver photographer 'Ken Honey' talked to her about it. During her career as a model, she has been awarded several times with several awards. In 1988, she was the 'Playmate of the Month' for Playboy January issue. In the year 1989, she was the 'Playmate of the Year'. Besides, Conrad also worked as an actor as she did a guest appearance on an episode of TV series 'Highway to Heaven'.
The model came into news in 2017, when her younger son, Cooper Hefner had a request for her to recreate her August 1988 cover after nearly 29 years. Though the request was a mother's day gift, it seems quite unusual for the public. The reason behind the request was to celebrate former Playmates from the '70s-'90s and Conrad alone was not involved in the shoot. The cover collection includes the recreation of seven Playboy Playmates and the collection was streamed live representing Playboy founder Hugh's idea that once you are Playmate, you're always a Playmate.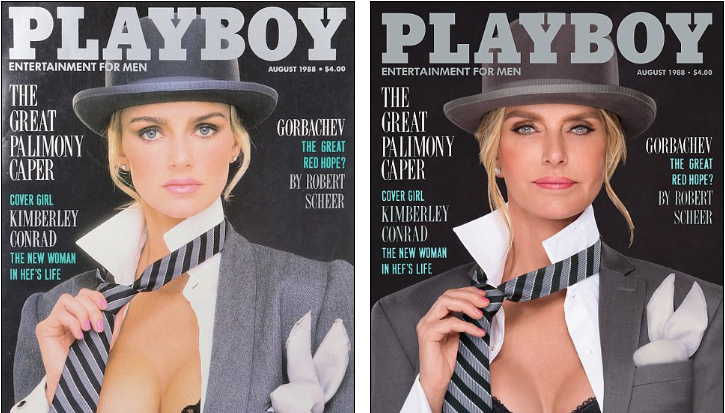 Caption: Kimberley Conrad's playboy cover recreation
Source:dailymail.co.uk
Kimberley Conrad: Personal life
During the time she was working as a playboy model, she started dating the founder and publisher of Playboy, Hugh Hefner. They eventually married each other and after getting married to Hughs, Conrad converted the Playboy mansion into a conservative home. She started taking care of their two children and the house. Basically, after marriage, she started appearing less in the magazine but did not stop.
The model has two children with her ex-husband Hugh Hefner named Marston Glenn Hefner born on 9 April 1990 and Cooper Bradford Hefner born on 4 September 1991. The couple spent nine years after marriage together and separated and a decade later. The couple legally divorced in 2010. Initially, the couple decided not to divorce legally for the sake of their children. Conrad seems to have a thing for musicians as she was in a romantic relationship with British musician Rod Stewart in 1999 and in 2005  with American musician Quincy Jones.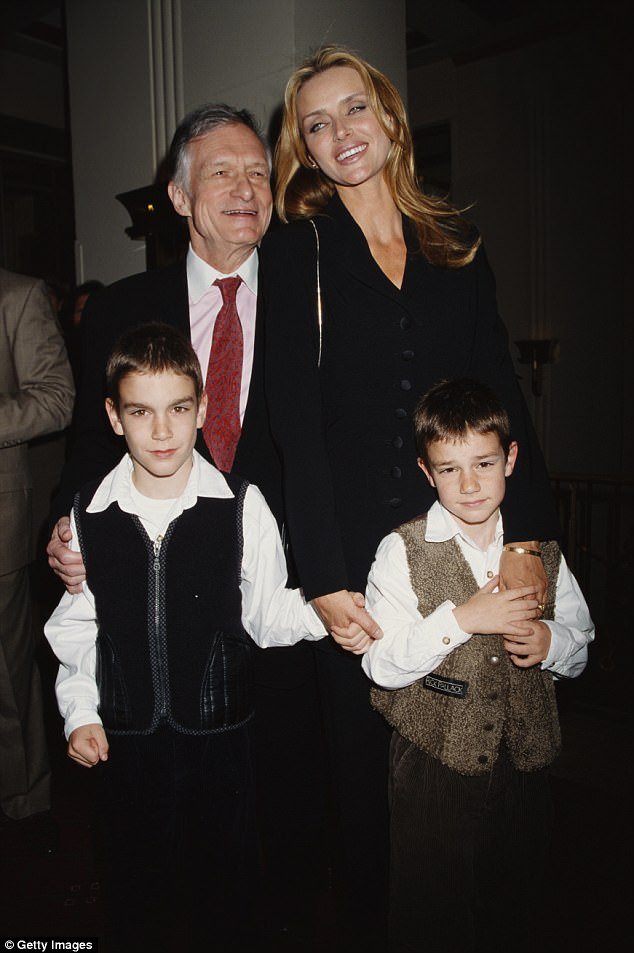 Caption: Kimberley Conrad with her ex-husband and two sons
Source:dailymail.co.uk
Kimberley Conrad: Networth and Social media
Conrad's exact Networth is not available but it has to be above average. The model's ex-husband pays her 50,000 a year on the basis of the prenuptial agreement. She also gained $5 million when she filed a lawsuit against her ex-husband for the sale of a home they owned together.
Caption: Playboy mansion
Source:laweekly
The model is not active in any of the social media platforms like Instagram and Twitter. Moreover, she is not very public nowadays.
Kimberley Conrad: Body measurements
The tall, slim, and bonny blonde model is now 57 years old but has not lost her charm and attractiveness. She is 1.75 meters tall and has an hourglass body type. She has light blonde hair color and blue eyes.
Also read David Haffenreffer, Emma Glover, Jessica Burciaga, Diane Alexander .