Laia Manzanares is a famous Spanish Actress who has worked for shows like "Merli" which came out in 2015, "Proyecto" in 2017 and her most recent work "Sostre" in 2018. The 24 years old girl is also widely known as 'the girl' from the "Tame Impala".
She is also a member of famous Movie Actress list as she has performed in the movies like "Bathed in Light"(2017) and "Ray"(2017).  Let us get to know more about the talented Laia Manzanares Tomas. Click here to know about Natasha Yarovenko.
Caption: The gorgeous actor, Laia Manzanares
Source: www.twitter.com
Laia Manzanares: Bio
Laia Manzanares Tomas was born on March 30, 1994, in Barcelona Spain. Her parents raised Tomas in her hometown and are able to speak four different languages; Catalan, Spanish, English, and French.
Caption: Laia's childhood picture
Source: www.instagram.com
There isn't any information regarding her schooling and her college degrees. But her ability to speak four different languages has made us sure that Laia has been well educated or at least has a good exposure to other cultures while having the ability for learning and understanding new languages.
Laia Manzanares: Entertainment Industry
Laia has made her huge step on the entertainment industry. She began her acting career in 2015 by debuting as Oksana in Merli. Later after two years, she worked in Proyecto and her recent work is Sostre. Manzanares has also appeared in different movies. Besides being a talented actress, she is known to be good at singing and dancing, especially good at flaunting some hip-hop moves.
Laia was a popular girl in the Tame Impala: The Less I Know The Better music video clip where she played the role of a cheerleader who was dating a basketball player, however, would soon begin a relationship with the basketball team's gorilla mascot. Her group uploaded the music video to their Vevo channel and it went wild.
As mentioned earlier, Manzanares made her first appearance in the series Meril, a Catalan TV series about a philosophy teacher who boosts students to think freely. Meril was first aired on September 14, 2015, and ran till January 15, 2018.
Oksana Casanoves' role was played by Laia, as newbie student in the second season of the TV series, who was originally from Ukraine and was admired by the girls in her school just as the boys fall for her beauty. According to the series, her love interest was with a character with the name Gerard. Unfortunately, he had an eye for the other girl, Monica. Oksana feels she can win her way through and make him get over the girl and commits herself to the task. Later, in the last episodes, Oksana got more involved in tracing her birth mother and her origin from Ukraine. Comprehensively, Manzanares portrayed the character well and we hope this will bring more shows and movie roles to her.
Caption: Laia Manzanares in Merlí (2015)
Source: www.imdp.com
Laia Manzanares: Family Life and Boyfriend
Laia is one of those private actresses who keeps her personal life exclusive. She hasn't unwrapped any information regarding her family, childhood days and whether she has siblings or not. However, the actress posted a photo of her and her dad of her third birthday on Instagram in March 2017.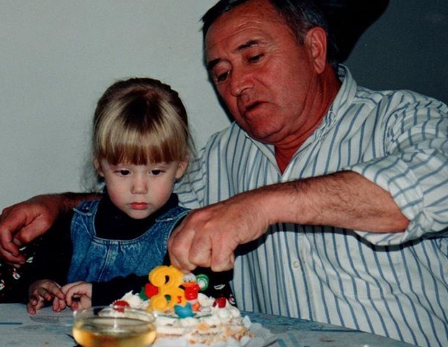 Caption: Birthday Celebration
Source: www.instagram.com
As per our understanding, Manzanares has not been romantically involved with any guy. We can't say for certain if she is dating or not. It would definitely not be surprising if the beautiful star is dating someone secretly, would it?
Laia Manzanares: Social Media and Other Facts
Manzanares has over 222k followers on her Instagram account and over 9k followers on Twitter so far.
The Aries woman loves to swim and has impressive height 5 feet 6 inches.  Her hobbies include horticulture, lego building, leathercrafting, and traveling with friends.