Matthew Dowd is an American political consultant. Dowd became the former Chief strategist for the 2004 Bush-Cheney re-election campaign, who later became a contributor to the National Journal.
He usually takes his twitter account to circulate his views and opinions on political, social as well as religious matters. Most of his tweets have made him a subject of backlash.
For all those who want to have leaders put Country over Party here are some shirts, hats, stickers you can display proudly. Time for leaders who have integrity. Any profit goes right back to support this movement. https://t.co/hh3B3hXNGu pic.twitter.com/BsYypadeoV

— Matthew Dowd (@matthewjdowd) June 14, 2018
Matthew Dowd Bio
The political consultant was born as Matthew John Dowd on May 29, 1961, Michigan. His has an executive father and elementary school teacher, homemaker mother who belonged to Catholics background. Also, Irish descend Matthew is the third child of 11 children.
While at the age of 12, his interest in politics was sparked by the Watergate Committee hearing during the summer of 1973. Dowd was born to Republican parents yet he first began politics as a Democrat. He then worked as a member of the Senate and campaign staff of Senator Lloyd Bentsen's, D-Tex while studying in college. Plus worked for Texas Lt. Governor Bob Bullock.
Matthew helped win the 2004 presidential election for incumbent President George W. Bush, as a Republican. By 2007, he began to disagree with Bush on a number of politics including his involvement with the Iraq War and his handling for the Hurricane Katrina.
As a political commentator, Dowd joined ABC's Good Morning America in December 2007. Additionally, the consultant also appears on other flagship programs on the network including Nightline and This Week.
Loved doing @GMA from my home of Wimberley, TX today. Love this shot highlighting @danbharris was asking me question as i came from Wimberley. Though my eyes being closed either makes me look sleep or downtrodden. pic.twitter.com/JAlgN8ZUw1

— Matthew Dowd (@matthewjdowd) December 27, 2017
Dowd has founded a number of successful companies including strategy consultancy Vianovo and Public Strategies. Dowd is also famous as the co-author NYT best-selling book "Applebee's America: How Successful Political, Business, and Religious Leaders Connect with the New American Community." In 2017, he published a book titled; "A New Way: Embracing the Paradox as We Lead and Serve."
Matthew Dowd was a fellow at the University Of Chicago Institute Of Politics and has held seminars at Harvard, Stanford, Yale, University of Texas Lyndon B. Johnson School Of Public Affairs.  Furthermore, served on the boards of non-profit organizations like Seton Family of Hospitals, a Texas-based Catholic non-profit health system.
Matthew Dowd Criticism
 Dowd was strongly criticized after his bad prediction that Hilary Clinton would win the 2016 US presidential elections by a greater margin than Obama did in 2012. His word said;
"I think she's got about a 95 chance to win this election, and I think she's going to have a higher margin than Barack Obama did in 2012. She's going to win by more than 5 million votes. She's going to win a higher percentage. And interestingly she's going to have a more diverse coalition than Barack Obama even did when you take the final vote into consideration. Every piece of data points in that direction."
Matthew Dowd Marriage, Divorce, Child, Relationship status
Matthew Dowd's personal life hasn't been as fortunate as he has been divorced twice and lost an infant child. He had three children from his first marriage wherein second marriage Dowd had twin girl, one of which died at the hospital after two months of her birth. Maybe it affected his marriage as he separated from his wife shortly afterward. Matthew Dowd has 4 children in total.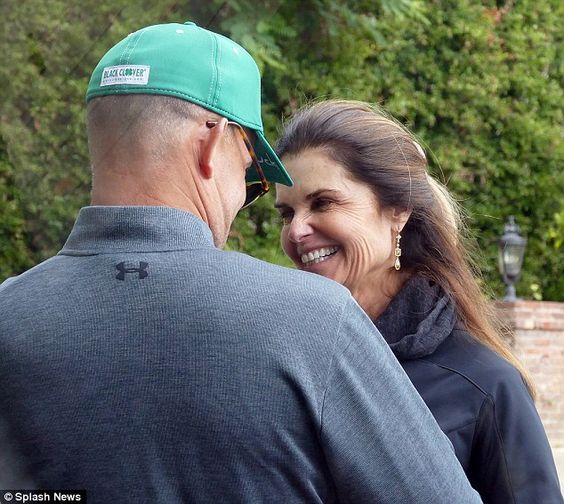 Caption: The 67-year-old political consultant looked blissfully happy with his longterm girlfriend Maria
Source: www.dailymail.com
After Dowd's second divorce, in 2013, he began dating his former employer, Arnold Schwarzenegger's ex-wife Maria Shriver. They were spotted looking all loved up in public. However, Maria who works as a special anchor and correspondent for NBC News hinted on the network's Today Show that she is "single" in 2017.
Click here to read about Diane Macedo.