Phil Robertson is an American professional hunter, businessman and reality television. He became notable after appearing in the popular television series 'Duck Dynasty' along with his son Willie Robertson and family. Along with that, he also featured on the Outdoor Channel's show 'Duck Commander' based on his company.
According to the report of the online portal in 2013, he was suspended from his popular television show after making shockingly offensive remarks on blacks and gays. Further, he had also made controversial comments during the 2015 Breitbart Defender of the First Amendment Award. Want to know more about his controversies as well as details on his personal and professional life? Then stay tuned to know further information.
Caption: The businessman and television reality star, Phil Robertson.
Source: YouTube
Phil Robertson: Bio, Family, Education
Robertson was born as Phil Alexander Robertson on 24 April 1946 in Vivian, Louisiana, the USA. He was born the fifth of seven children of Merritt and James Robertson. He grew up in rugged conditions growing fruits and vegetables, hunting animals and fishes. Due to unstable financial conditions, his family had to live in a house without electricity, toilet, or bathtub, however, he recalls saying they were happy though the circumstances they had to face.
He was very active in sports especially football, since his high school which led him to joined Louisiana Tech in Ruston. Therefore, he attended the university after getting a football scholarship in the late 1960s. There he played for the Bulldogs as the first-string quarterback, ahead of Terry Bradshaw who went on to play professionally in the National Football League (NFL). Phil played as a starter for the Louisiana Tech Bulldogs football team for a year and decided not to play the following season. Following that, he graduated from Louisiana Tech with a Bachelor of Arts degree in Physical Education. Thereafter, he started working as a schoolteacher for a year.
Phil Robertson: Career & Life Achievements
However, during his early career, he became a teacher but later he left the job to give full attention to become a duck hunter. As an avid duck hunter, he was not satisfied with the duck calls. So, he invented his first duck commander call in 1972. After receiving a patent for this call, he created his incorporated the company 'Duck Commander Company' in 1973. The company today is headed by his son Willie Robertson.
As a television reality star, he first appeared on his family reality television show 'Duck Dynasty', aired on A&E. The show gathered huge popularity breaking rating record of all time in the A&E network shows. The show aired from 2012 to 2017, showcasing their daily lives within Duck Commander. But in 2013, the show has suspended Phil after interviewing with Drew Magary commenting on anti-gays and blacks.
Caption: Phil Robertson along with the stars of the reality television show 'Duck Dynasty'.
Source: Business Insider
In 2013, he published a memoir 'Happy, Happy, Happy' co-written by Mark Schlabach. He is also a political supporter, he had endorsed Vance McAllister through a TV commercial in 2013. Further, he had supported Ted Cruz for 2016 as well as backing out to endorse Donald Trump. Additionally, he appeared in Steve Bannon's film 'Torchbearer' and serving as chairman of the 'Fight for the Court' project of the American Legacy Center.
Phil Robertson: Personal Life & Wife
Speaking of his personal life, Robertson had married his high sweetheart Marsha "Kay" Carroway. They started to date in 1964 while attending high school. After that, they married in 1966 and had their first child Alan while they were attending college. However, it is reported that they had early troubles in their marriage because of Phil's lifestyle like 'sex, drugs, and rock 'n' roll lifestyle'. Regardless of that their union stands long and strong marriage which is still running. Moreover, he is a grandfather of sixteen grandchild and several great-grandchildren.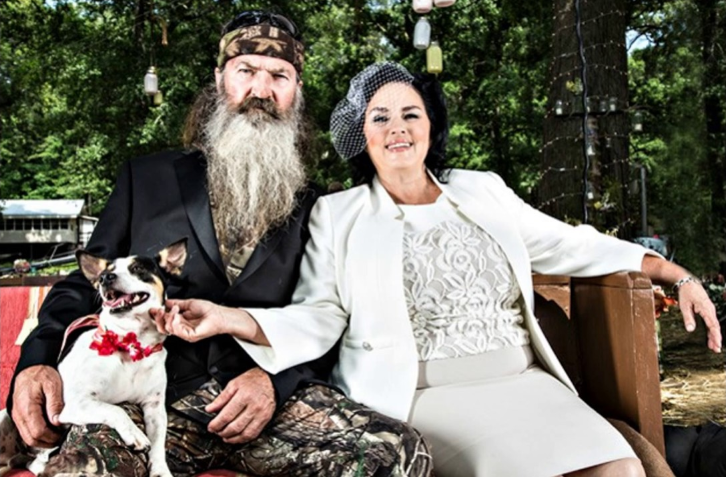 Caption: Phil and wife Kay Robertson
Source: YouTube
The couple altogether had welcomed the other three children: Jase, Willie, and Jep Robertson. Along with his sons and brother Si, they are known for their conservative Protestant Christian with long beards. Further, he is a devout Christian and an elder member at the White's Ferry Road Church of Christ in West Monore. In addition, he opposes abortion and called it a violation of the 'Declaration of Independence'.
Phil Robertson: Net Worth & Social Media Profiles
The American businessman and avid duck hunter have made a huge income from his career. He has a net worth estimated at around $15 million which he had made throughout his career. He is also the creator and operates his multi-millionaire dollar hunting company 'Duck Commander'.
The millionaire business can be stalked over different social media platforms like Twitter and Instagram where he has personal and verified accounts. On Instagram, he has an account @officialphilrobertson with 42.8k followers. On Twitter, he goes by the handle @DuckCommanderPR with 49.9k followers. He has a Facebook account having more than 3.5 million followers.
Phil Robertson: Body Measurements
In the age of 73-years-old (as of 2020), the television reality star is still an enthusiast regarding most of the people of his age. Therefore, his fit and well-maintained body stand to a tall height of body 6 feet 2 inches or 1.87 meters. He has a long beard with hazel eyes color and grey-black long hair.