Sam Elliott, an American actor, well known for his deep voice, thick mustache, and western drawl, those features have driven him to portray more as cowboys and ranchers.
Elliott's first performance would be in 1967 movie 'The Way West' as a Missouri Townsman. Though he did pretty good, Elliot didn't get the credit for the role. Scroll down to know more about him..
Who is Sam Elliott?
Sam Elliott is an American actor born on August 9th, 1944, in Sacramento, California, to Henry Nelson Elliott and Glynn Mamie. Though Elliott's parents originally came from El Paso, Texas, they had to move to Portland, Oregon, when he was just a 13-year-old kid.
Sam Elliott graduated from 'David Douglas High School' in 1962 and attended the 'University of Oregon' later. He did a major in Psychology and English there for almost two-terms before dropping out for good. Then, nearby Vancouver, Washingon, he went to 'Clark College' to complete a two-year program where he graduated in 1965.
Again, he enrolled at the 'University of Oregon' but he had to drop out for the second time after his father's death due to a heart attack when he was just 18. Speaking of a fact, Elliott didn't get much support from his father when he told him he wanted to be an actor, but instead he'd encourage Elliott more to attain a college degree.
Subsequently, to pursue a career in Hollywood, he moved to Los Angeles and worked in construction while studying acting. He also served in the 'California Air National Guard's 163rd Airlift Wing'.
How did Sam Elliott's Career Start?
Sam Elliott's first project would be a 1967 western adventure movie called 'The Way West'. He played the role of a Missouri Townsman, however, he didn't get any credits for it. Later, in 1969, he got his first TV credit in 'Judd for the Defense' in the episode called 'The Crystal Maze'.
Also, in 1969, he played as Renslo in a show called 'Lancer'. Moreover, he showed up in two additional episodes of Lancer in the middle of 1970 and 1971. Around the same time, Elliott made his breakthrough in 'Butch Cassidy and the Sundance Kid' as a card player. Additionally, during the year 1970-1971, he starred for several episodes of 'Mission: Impossible' as 'Doug Robert'.
After all his side and back roles, Elliott was finally cast for a lead role in the TV film 'Will Fight No More Forever' as 'Charles Wood' in 1975. Also, from 1976-1977, he portrayed as 'Sam Damon' (Lead Character) in a mini-series called 'Once an Eagle'. During the same year, he starred as 'Rick Carlson' in 'Life Guard' too.
So, this is how it all started!
Sam Elliott's Other Movies
Some of Elliot's other movies are: 'The Games', 'Frogs', 'Molly and Lawless John', 'West World', 'The Towering Inferno', 'The Legacy', 'Raging Bull', 'Time Bandits', 'The Thing', 'Mask', 'The Doors', 'Rush', 'Gettysburg', 'The Big Lebowski', 'Adventures of Mowgli', 'Hulk', 'Blood Diamond', 'Ghost Rider', 'The Golden Compass', 'The Big Bang', 'The Man Who Killed Hitler and Then the Bigfoot', 'A Star is Born', 'Bohemian Rhapsody' and several more.
Altogether, he has involved himself in more than 50 movies; it includes voice over as well. Moreover, speaking of TV series and documentaries, he has starred in more than 55 in all. Some of them are: 'The FBI', 'Assault on Wayne', 'Gun Smoke', 'Hawkins', 'Doc Elliot', 'The Manhunter', 'Murder in Texas', 'The Desperate Trail', 'Blue River', 'American Dad', 'The Ranch', and many more.
Sam Elliott's Awards and Nominations
Throughout his career, he has received several nominations and awards for his work. To be precise, he was nominated for an 'Academy Award', two 'Golden Globe Award', two 'Primetime Emmy Award' and a 'National Board of Review Award' for best-supporting actor.
Also, for 'A Star is Born', he received nominations in the 'Academy Award' for the best-supporting-actor, a 'Screen Actors Guild Award', a 'Critics' Choice Award', and had won a 'National Board of Review Award'. Moreover, in 2015, Elliot managed to win the 'Critics' Choice Television Award' for the best guest performer for his role in 'Justified'.
Sam Elliott's Net Worth
Through several pieces of research, we've calculated Elliott's Net Worth, and it's over $10 million. He has such a huge amount in his bank account because he didn't only involve himself as an actor, but he has produced several TV series and movies as well. Moreover, he has appeared in the guest role for so many of his projects too.
Sam Elliot's Car
It appears as though Elliott drives a 'Chevrolet Suburban' SUV since there are several pictures of Elliott with that car. Also, he was the voice on 'RAM' truck commercials. So, it's pretty certain that the company has provided him one of their trucks. However, several research sites believe that he doesn't drive the RAM, and only loves driving his Chevrolet.
Sam Elliot's House
With so much net worth, it's pretty obvious that he owns more than one house. So, he has one of his mansions in California, Malibu, and one in Harrisburg, Oregon. The veteran actor once said that he likes to spend his time more in Oregon than in Cali. Moreover, he has ownership of his childhood home in Northeast Portland. Nonetheless, some sites claim that he maintains a property in Willamette Valley, Oregon as well.
Sam Elliott's Personal Life
Sam Elliott has been married to Katharine Ross since 1984, May 1st, and they have been together ever since then. They met during their shoot in 'Butch Cassidy and the Sundance Kid'. Though they didn't have any scenes together, the pair knew each other pretty well.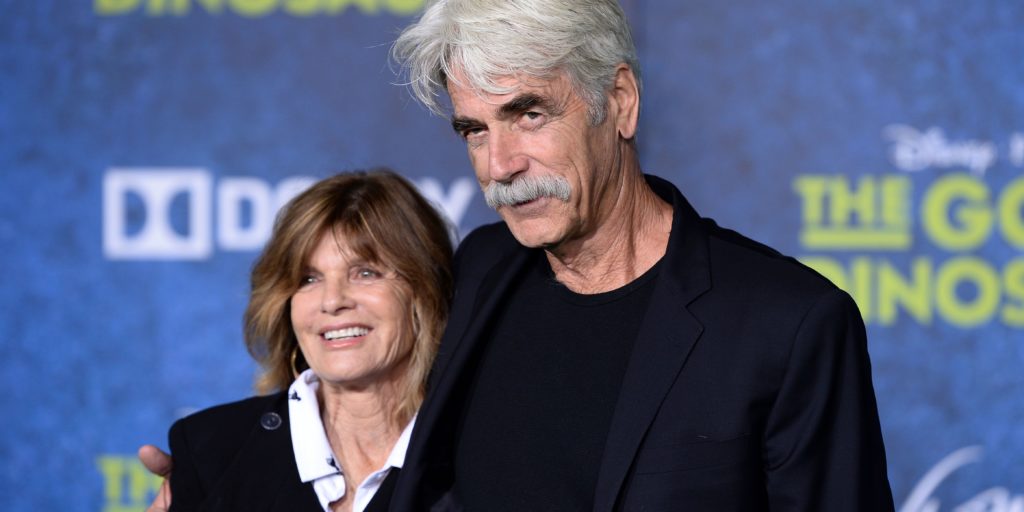 In 1978, Elliott and Ross started dating after they both featured in the movie 'The Legacy'. They have a daughter named Cleo Rose Elliott who was born on September 17th, 1984; she is now a musician in Malibu, California. Apart from these, he didn't really share much, and it also looks like he hates social media way too much.
We believe so because he once said "Everywhere you look, people are looking at their hands, and in restaurants, it's like you're sitting in a patch of jack-o'-lanterns because everyone's face is lit up by their phone. Nobody's relating to each other."