Scott Cawthon is an American game developer, designer, animator who is most famous as the creator of the popular Five Nights at Freddy's game franchise. Cawthon designed and creator other games as well. He has made games which includes names like Chipper & Son's Lumber Co., The Desolate Hope, and There is No Pause Button.
Cawthon, age 46, gained most popularity through the Five Nights at Freddy's(FNAF) game series. Let's get to know more about Cawthon's personal life, career and net worth in detail.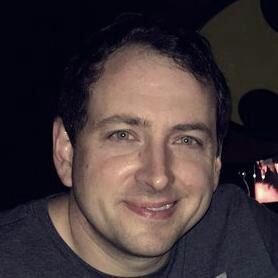 Scott Cawthon: Early life, Career, and Nationality
Scott Cawthon was born on July 26, 1971, in the United States which makes his nationality an American. There is not much information about his educational or family background but Cawthon began his career in game design and animation since the 1990s. He began his gaming career in the year 2002 after releasing  RPG Max, which created animations for people with Christian values. Similarly, in the year 2007, Cawthon released the first part of his 8-part series named The Pilgrim's Progress on his own Youtube channel.
Caption: Scott Cawthon
Source: thefamouspeople
After releasing the series, Scott made some more games like Sit N' Survive, Chipper and Sons Lumber Co. In the process. Cawthon also gained some criticisms for his game series like Chipper and Sons Lumber Co as the reviewers disliked the animatronic machines like characters that moved and interacted with each other. At first, he was quite discouraged due to the negative reviews to a point where he even wanted to stop developing games completely.
Cawthon came back using those animatronic-like characters and developing Five Nights at Freddy's which became an instant hit. Soon after the release of the first game series, he came out with the second release of the game followed by the third and fourth season of the game. The success of the game further attracted the attention of the Warner Bros. Company who wanted to turn the game into a movie. The movie was set to be produced after receiving some rights from the game producer, however, there were some issues that occurred during the process.
Scott became synonymous with the horror genre after creating Five Nights at Freddy's but before that, he developed quite a few unfamiliar names. One of those games, "The Desolate Hope" has been freely available on Steam since May 2018. There is no certainty for how long the game will remain free on Steam. But with the praise it is receiving, you might want to grab it as quickly as you can.
Scott Cawthon: Steam Games and their Price
Cawthon is a publisher of the famous online gaming platform Steam. This is a platform for digital distribution of video games. It was Valve Corporation that made Steam. Through it, they offer digital rights management, matchmaking servers, video streaming, and social networking services. Below is the list of games Cawthon has released under Steam.
Scott Cawthon wife and personal life
Scott's life as a game producer is always on the talks of the media, however, the same is not the case for his private affairs. Cawthon currently resides in Texas along with his wife and his children. He is originally from Fort Worth, Texas and as of now, he lives in Salado, Texas. Cawthon has two children whose names are Ian Cawthon and Braden Cawthon.
Scott is a gamer at heart who just enjoys playing them as much as he loves making them. On his YouTube channel where he has almost 2 million followers, Scott has been known to post videos on Trailers, Teasers, and Walkthrough. His youtube channel is named Scott Cawthon where this creative genius manages the account himself. He plays and posts walk through of his games and reviews other aspects of the video game industry. However, Cawthon has not been active lately and his last post is from 2016.
Scott Cawthon: Net Worth
If you're wondering how much does this genius game producer owe then you are at the right place. Scott Cawthon, with his successful video game franchise and published books, has a net worth of $60 million.
— Scott Cawthon (@real_scawthon) March 28, 2017
Scott Cawthon: Steam, Youtube, Twitter, and other social media accounts.
The famous Gaming genius is available on platforms like Twitter and Instagram. However, Scott is not active on any of these sites which makes it quite difficult to access and know more about his personal life. There is only a single unverified Twitter account in his name and which has a considerably large amount of followers, 121 k strong. This though contains only a single post.
It is almost the same story with his Instagram account where he has over 6500 followers but again his bio contains the same information as in his Twitter which says, "Yes it's the real me, but I only set up this twitter account so other people would stop trying to use my email address to set up a twitter account. ;)".
Scott can be followed on both these platforms and goes by the handle @real_scawthon on Twitter and scott.cawthon- on Instagram.