Steve Ballmer is an American businessman and former CEO of Microsoft. He has served the position from 2000 to 2014 and replaced by the current CEO Satya Nadella. However, he remained on the board of Directors of the company till August 2014 and left to prepare for teaching a new class. Further, he had purchased the Los Angeles Clippers of NBA for $2 billion and now he is the owner of the team.
He also recognized as a philanthropist who has donated millions of dollars to different communities. In 2014, he has donated $50 million to the University of Oregon along with his wife Connie Snyder. Further, he has been sitting in the World's Chairman's Council of the Jewish National Fund where he has donated over $1 million. Let us scroll over to know more information on him.
Caption: The Los Angeles Clippers owner and businessman, Steve Ballmer.
Source: YouTube
Steve Ballmer: Bio, Family, Education
Steven Anthony Ballmer on 24 March 1956 in Detroit, Michigan, the United States of America. He is the son of Beatrice Dworkin and Frederic Henry Ballmer (Fritz Hans Ballmer). His father worked as a manager at the Foord Motor company. He has a sister named Shelly Ballmer. He has a nationality of America and belongs to mixed ethnicity of Swiss and Belarusian Jewish.
For his education, he attended college prep and engineering classes at Lawrence Technological University in 1973. Further, he also a graduate of Detroit Country Day School in Beverly Hills, Michigan. From the school, he had scored 800 on the mathematical section of the SAT becoming a National Merit Scholar. He received his Magna cum laude with a Bachelor of Arts in applied mathematics and economics from Harvard University in 1977. In addition, he also lived in Brussels where he attended the International School of Brussels from 1964 to 1967.
Steve Ballmer: Career & Life Achievements
Before starting his lavishing career with Microsoft, he previously had worked as an assistant product manager at Procter & Gamble for two years. He had also tried writing screenplays in Hollywood. However, in 1980, he joined Microsoft and become the 30th employee hired by gates as the first business manager. From 1998 to 2001, he then promoted to President of Microsoft after gaining experience working in several Microsoft divisions.
On 13 January 2000, he was officially appointed as the Chief Executive Officer (CEO) of Microsoft. Since holding the position, he has handled the company's finances and daily operations. He announced his retirement in 2013 when the company loses billions of dollars in the acquisition and the Surface tablet. Following that, he stepped down from the company's position in August 2014.
Besides, he also served as director of Accenture Ltd from 2001 to 2006 as well as its general partner of Accenture SCA. Following his retirement, he shifted his interest in sports. Initially, he had become an investor for a different sports team but it didn't work for him. But he was the highest bidder in an attempt to buy the Los Angeles Clippers following the Donald Sterling Scandal in 2014 for $2 billion.
Steve Ballmer: Personal Life & Wife
He is a happily married man to his then-girlfriend Connie Snyder. The couple first when Connie used to work for Microsoft. After dating for years, they tied a knot in the year 1990. There is not much information on his past relationships or involvement in any affairs. He has greeted three children from his marriage with Connie. They are Peter, Aaron, and Sam Ballmer.
Lookin shortly at the bio of Connie, born on 1 September 1962, the Bellevue native gained a journalism degree from the University of Oregon. She further has co-founded the Balmer Group, an organization that aims to support poverty-stricken American families. She has also involved with several NGOs and fundraising charities.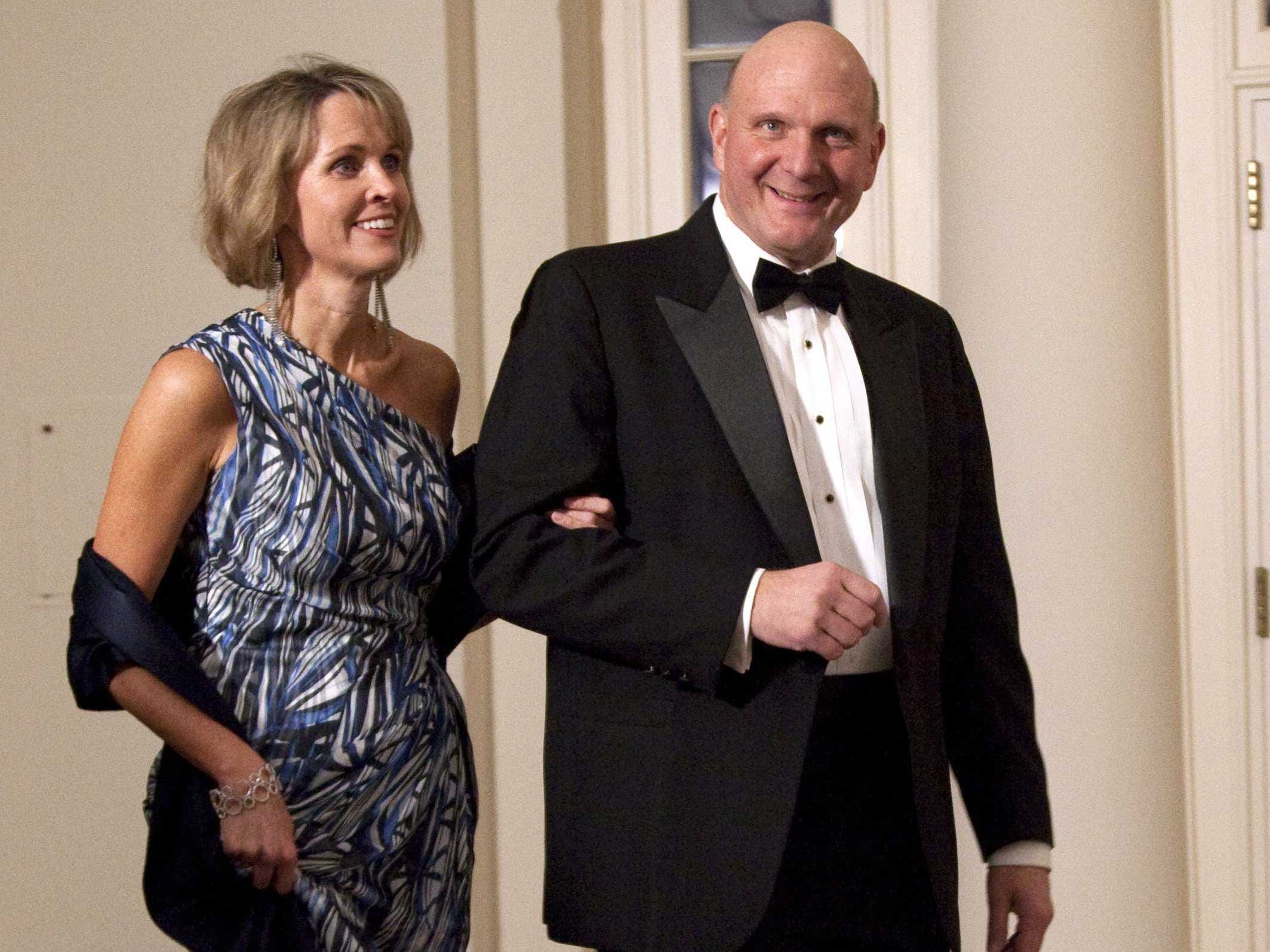 Caption: Steve Ballmer and his wife Connie Snyder.
Source: Businessinsider
Steve Ballmer: Net Worth & Social Media Profiles
The former CEO of Microsoft is one of the billionaires of the United States. Further, he has a net worth estimated at around $73.3 billion as of 2021, according to Forbes. His massive income grown during his stint tenure from Microsoft. Though he had step down from his post in 2014, he remained the largest individual shareholder of the company.
After his retirement, he has bought the Los Angeles Clippers for $2 billion from the previous owner Donald Sterling. In addition, he has bought several properties in different parts of the nation including his luxuries mansion in coastal Washington State. He has a verified Twitter account @Steven_Ballmer with 41.4k followers. Other than this, he does not seem to have any accounts on Instagram or Facebook.
Steve Ballmer: Body Measurements
The billionaire is healthy and fit in his sixties and maintained his body with exercised and healthy diets. He has an average height of 1.76 meters or 5 feet 7 inches and weighs around 82 Kg. He has blue eyes color with little brown hair.
Read about Darren Chan, Beau Jessup, Paul Singer, Markus Räikkönen.