If you have been keeping up with beauty pageants, trending news from entertainment field and reality shows, you obviously know the name 'Steve Harvey'. But for those who don't, 'Broderick Stephen Harvey' popular as, 'Steve Harvey' is an American comedian, entrepreneur, and entertainer. He hosts 'The Steve Harvey Morning Show', 'Family Feud', 'Celebrity Family Feud', 'the Miss Universe competition' and 'Fox's New Year's Eve'. The public loves to watch Steve Harvey and enjoy his show but, is Steve Harvey really a good host? Although he has been in media and hosting for more than a decade now,  he is remembered for making some big mistakes while hosting. The first one was when he announced a wrong contestant for winning the 2015 miss universe pageant. Harvey initially announced 'Columbia' as miss universe 2015 when the real winner was 'Philipines'.  The same thing happened recently, as he accidentally named the wrong winner for the best national costume category. He announced Miss Philippines as the winner when the actual winner was Miss Malaysia.
Harvey was recently in news because of his 23-year-old daughter stepdaughter 'Lori Harvey', who is rumored to be dating 36-year-old rapper 'Nayvadius DeMun Wilburn' popular by the name, 'Future'. When Harvey he didn't know anything about Lori's potential new relationship. Besides, Harvey became a news topic when he was sued by his ex-wife, 'Mary L. Vaughn' for $60 million, claiming that during their marriage, she was allegedly subjected to 'prolonged torture with the infliction of severe mental pain and suffering on 2017.  Steve Harvey once said," I'm not really a relationship expert but …I'm an expert on manhood and what men think". Maybe he should also think about what women think. The comedian performed his final stand-up act on 2 August 2012 at the MGM Grand in Las Vegas.
Caption: Steve Harvey in his Daytime Talk Show Season 2
Source: Variety.com
To know more about Harvey's current love life, career, net worth, early life and more, scroll down.
Steve Harvey: Early Life, Education,

and Family

The television host was born to mother 'Eloise Harvey' and father 'Jesse Harvey' on 17 January 1957 in Welch, West Virginia, USA. His father was a coal miner. Harvey's parents name him after the name of 'Broderick Crawford' of the TV series 'Highway Patrol'. The family moved to Cleveland, Ohio later. Not much information is available about his family background and early life. Harvey did his schooling from Glenville High School and graduated in 1974. After that, he attended Kent State University and West Virginia University and is a member of the Omega Psi Phi fraternity. The 62-year-old icon is a husband, father, and grandfather as well.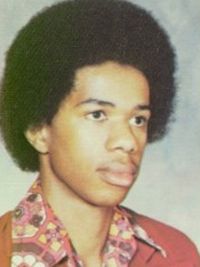 Caption: Young Steve Harvey
Source: Pinterest
Steve Harvey: Career and achievements
Steve Harvey is one of those entertainers who struggled in his early life which eventually got him success. In his early days, he was a boxer, an autoworker, an insurance salesman, a carpet cleaner, and a mailman. He initiated his career in the entertainment field as a stand-up comic in the early 1980s at the Hilarities Comedy Club in Cleveland, Ohio. In the late '80s, Harvey was homeless for three years. He slept in his 1976 Ford when not performing gigs that provided a hotel, and he showered at gas stations or swimming pool showers. Later, he hosted Showtime at the Apollo and The Steve Harvey Show on The WB. The Original Kings of Comedy featured him after starring in the Kings of Comedy Tour. He performed his last standup show in 2012. He also became one of the four comedians featured in Spike Lee's The Original Kings of Comedy.
Besides, in 2000, he even launched a radio program, channeling its content into the best-selling relationship book 'Act Like a Lady, Think Like a Man'. Eventually, Harvey hosted a pair of daytime talk shows. He has been hosting a game now currently which is named 'Family Feud'.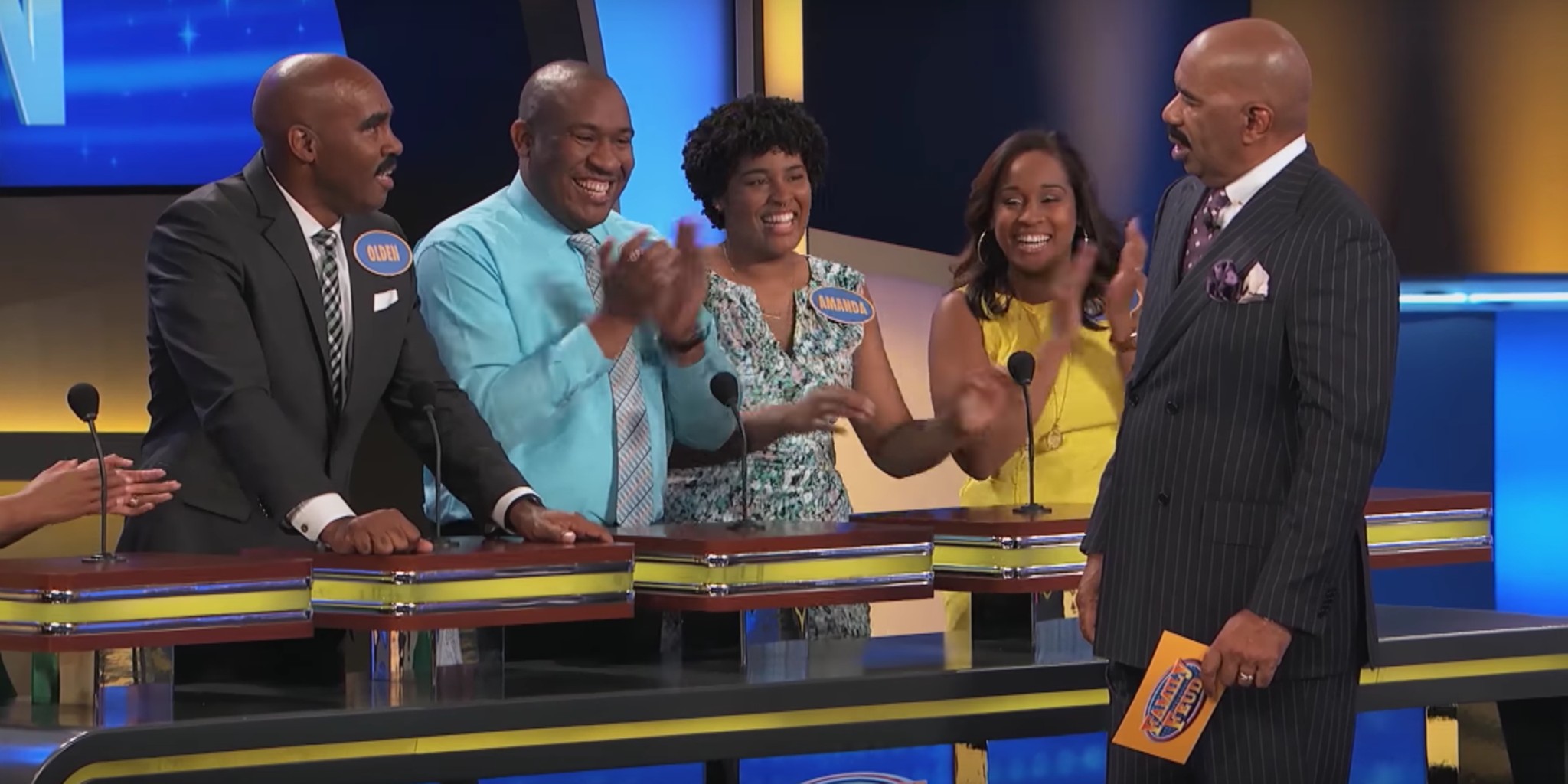 Caption: Steve Harvey in Family feud
Source: Tvovermind
Steve Harvey: Wife
The entertainer has been in several relationships before. Harvey married Marcia Whitman on 14 February 1981 and divorced in 1994. Whitman and Harvey have 3 children together. Soon before it was a decade, Harvey married Mary Lee Shackelford on 21 June 1996. Soon Shackelford and Harvey became parents of a child but unfortunately, the couple divorced on 3 December 2005. Harvey is right now in a relationship with Marjorie Harvey. They married on 25 June 2007  and have a child together.
Caption: Steve Harvey with his wife Marjorie Harvey.
Source: Hearstapps
Also read about Robin McGraw , Jeff Dunham, Justin Hakuta
Steve Harvey: Networth and social media
Hervey is one of the most interesting media people to look at and because of his hosting career popular to many. He personally is not available on Instagram but his show has an Instagram account with username 'stevetvshow' with 750k followers. The show is also available on Facebook. Being a talk show, game show host, comedian, radio star and best-selling author, Harvey got himself a lavish lifestyle and a good chunk of change. According to Celebrity Net Worth, Steve Harvey has an estimated net worth of $160 million.