Tamron Hall is an American broadcast journalist and Television host. She was a former national news anchor for NBC News and also worked as a dayside anchor for MSNBC. Since then she has co-hosted "Today's Take" and "the third hour of Today". She is currently working as a host for "Deadline: Crime on Investigation discovery".
Tamron Hall: Early Life, Career, and Nationality
Tamron Hall was born on September 16, 1970, in Luling Texas. She holds the nationality of American nationality. Hall completed her Bachelor of Arts in broadcast journalism from Temple University. From 1997 to 2007, she worked for WFLD-TV in Chicago, Illinois. She worked in multiple positions when she was at WFLD-Tv. She worked as general assignment reporter, consumer reporter and even hosted three-hour segment of "Fox news in the morning". Top of that, she also did some breaking news stories throughout her time.
Later in 2007, Tamron Hall joined NBC and MSNBC news. She was also successful in landing an interview with the former president of United States, Mr. Barack Obama before he became president.
After successfully landing some shows at the channel, Hall went on to become one of the bigger names in the media. She hosted NewsNation with Tamron Hall her own TV news program covering high profile interviews and big news stories of the U.S. and global affairs. In 2014, she also hosted the show "Today's Take" along with Natalie Morales, Al Roker, and Willie Geist.
Tamron Hall: Personal Life, Relationship, and Affairs
Tamron Hall does not speak much about her personal life and so far kept it under covers. She does not really talk about her relationships and her love life. She has not denied the link up rumors with the MSNBC star Lawrence O' Donnell who is a renowned name in the Television business.
Lawrence O' Donnell was married for around 19 years, he has separated from his first wife Kathryn Harrold. Soon after the marriage ended, these two are rumored to be dating each other and are also seen together many times during public events.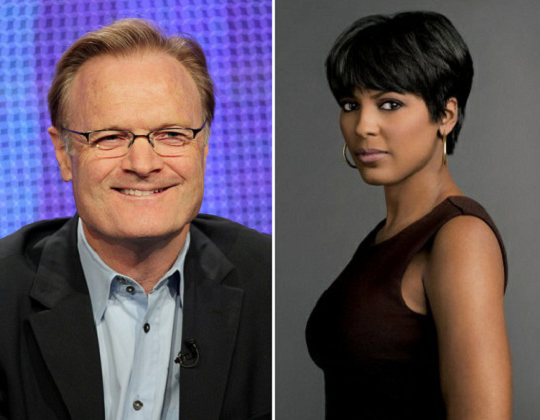 Caption: Tamron Hall and Lawrence O'Donnell
Source: liverampup.com
Tamron Hall Net worth, Annual Salary, and Awards
Tamron Hall has now become a big name in the world of news and media. The broadcast journalist now has a  total net worth estimation of around $5million. She goes on making her salary with her soaring career. She has done plenty of social works as well. Hall actively stands up against domestic abuse after she lost her sister to domestic abuse. Hall is an active member of the National Association of Black Journalists.
She has been nominated an Emmy award for her coverage of consumer segment and another for her segment "Education Nation". She received the Lew Klein Alumni in the Media award from Temple University in 2010. Tamron won the Edward R. Murrow Award for her report on domestic abuse in 2016.