Winifer Fernandez is a volleyball player from Dominican Republic who has competed in the 2015 FIVB Club World Championship. The Dominican rose into fame because of her gold-medal winning performance at the 2016 Pan-American Volleyball Cup. She also has a  2012 U23 Pan-American Cup gold medal winner that she received before debuting 2012 FIVB World Grand Prix.
Fernandez became popular after some of her pictures of playing and training including a video went viral on the internet which caught her a lot of attention from people around the world. Fernandez is a talented, skillful and an absolutely beautiful individual. She is one of the most beautiful faces in the sport. Winifer is a slick, smart, fast and consistent player. Throughout her career, she has received several awards and recognition as well. Let us now explore the life of this famous athlete.
Caption: Winifer at a game
Source: totalprosports.com
Winifer Fernandez: early life, career, and nationality
Winifer Fernandez was born as Winifer María Fernández Pérez on 6th January 1995 in Santiago de los Caballeros, Santiago Province, the Dominican Republic which makes her nationality a Dominican. She started playing volleyball at an early age of 10 under the guidance of the coach named Miguel Durán. She began playing for the junior national team and for the same reason was relocated in the year 2009 to Santo Domingo.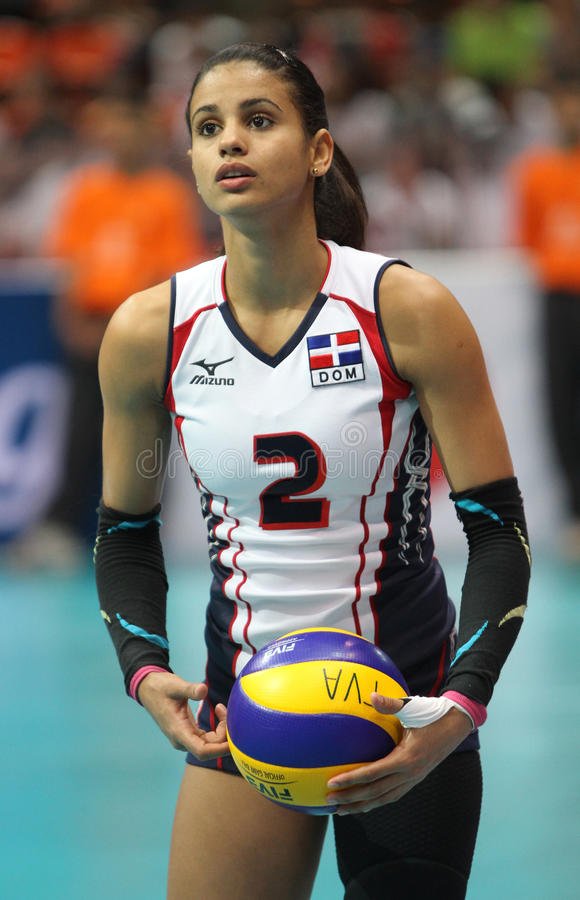 Caption: Fernandez ready to serve for her National Team
Source: dreamstime.com
Later, she also played for the 2011 Girls' Youth Pan-American Cup and won a bronze medal. In the year 2012, Winifer led the team in the 2012 Junior NORCECA Championship. Consequently, she won a Gold medal there as well. Her volleyball career was redefined after winning the title of "Volleyball Player of the Year" by the Santiago Province Guild of Sports Writers. Similarly, in the year 2016, she received an invitation to play for her national team where she received a gold medal yet again.
Some of her playing scenes became a viral YouTube video while many Instagram pages impersonating to be her came into limelight. She instantly became a hit on the internet. However, Fernandez confirmed that she did not like the videos of her being taken. She confessed that she couldn't handle the unexpected fame received. In 2017, she was entitled on#7 by the Salvadorian newspaper, El Mundo among the "10 most beautiful and coveted athletes in the world".
Winifer Fernandez: personal life and boyfriend
Winifer Fernandez is definitely the celebrity athlete crush of many of her male fans out there. While many of the fans are wondering whether this beautiful sportswoman is dating or not, Winifer chooses to keep things personal. But as far as the analyzation of her social media and news from sources, Fernandez is possibly single. So far it doesn't seem like she has a boyfriend at present.
Winifer Fernandez: net worth
Winnifer is a highly talented and experienced volleyball player. So far, she has earned several titles and accolades through her volleyball career. From becoming an internet sensation to setting the game court on fire she has truly become a diva. Despite her young age, she has achieved a lot in her career as an athlete. Her net worth is believed to be around $2 million which is sure to grow because of her age and the success waiting for her in the future.
Winifer is an athlete with a lot of presence in the media. She has accumulated several titles and accolades through her volleyball career. She has been a true diva, an internet sensation, and a majestic volleyball player. Winifer at just 23 has accomplished what people of her age can only dream about. Winifer Fernandez gained popularity from the viral videos since then she has garnered fans throughout the world. We cannot really confirm Winifer's original Instagram but there is an Instagram page by her name which has a total of 311k followers. However, it is not verified.