Jay Bradley is the young rapper from American Hip-hop collective YBN which is the abbreviation for Young Boss Niggas. Many people recognized Bradley as popularly known as "Almighty Jay/ YBN AlmightyJay", on stage. Jay grew up listening to the music of  Chief Keef, Chris Brown, Soulja Boy and such. Being fond of Chief Keef's music, Jay got his stage name from "Almighty So".
The rapper is mostly known for his cooperation with YBN. Further, known for his friendship with the members including Nicholas Simmons on-stage called YBN Nahmir, and the fellow members. Besides, "Takin Off" and "Chopsticks" are Jay's breakthrough.  Nahmir founded YBN in 2014 which constitutes rappers, social media personalities, record producers, and promoters. In the same year, Almighty Jay met Nahmir on X-Box Live through the video game Grand Theft Auto V. Earlier the group was originally a gaming collective where YBN Nahmir and fellow YBN'ers played video games, recorded and uploaded videos to Youtube and streaming on Twitch.
Almighty Jay: Early Life and Career
Jay was born on August 6th, 1999 in Galveston County, Texas, United States. He grew up along with his parents and his siblings. Jay attended and graduated from Texas City High School.
Apart from that, Jay used to rap when he was only 9. "Hood Mentality" (2015) was his first collective song with YBN and with Nahmir. Additionally, in November 2017, Jay had his debut "Chopsticks". The song exceeded 10 million views on Youtube. Later, he went on uploading on SoundCloud than just YouTube.
The year 2018 also proved beneficial to Jay. He delivered his song "Takin Off" which went hit much as his previous works.
Bradley's career officially kicked off formally as YBN released their first full-length project YBN: The Mixtape featuring Wiz Khalifa, Lil Skies, Gucci Mane, Machine Gun Kelly, and Chris Brown on September 2018.
Nonetheless, Almighty Jay is only 19 and already on track, we can say he is to beat anyone and everyone in the rap genre in days to come.
Almighty Jay: Relationship with Blac Chyna
In spite of his self created status, Jay is equally famed for his love affair though very short, with the American entrepreneur/ model Blac Chyna. Additionally, the huge age gap of 11 years between the two had made the couple an odd one. The rapper was first seen with his girlfriend during February 2018 at a bowling Alley. And their relationship did not long before June and they parted to their own way.
However, Chyna didn't waste any further time to be in a relationship from one to another boyfriend. Therefore, she has always been in the headlines for her relations whether it is violent fights or cheatings. Additionally, she was accused by Swae Lee's girlfriend of being cheated with her boyfriend.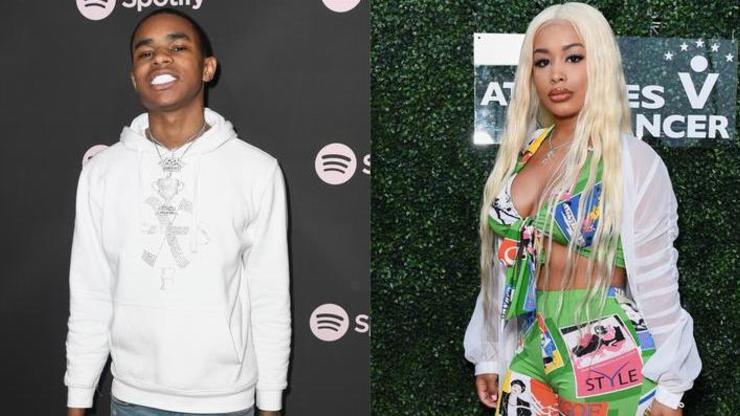 Caption: Almighty Jay and his girlfriend Dream Doll
Source: Hotnewhiphop
Currently, the rapper is dating to Love & Hip Hop star Dream Doll. The couple was spotted getting lovey-dovey on the video shared by 'the shared room'. In the video, almighty Jay kisses the freshly manicured toes offered by her girlfriend.
Almighty Jay: Net Worth and Body Build
The American-born Afro-American rapper holds a net worth of  $300 thousand at a young age of 19. Talking of his body measurement, Jay is tall as 5 feet 9 inches and weighs 70 kgs which appears a perfect body build to us.