In the simplest of terms, Pulmonologists are the doctors of internal medicine who specialize in diseases and conditions of the chest. Their area of expertise includes Asthma, Emphysema, Tuberculosis, etc. Pulmonologists are known to diagnose and treat various problems in the human respiratory system.
It is one of the more complicated specializations in the medical community and is also a well-respected profession. These specialists have been looking after structural, inflammatory, infectious, etc, respiratory disorders and their work may even extend to the cardiovascular system. Let us now get to know more about this specialization, shall we?
Pulmonologist: Earnings
As per Medscape's 2014 Compensation Report, pulmonologists fall slightly below the middle among all physicians. According to the report, this profession has an average earning of $258,000. Whilst earnings are for full-time work only, they do include salaries, bonuses, and profit-sharing contributions. However, the pay scale usually depends upon factors such as level of experience, training, location, and the place that you are serving for.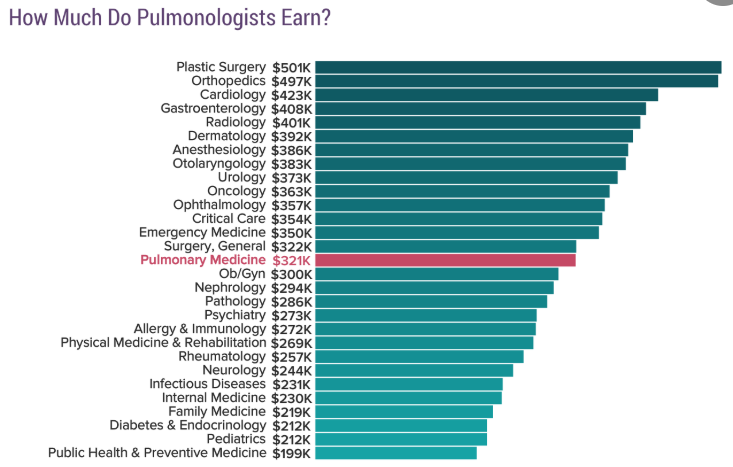 Caption: Earnings of a Pulmonologist compared to other services.
Source: medscape.com
With the growth in the middle-aged and older population having respiratory conditions like chronic obstructive pulmonary disease, and pneumonia, demand for this profession is also expected to rise in the years to come. In the case of bonuses, a lot of it depends if you are working by yourself or for an institution. Nevertheless, in most cases, Pulmonologists do have access to healthcare benefits like medical, vision, and dental insurance. You are also likely to get paid time off for holidays, vacation and sick leave.
Pulmonologist: Working Hours
In most cases, Pulmonologists have to work full-time hours. In the case of the United States, about 70% of the pulmonologists work over 40 hours per week. However, for those working at hospitals, one can normally expect to work any day of the week or even an hour per day. Moreover, in general, the typical work week starts on Monday and ends on Friday. On-call hours, on the other hand, are required for pulmonologists that personal care and treat patients.
Pulmonologist: How to Become One?
It is not to land yourself a position of a pulmonologist. To begin with, you must first earn your four-year college degree. Next, and most importantly, you will have to complete a four-year medical school program which will teach you all the basics of the human body and medicine. After completing the program, it is extremely necessary for you to complete a three-year residency in internal medicine.
The fun does not end yet. As per the requirement, you will have to complete a two/three-year fellowship which will let you specialize in a particular field. In this context, you will receive further training in pulmonology. Finally, your journey to being a pulmonologist will be decided with a specialty board certification exam. Even if you end up as a pulmonologist, the job description is extremely challenging. You will need to be excellent with your communication skills. Understanding your patient's problem is the first step in diagnosing and this is a key skill. Moreover, you are expected to have compassion, leadership skills, and be detail orientated. There are evidently a lot of boxes that you will have to check, but it is indeed a rewarding profession.
Pulmonologist: When Should You Visit One?
There are several problems related to pulmonology and frequent visits with your pulmonologist are necessary in case of issues surrounding respiratory problems. Difficulty in breathing is one of the most common problems in the world. It may be because of an allergy, pollution, or it might even a birth defect. All in all, it is very important that you go see your pulmonologist whenever you have problems with the respiratory system.
You can expect to have a thorough checkup on your visit to the pulmonologist. In most cases, this job demands doctors with good communication skills, with compassion to their patients. Be sure to provide the pulmonologist with the problems you are facing. After understanding a bit of the problem, a pulmonologist will check your breathing. It is also very common for them to get an x-ray of your chest to better diagnose you. Finally, if you are from Las Vegas and looking for a pulmonologist, be sure to pay a visit to George Tu, MD, FCCP, DABSM, who is probably one of the best you can find.
Conclusion
Pulmonologists are evidently high earning physicians. They do, however, require extensive education, hard work, and dedication throughout the entire process. With high demand in Pulmonologists in the years to come, it is a sought after profession. The fact that it comes to strong earnings, comprehensive benefits, and bonus opportunity, people are sure to specialize in this field. All in all, if you are looking to get yourself into the medical field and help people, this surely can be a way to go.
Click to read about Superior Colliculus.