Jane Carrey is an American singer, songwriter actor, and producer who is known more as the daughter of the comedic genius Jim Carrey. She was born to Jim's first wife, Melissa Jaine Womer. Having been brought up by celebrity parents, she could have chosen an easy life but her parents parted ways when she was very young. So Jane went on to create her own identity.
Carrey worked as a waitress for over six years and finally gained attention when she auditioned for American Idol. It was the 11th season for the show and Jane could not make it to the Hollywood rounds. However, she did not let this be a step back in her life and continued the passion she had for music. She then formed her own band, 'The Jane Carrey Band' and was the lead singer for them. Some of her songs have created headlines and have gained massive viewership on YouTube. Carrey is quite close to her father and has worked in a short documentary 'Jim Carrey: I Needed Color'. Let us now get to know more about this star.
Caption: Jane Carrey attends the Bondi Blonde's Style Mansion in Beverly Hills, California.
Source: imdb.com
Jane Carrey: Early Life, and Education
Caption: Jim and Jane Carrey.
Source: dailymail.co.uk
Jane Erin Carrey was born on the 6th of September, 1987, in LA, California. She was born to the amazing Jim Carrey and his first wife Melissa. She did grow up in a well-off family but her parents got divorced on December 11, 1995, when she was just 8 years old. Jane holds an American nationality bus is of French, Scottish and Irish descent from her father's side while she is a mix of English, German, Welsh, Danish and Israeli from her mother's side.
Caption: Jim Carrey with his daughter Jane and his then-girlfriend, Lauren Holly.
Source: cnn.com
Growing up, Jane had always been a keen singer with an amazing voice. Little did she know that she would be pursuing it as a career. Surprisingly enough, for someone with famous parents, there is not much known about Jane's early life. For education, being Jim's daughter, it is believed that she had homeschooling.
Jane Carrey: Career
Jane grew up being associated with the entertainment industry, and the attention of the media. She, however, did have a keen interest in music and singing. So Jane, like her parents joined the world of Hollywood. She first caught the attention of the media when she announced her participation for the 11th season of 'American Idol'. The show made its premiere on January 18, 2012, on the Fox Network. She was also a subject of many different criticisms for being let indirectly rather than having to sit in line like other contestants. For her audition, she sang 'Something to Talk About' in front of the judges Jennifer Lopez, Steven Tyler and Randy Jackson.
She did start well but failed to reach the Hollywood round and had to be sent back home. Jane, however, was not willing to let this setback ruin her career and was determined to pursue singing. She then was the frontwoman of her own band, 'The Jane Carrey Band'. They performed all over the world and had some successful songs, especially on YouTube. In 2017, Jane was seen in a short biopic of Jim Carrey. It was titled, 'Jim Carrey: I Needed Color' and had the superstar portray himself with Jane as a playback singer.
Unlike most people, Jane grew up with fame because of her parents. However, she did not stop being the same modest person that she has always been. She throughout her life has been working for different fundraising events regarding autism alongside her father and his ex-girlfriend.
Jane Carrey: Personal Life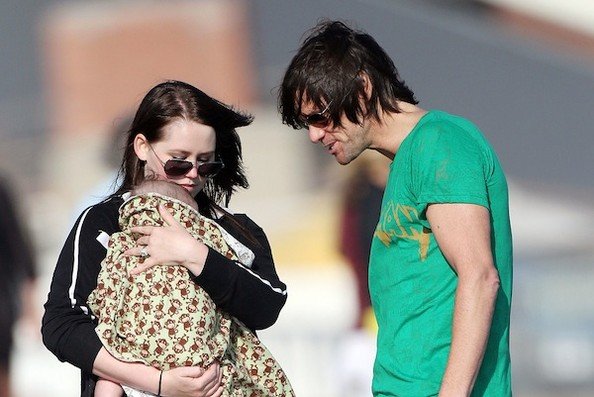 Caption: Jane, Alex, and their child.
Source: zimbio.com
Jane got married to Alex Santana, the lead singer of the metal band 'Blood Money' on November 14, 2009. Next year on February 26, they gave birth to a baby boy, Jackson Riley Santana. It was Jim Carrey who broke the news regarding his daughter's pregnancy. He on Twitter announced, "I'm very excited. Jane is going to be a great mom."
Caption: Jane Carrey, daughter of the famous comedian Jim Carrey.
Source: marqueeblogs.cnn.com
However, Jane's marriage did not last long and failed soon after the birth of her first child. They officially filed for divorce on October 20, 2011, due to some differences. It has been over 7 years since the couple has separated, but not a lot is known about her current personal life. But we wish Jane all the luck in her life.
Jane Carrey: Net Worth
Jane was born a star who made a bigger name for herself from her singing career. This amazing talent is sure to make a decent amount of money from her singing career. She has also worked as a waitress, an actor, and a writer. Moreover, her work with 'The Jane Carrey Band' turned out to be a success having traveled a lot.
Caption: Jane Carrey in an event.
Source: namecandy.com
So according to reports and reliable sources, her net worth as of 2018 is estimated to be around $1 million. Carrey is also active on Twitter, under the handle @JaneCarrey23 and has over 155,000 followers.
CLICK TO READ ABOUT CONOR OBERST