If you have watched Netflix's 'When They See Us', you must have known that the plot has based on the true-crime story. It plots the events of the 1989 Central Park jogger case. Further, it also explores the lives of the five male suspects Korey Wise along with Raymond Santana Jr., Kevin Richardson, Antron McCray, and Yusef Salaam. They have falsely accused and charges related to the rape and assault of a woman in Central Park, New York City.
Besides that, Korey was 16 at that time and older of all them, therefore, he was the only one of the five who served all his time in the adult prison system. Further, Wise had spent approximately 14 years incarcerated, maintaining his innocence from 1989 until his exonerated in 2002. After his release, he began to travel across the United States and advocates for criminal justice reform. Aslo, he shared his stories of how he wrongfully convicted in the Central Park jogger case.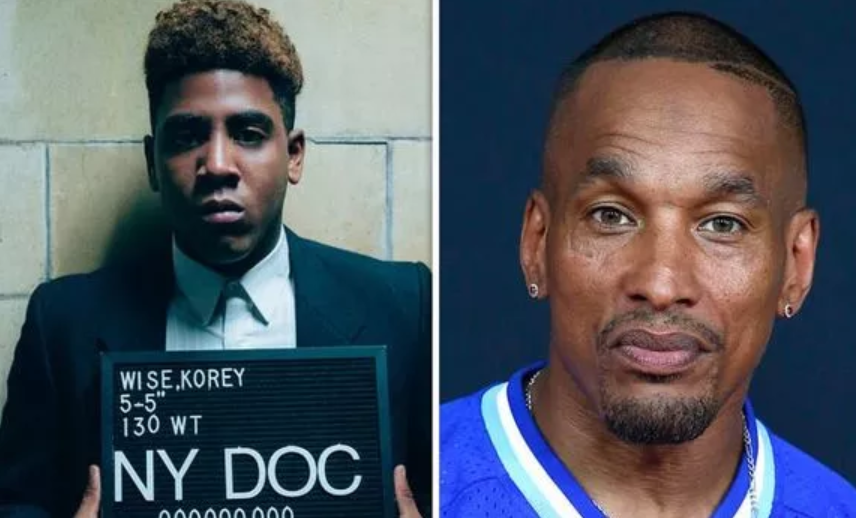 Caption: American activist/advocate on Innocence project, Korey Wise.
Source: Express
Korey Wise: Bio, Family, Career
The activist was born on 26 July 1972 in New York City, New York, United States of America. He was born as the son of mother Deloris Wise and no information on her father. He has two transgender sisters: Marci and Vanity Wise. Unfortunately, his sister Marci was killed due to her sexuality which is also told on the Netflix series. He attended a local high school in New York before serving in jail. Because of that, he could not continue his further studies.
Currently, he works as an American Criminal activist who travels around the places in the United States advocating about criminal justice. Also, their false convictions turned to a drama. And it released a four-episode miniseries on Netflix entitled "When They See Us". His part has portrayed by the actor Jharrel Jerome who won the 2019 Primetime Emmy Award for Outstanding Lead Actor in a Limited Series or Movie.
Korey Wise: Personal Life & Wife
Talking about his personal life, he has maintained his cureent relationship status under the wrap. It is unclear whether he is in relationship or not. However, his social media account gives the hint of his good relationship other four convicted men as well as other friends.
The incident of Central Park Jogger Case:
On 19 April 1989, the event took place in the North Woods of Manhattan's Central Park. The case involved the rape and assault of a female jogger Trisha Meili who was a 28-years-old investment banker. She went to coma for 12 days of incident which left her in trauma. Later the police arrested five males along with Korey Wise who was oldest among them s suspects of the crime.
After that, Korey along with other four boys made a number of statements and confesses to a number of the attacks committed int he park. Except Korey who made his own satements and confessions. Further, they were accused of rape, robbery, and sexual assualt. However, the reports say that they were charged based on forced and false confessions.
In December 1990, at the age 16, the oldest Wise sentenced to 15 years. And other four served in Juveline facilities before transfered to adult jail. But Serial rapist and mureder Matias Reyes confronted his crime in 2002 and confessed of raping the Central Park female jogger Trisha. Thereafter, all the five suspects released from jail and in 2003 they sued New York City for emotional distress and racial discrimination. In 2014, the case settled for $41 million, further in 2016, the five men obtained the award $3.9 million againts the Staate of New York in additional damages.
Korey Wise: Net Worth & Social Media Profiles
In 2015, Wise donated $190,000 to the University of Colorado Law School Innocence Project, which was renamed the Korey Wise Innocence Project. Further, he has a net worth of 12 million that he got from the settlement with the city of New York, according to sources.
He has a personal and verified account @koreykingwise with 590k followers. On Facebook, he has a handle @KoreyWiseInnocenceProject having followers more than 33.3k.
Korey Wise: Body Measurements
Wise has a slim and healthy body that stands to a height of 5 feet 7 inches or 1.70 meters and weighs around 72 kg. He has 40 inches of the chest, 30 inches waist, and 35 inches hips with 14 inches biceps. He has hazel eyes color and short black hair color.