Nathan Darrow is an American actor who came under the limelight in 2013 after portraying the role of Edward Meechum, a bodyguard in the Netflix show, "House of Cards." While working for the show, Darrow shared the stage with fellow actor, "Mozhan Marnò" who famously played the role of Ayla Sayyad. After starting out with the Netflix show, he began finding his feet and was constantly capturing hearts of fans from the show.
Darrow came into the scene as a stage actor who made appearances for a number of Shakespeare plays. However, many remember Nathan from roles in Showtime's Billions where he appeared as a trader. Next, more notably he got the role of an antagonist on Fox's Gotham. He did a really good job playing the role of Mr. Freeze. Let us now get to know more about this versatile actor.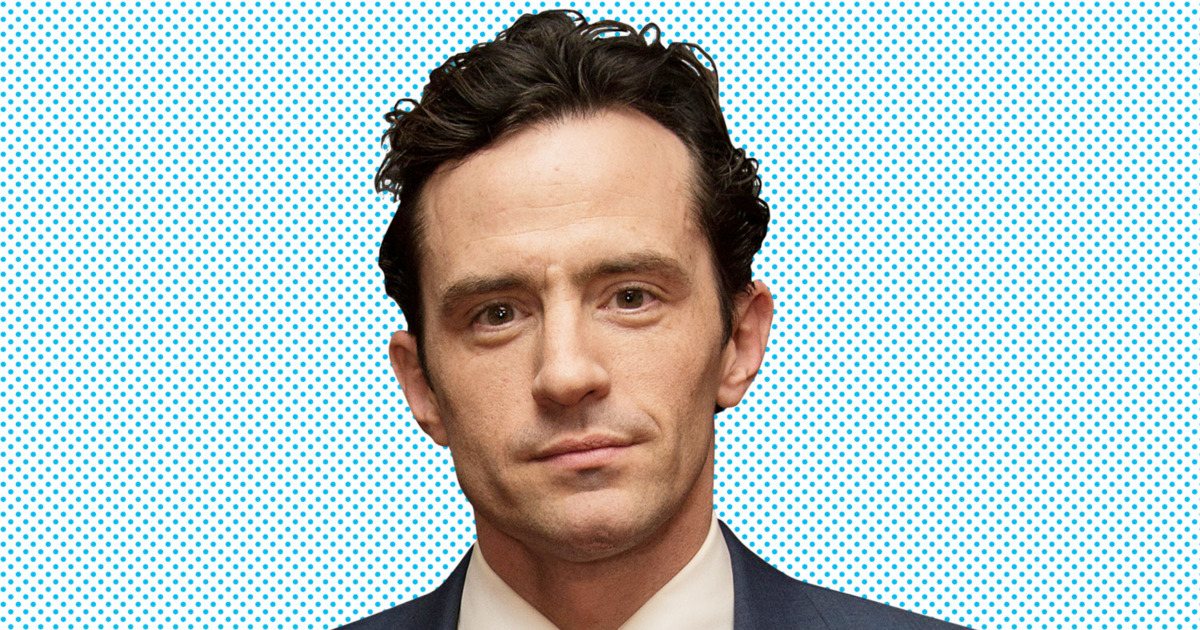 Caption: House of Cards actor, Nathan Darrow.
Source: vulture.com
Nathan Darrow: Early Life and Education
Nathan Darrow was born on the 21st of June, 1976, in Kansas City, Missouri. He grew up alongside his parents and siblings and had a good start to his life in the suburbs. Darrow belongs to white ethnicity and is American by nationality.
For his education, Darrow attended Shawnee Mission North High School in Overland Park, in his hometown. After graduating from high school, he went on to join the University of Evansville for his further education. Next, he joined the graduate school in New York University from which he was able to gain better understanding and experience in theatre.
Nathan Darrow: Career
After graduating and gaining a valuable theatre experience, Darrow returned to Kansas City in 2003. He then began acting on stages like the Unicorn Theatre, Kansas City Repertory Theatre, etc. Darrow was also making appearances in productions of Shakespeare's plays like Henry V, Romeo and Juliet, etc. These roles have gone on to earn him fame and also critical acclaims.
In 2006, Darrow made his debut in "Civil War Stories" which brought him close to a wider group of audience. This was a big step to help take his career in a good direction. Similarly, it also was the one which helped land him the role alongside Kevin Spacey in an international touring production of Shakespeare Richard III. Spacey was very impressed by the young actor's performance and wanted him to be a part of the Netflix show, "House of Cards."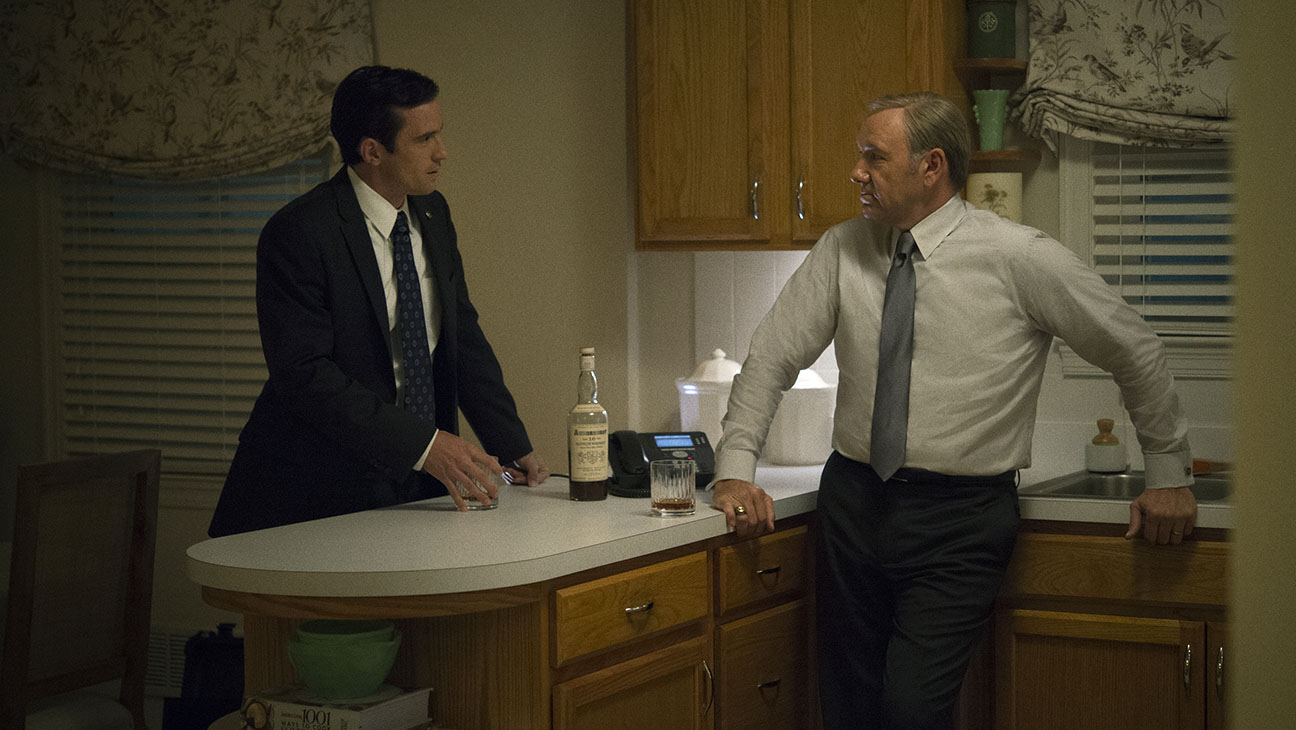 Caption: Darrow and Spacey on the set of House of Cards.
Source: hollywoodreporter.com
For the series, Darrow played the role of Edward Meechum who was a Secret Service agent and a local bodyguard of Spacey's character, Frank Underwood. He is now a fan favourite but his role came to an end after working for 4 consecutive seasons. Nathan's character was killed off after he took a bullet to protect the President of the United States, Underwood.
Currently, Darrow is involving himself with roles in smaller screens in the form of Gotham, Billions, and The Wizard of Lies. He also continues to do what he loves in small stage acting.
Nathan Darrow: Personal Life
Now looking at the personal aspects of his life, there have been many theories about this Darrow's sexual orientation. These all come from the fact that he played a gay character on House of Cards and kissed Kevin Spacey for the show. He, however, is a straight man and is married to a woman and has two kids with her.
Caption: Nathan Darrow and his wife.
Source: townandcountrymag.com
So the kissing scene was just a TV moment and nothing more. Looking at his facebook profile, he seems to be in a relationship with a woman called Megan Goscha. The couple seems to be enjoying a blissful life together and as Nathan is a private man, very little is known about their lifestyle.
Nathan Darrow: Net Worth and Social Media
Nathan made his debut in the big screens sometime around 2006 and he has come a long way since then. During these years, he has been able to establish himself as one of the major players in the game. Even Kevin Spacey was impressed by the talent this man possesses. As a result, he is also one of the top earners in TV and made $150k from an episode of House of Cards. Speculations suggest that Darrow has a net worth of $500 thousand.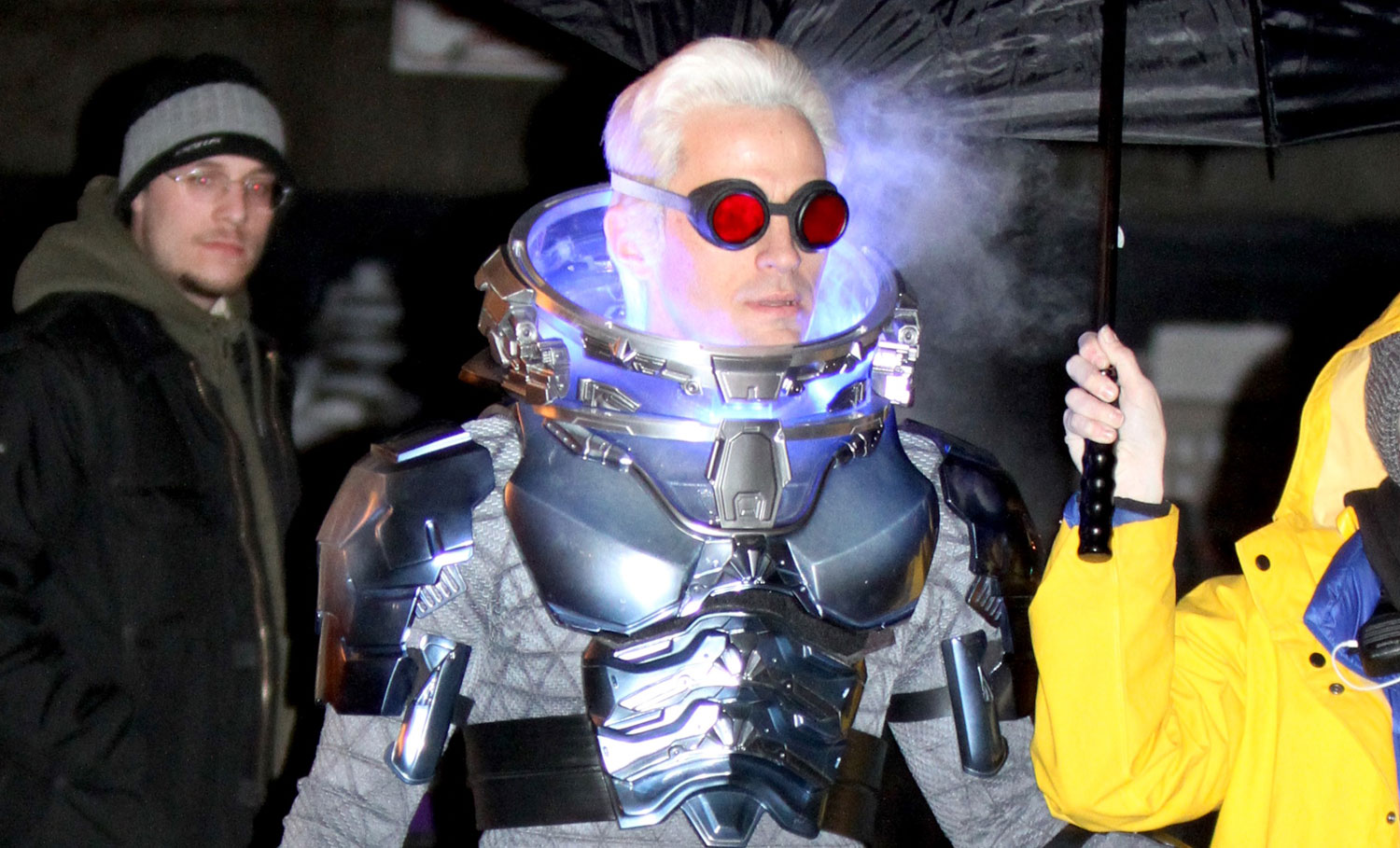 Caption: Darrow as Mr. Freeze on Gotham.
Source: justjared.com
Being the private person that he is, Nathan is not active on social media platforms. He likes to stay away from the unwanted eyes of the media and is looking to focus on his family and career.