Paige Wyatt is a rising television personality and a model who is famous as a member of the Wyatt family in the reality show, "American Guns." The show was first aired on Discovery Channel and revolves around the family and its business in a gun store. Ever since, Paige has been constantly gaining fame and is on the road to glory.
Wyatt is also a minor actress in Hollywood and she is constantly growing thanks to the help of her role in the TV series. The beautiful actress has been attracting thousands of fans who just can't miss a scene involving Wyatt. Currently, this young talent has been focusing on modeling and developing herself as a successful professional. Let us now get to know a bit more about this beautiful lady.
Caption: Stylish Paige Wyatt on a Western wear.
Source: discovery.com
Paige Wyatt: Early Life and Education
Paige Wyatt was born on the 30th of October, 1994, in Wheat Ridge, Colorado. She was brought up by her step-father Rich Wyatt who is a prominent gunsmith and is also an owner of "Gunsmoke Gun." On the other hand, her mother Reene is a business manager in the same company. Paige also has a brother named Kurt who is a firearms instructor and sales associate at "Gunsmoke Gun."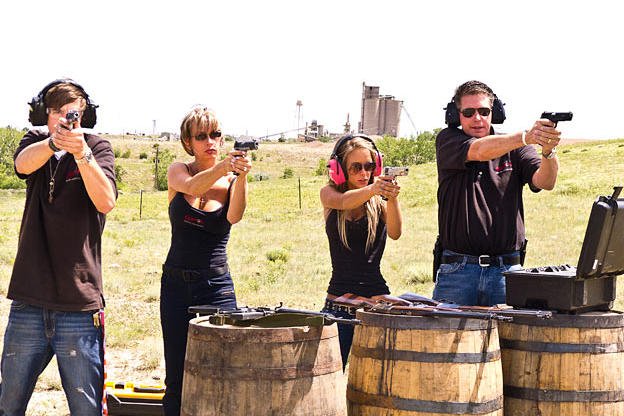 Caption: The Wyatts will all .45's.
Source: discovery.com
Growing up, Wyatt dreamed of being a model and an actress. It all ended up coming true for the young hardworking lady from Colorado. Looking at her academics, Paige is still a high school student. She has high hopes of finishing her studies before fully pursuing her dreams in modeling and acting.
Paige Wyatt: Career
Paige has been involving herself with the family-owned business. She was working in a gun store "Gunsmoke Gun" along with her family members. She knows all there is to know about these machines and by the look of things she also knows which shoes to wear according to the gun you are using.
Caption: Paige working on the counter at the Gunsmoke store.
Source: discovery.com
Wyatt found fame after appearing on the Discovery Channel reality show, "American Guns." The first episode aired on the 10th of October in 2011 and Paige has been shining ever since. After the success of the show, Paige has her own clothing line for the company "hughware". She also has her own website where she has been selling merchandise.
The Wyatts were enjoying their family business but in 2016, Rich was arrested for illegal dealing of firearms without a license. He was also charged with tax fraud and as a result, the company had to shut down and the TV show came to an abrupt end.
Paige Wyatt: Personal Life
Looking at the personal aspects of Wyatt's life, she seems to be a single lady. Paige has never been seen with any guys so there are no recollections of her relationships in the past too. As a matter of fact, Paige is focusing on her career and tries to stay away from eyes of the media. She has big dreams in Hollywood and is striving to achieve that goal and relationships do not really seem to concern her.
Caption: Paige with her family and Malibu outside of their store.
Source: discovery.com
Paige is also very fond of dogs. She even has her own dog called Malibu. This beautiful lady loves to spend time with her dog, whom she considers to be her close friend.
Paige Wyatt: Net Worth and Social Media
At just 24, Paige is already a star who has so much to offer to the industry. She has only been in this field for a short time but Paige is already an established figure. Paige has also been making a good fortune from her endeavors in the entertainment industry. She recently purchased a 4*4 jeep which probably cost her millions. She is also an owner of a clothing line and has a website from which she sells her merchandise. So, according to reports, Paige has a net worth of $1 million. Not bad for a 24-year-old eh?
Caption: Paige riding a horse.
Source: discovery.com
Unfortunately, Wyatt is not active on social media. However, she has a lot of fan accounts set up after her which is not a surprise considering how much people love her. Wyatt seems to be living under the radar currently but we hope she is working on a project and will be back amongst us sooner rather than later.