Born on 1973, Rory Stewart is a British politician. He is a member of the Conservative Party and Parliament for Penrith and the Border since 2010. Rory serves as a Secretary of State for International Development since 2019. He is also one of the candidates of 2019 leadership contest for Leader of the Conservative Party.
Furthermore, he started his career by joining the Foreign Office. From 1997 to 1999, he served in the British Embassy in Indonesia. At the age of 26, he became the British representative Montenegro for Kosovo Campaign. He first entered parliament as the Defence Select Committee from 2014-2015. Till July 2016, he served as Parliamentary Under Secretary of State for Environment, Food, and Rural Affairs. Under PM Theresa May government, he served as Minister of State at the Department for International Development.
Read About Career and Personal Life of 2019 Leadership Candidate Jeremy Hunt.
Rory Stewart: Bio, Family, Education
Roderick James Nugent Stewart was born on 3 January 1973, in Hong Kong. He was born to the parents Brian Stewart and Sally Elizabeth Acland Nuget. His father was a British soldier, colonial official, and diplomat. He also became the director of British Secret Intelligence Service (known as MI6).
As growing up, he has spent most of his childhood days in Asia like Hong Kong and Malaysia. However, his family seat is in Broich House, Scotland which is Category B listed building. He attended Dragon Scholl in Oxford then joined Eton College. During his gap years in 1991, he has commissioned in the Black Watch. For the next five months, he served as a second lieutenant before joining Balliol College of Oxford University. He pursued Modern History for one year then switched to philosophy, Politics, and Economics. Additionally, he became a private tutor to Prince William and Prince Harry. In his different interviews, he has repeatedly said that he was a member of the Labour Party in his teenage.
Rory Stewart: Profession & Life Achievements
He started his career after graduation as he joined the Foreign Office. Then he served from 1997 to 1999 in the British Embassy in Indonesia. There he worked on the issues related to East Timor Independence. Stewart became the Coalition Provisional Authority Deputy Governorate Co-ordinator in Maysan in 2003. Also, he served as Deputy Governorate Co-ordinator/Senior Advisor in Dhi Qar. For his services in Southern Iraq after the 2003 invasion of Iraq, he honored by OBE.
In 2005, he joined NGO Turquoise Mountain Foundation established by Prince of Wales, Charles and Hamid Karzai in Afganistan. For the next three years, he was relocated to Kabul. Then he has handled the works like finances, education, and so on. For this role, he received a Royal Scottish Geographical Society award in 2009. In 2004, he became a fellow at the Carr Centre for Human Rights Policy at Harvard University. Then in 2008, he became Ryan Family Professor and Director of the John F. Kennedy School of Government for Human Rights. In 2010, he stepped down from the chairman of the Foundation as well as left his position at Harvard.
Parliament Career Progression
He joined the parliament after the aftermath of expenses scandal under the David Cameron government. Stewart first tried for the Selection for the Bracknell Constituency. But later in 2009, he got selected for the Conservative Party and shortlisted for the Penrith and the Border Constituency. Furthermost, he returned in 2010 as a member of Parliament. Upon joining the House of Common, he served as a Foreign Affair Select Committee until 2014.
In 2014, he launched the project 'Hands Across The Border'. The project is to construct a cairn called 'The Auld Acquaintance' as 'Testament to the Union'. In the same year, he hosted BBC Two's two-part documentary 'Britain's lost middle land'. Also, he was elected as Chairman of the Defence Select Committee by all the MPs of different parties.
In the 2015 UK general election, he appointed as Parliamentary Under Secretary of State at the Department for Environment, Food, and Rural Affairs. And also acts as the Secretary of State's Deputy on the Environment Council.
In 2016, he re-appointed as Minister of State for International Development under PM Theresa May. And also, promoted to become joint Minister for Africa taking responsibility of the Foreign Office. In 2018, he was appointed Minister of State with responsibility for Prisons and probation in Engalnd and Wales. In May 2019, he promoted to Cabinet replacing Penny Mordaunt in the Department for International Development.
Further, in May 2019, he announced to join in the stand of 2019 Leadership contest. By the July 2019, he joined the six remaining candidates in Channel 4 television debate. As of 18 June 2019, he made the second ballot with 37 votes.
Read about other candidates Michael Raab and Dominic Raab
Rory Stewart: Personal Life & Wife
Regarding his personal life, he is married to American Shoshana Clark in 2012. Clark is a former employee, she left her career to become housemaker and mother. Together the couple has welcomed their first child in November 2014. Further, she gave birth to her first child at home without any medical assistance. Then on April 2017, they welcomed their second child.
Moreover, Shoshana and her MP husband met first in Afghanistan while he worked at Turquoise Mountain Foundation. Since then she has been very supportive to her husband and caring as well. Additionally, Stewart revealed that his wife is also helping him in campaigning. Further, he said that she has organized everything as he wanted.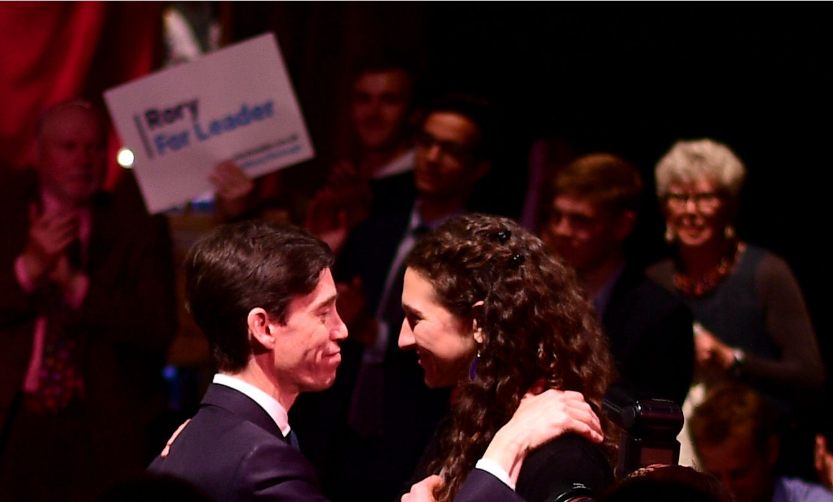 Caption: Rory Stewart and Shoshana Clark spotted together during 2019 Leadership contest campaign
Source: Gettyimages
Rory Stewart: Net Worth & Social Media Profiles
Besides being the candidate of 2019 leadership contest, he is also an author and columnist. He has written many articles for the top newspaper and magazines. Also, he has written several popular documentaries including 'Afganistan: The Great Game' in 2012. For his great works, he has been honored by the awards and Prizes. Regarding his earning, he surely is earning a good profit from his writing career. Further, according to reliable sources, his salary has an estimation of £79,468. However, these figures are the salary of MPs only.
As an MP, his expenses are calculated to be around £157,669 as of 2018. This includes staff cost and traveling cost.
Stewart is also active over different social media platforms. He goes by the handle @rorystewartuk on Instagram with 10.5K followers. On Twitter, he has the account @RotyStewartUK with 180k followers. Also, he has a Facebook account with over 16.5k followers.