The name, Russell Simmons is popular in the media. You must have heard this name since he was on the news during 2017. He has garnered a lot of attention due to the sexual assault. The CEO of the popular company "Rush Communications" was also accused of rape and sex tape controversy.
However, the multi-talented Wendel is a popular Entrepreneur and producer. He is also the co-founder of the hip hop music label 'Def Jam Recordings'. Wendel owns the clothesline Phat Farm, Argyleculture, and Tantris. Besides, he is also a best-sellers book author. Let us not waste time further and discover his details.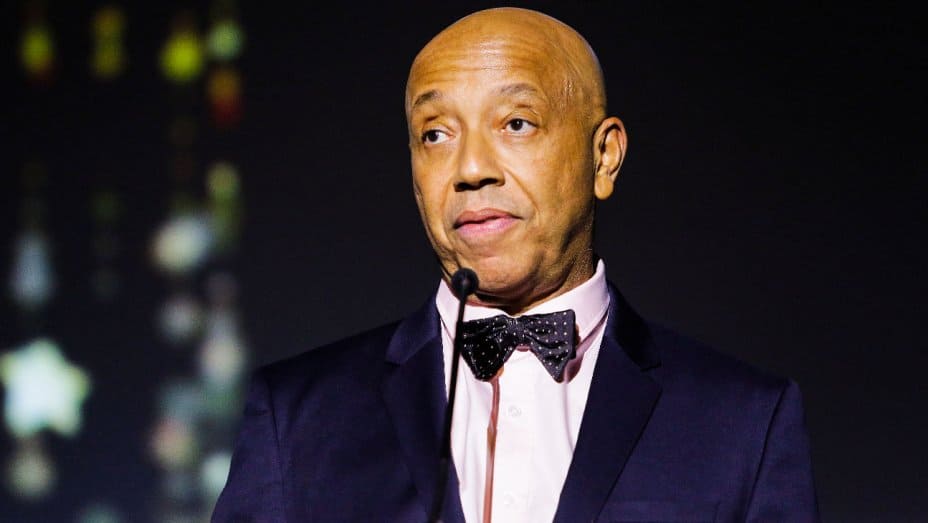 Russell Simmons: Bio, Age, Family, Education
The record producer was born on 4 October 1957, in Queens, New York, USA as Russell Wendell Simmons. Although his nationality is unknown, he belongs to Afro-American racial. His father was a public school administrator and mother was a New York City park administrative. He has two siblings: painter Daniel Simmons Jr. and rapper Joseph Simmons.
Wendell completed his Schooling from August Martin High School in 1975. Then he attended City College of New york. As growing up he has interest in hip hop and rapping. So, from an young age he began to learn it. In 2014, Russell garnered a doctorate degree in Humane letters from Claremont Lincoln University.
Russell Simmons: Profession & Achievement
Simmons started his career as a hip hop rapper. After that, he co-founded the music label 'Def Jam Recording' in 1983, along with partner Rick Rubin. But later in 1996, Rick sold his share for $120 million to Universal Music Group. Further, he appeared in the movie 'Krush Groove' and co-produced too. He has produced the HBO hits Def Comedy Jam and Def Poetry Jam. The actor like Wanda Sykes has started her journey through Def Jam Comedy. In 1996, he co-produced movie "The Nutty Professor" starring Eddie Murphy.
He also co-founded a prepaid debit card provider RushCard. In 1992, he launched a clothing line. In addition, he business grew to create a line of perfume, jewellery, and other merchandise. Also, Simmons along with his brothers, he co-founded 'Rush Philanthropic Arts Foundation' in 1995.
Russell Simmons: Personal life & Wife
The multi talented has been successful in his Professional life.However, same thing can't be said to his love life. The producer has been lined up with many girls. But previously, he was married to a renowned television personality, Kimora Lee. The pair began dating in 1992 and after five years the duo tied a knot in 1998. The couple together greeted three children from their marriage. They are Ming Lee Simmons, Jamel Simmons, and Aoki Lee Simmons.
The eight years of togetherness of couple turned sour. Hence, the couple started to live separately in 2006 and filed a divorce in 2008. And the divorce was finalized at 2009. During his married life, he was believed to have extramarital affairs. He was seen with a number of women including Shannon Elizabeth, Hana Nitsche, and Julie Henderson, among others.
Russell Simmons: Net Worth & Social Media Profile
The entrepreneur has garnered a huge amount from his career. His income sources include different business ventures. He also belongs to one of the richest producers in the US. Therefore, his net worth has an estimation of $340 million. Additionally, his net worth has increased to a hike of 21% over the past years.
With this huge amount, he is living a lavish lifestyle. He owns three houses worth over 48 million USD. He has a huge collection of sporty and luxuries cars. It includes the brands like Bentley Motors limited, Mercedes Benz, and Rolls Royce, among some.
Russell is highly active on Social media platforms. He has an official account on all these platforms. He uses the handle @UncleRush on both Twitter and Instagram having followers above 4m and 1.5m respectively. On Facebook, he has the handle by @RussellSimmons having over 2.5m followers.
Russell Simmons: Sexual harassment & Rape Allegations
The 61-year-old man has a long list of Rape allegations and also sexual harassment. A number of women celebrities has accused Wendel during the end of 2017. Some of them were seventeen years old too. Some of them include Keri Claussen Khalighi, Lisa Kirk, Kelly Cutrone, Amanda Seales, Jenny Lumet, and others.
Additionally, 'The Hollywood Reporter' and 'The Los Angeles Times' has published the investigative reports of Simmons sexual misconduct and rape. However, the record producer has vehemently denied all allegations. Further added that he had never been abusive and violent towards women. And also associated with the women's movement worldwide. Russell is doing his work diligently and respectfully.
Following these allegations, Simmons has to step down from Def Jam Records. Also, he was out from his Yoga lifestyle brand and other media properties. Further, HBO decided to remove his name from 'All Def Comedy" too.