Sam Seder is an American writer, comedian, director, actor and producer who is most famously recognized for the film Who's the Caboose? and Pilot Season. Similarly, he has also appeared in many popular shows like  Spin City, Sex and the City, America Undercover and Maron.
Seder, age 51, also had his own talk show which was named "The Sam Seder Show". Let's get to know in detail about Sam Seder's personal life, net worth and more.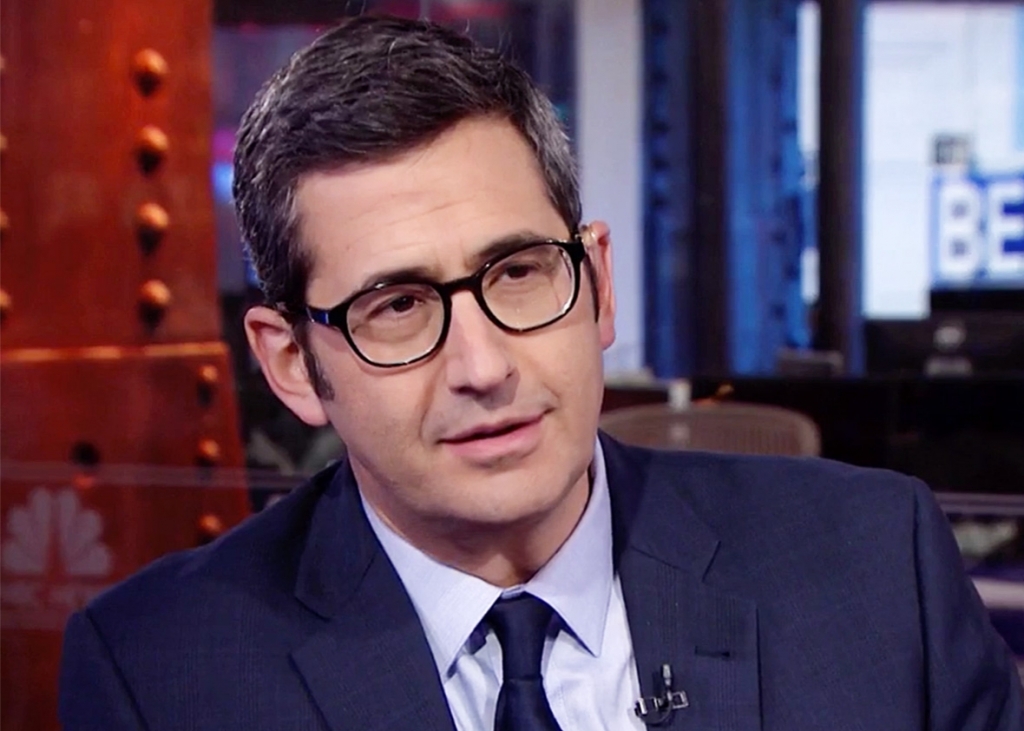 Caption: Sam Seder in an interview
Source: Slate
 Sam Seder: early life, career, and nationality
Sam Seder was born on November 28, 1966, as  Samuel Lincoln Seder in New York which makes his nationality an American. Seder was born in a Jewish family and grown up in Massachusetts. He went to Connecticut College from where he received a BA degree in religious studies. Similarly, he attended Boston University School of Law.
Sam first debuted his career with the television series  All American Girl in 1994 which also starred Margaret Cho, Jodi Long, and others. Similarly, he also made appearances in the TV series called The Show. In addition, he has been a part of several popular shows like Spin City, Sex and the City, Home Movies and many others. Apart from the television career, Seder played and produced a short movie named Who's the Caboose? Not only that but Seder hosted  Air America Radio's "The Majority Report" with Janeane Garofalo. Along with that he also was a host for a pilot episode of NBC's American version of "Have I Got News For You".
I will be asking questions of these two at #NYCC2017 #mustcontrolviolentimpulses pic.twitter.com/i3J3eiCiUB

— Sam Seder (@SamSeder) October 6, 2017
Sam Seder: wife and personal life
Sam Seder married Nicole Cattel who is an NYFA Fellow and an award-winning documentary producer. Together, they have two children. Their first daughter, Myla Rae Seder was born in the year 2005 while their second child, a son whom they named Saul Arthur Seder was born in 2013.
Despite long years of marriage, the couple decided to quit the marriage which came out as a surprise to most of the people. They divorced in the year 2017 but it was until April 27th, 2018 when Sam announced the divorce through his podcast. The real reason for the divorce, however, is not public yet.
Sam Seder: net worth
MSNBC fired Sam Seder in the year 2017 after the controversial tweet he made about the film director Roman Polanski. The tweet received harsh criticism from all over the world that is why he was forced to leave MSNBC. However, he was re-hired by the channel in the same year. Sam Seder's net worth estimation is $2 million present.
I remember when my producer said you had "stupid" ideas. You pretended that the comment was so offensive and beyond the pale that even after I sincerely apologized and pulled down the video, you refused to engage in any discussion or debate with me. https://t.co/2CjWgK3cEH

— Sam Seder (@SamSeder) May 1, 2018
Sam Seder is active on social media like Twitter. He frequently tweets but the media personality does not have an Instagram account. He has a total 83.4k followers on Twitter.