Sean Hannity is an American talk show host, conservative political commentator, and author. He hosts the popular show, "The Sean Hannity show" which is also a nationally syndicated talk show. Apart from that he also hosts a cable news show called the "Hannity" on Fox News.
Hannity has been acclaimed for his work and received many awards and honors throughout his career. Additionally, he has also written three books. Furthermore, he is the husband of Jill Rhodes who is also an American Journalist.
Sean Hannity Early Life, Career and Nationality
Sean Hannity was born on December 30, 1961, in New York city which makes his nationality an American. His parents Hugh and Lillian Hannity were working parents; Hugh worked as a family-court officer while Lillian was a Stenographer. He went to d St. Pius X Preparatory Seminary high school and later dropped out of New York University and Adelphi University.
Which photo should I use for my Christmas card this year? https://t.co/ccaErWDChs pic.twitter.com/oqz4dTFzvP

— Sean Hannity (@seanhannity) November 28, 2017
Initially, Hannity hosted a first talk radio show in 1989 at a volunteer college station KCSB-FM which aired for 40 hours of airtime. After less than a year the show was canceled and he was dismissed for making some controversial comments about homosexuals. However, the determined Sean took advantage of this situation and turned into his favor. He later gained employment at some politically conservative AM stations WVNN in Athens, Alabama, and later WGST in Atlanta.
Later in 1996, he joined the Fox News as a conservative co-host alongside Alan Colmes of the show, "Hannity and Colmes'. The show ended in 2009 after which he hosted, "Hannity's America" which was a weekly conservative current affairs program. Shortly after that he relocated to New York and began working for WABC where he hosted, 'The Sean Hannity Show". The show was syndicated on more than 500 stations in the U.S
Hannity is a Republican and supported Donald J. Trump throughout the elections held in 2016 against Hilary Clinton. Besides doing talk shows, Hannity authors books like Let Freedom Ring: Winning the War of Liberty over Liberalism (2002), Deliver Us from Evil: Defeating Terrorism, Despotism, and Liberalism (2004), and Conservative Victory: Defeating Obama's Radical Agenda (2010).
Sean Hannity Personal Life, Wife and Children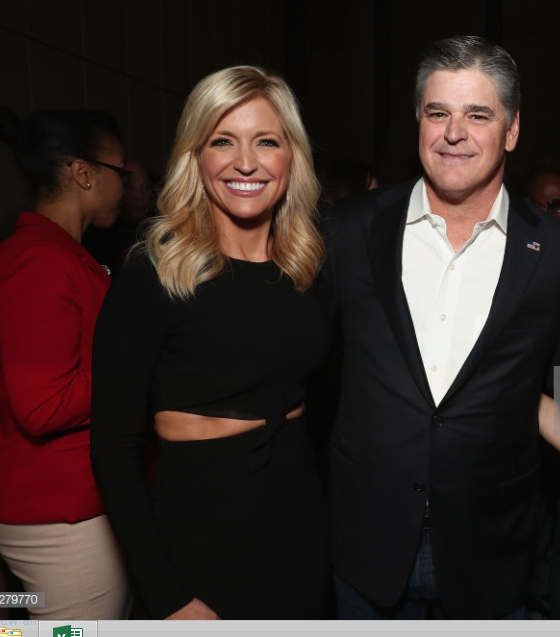 Caption: Screenshot of Sean Hannity with his wife Jill Rhodes attending the Hollywood Reporter award event.
Source: gettyimage
Sean Hannity's career is controversial and lavishing for sure. However, this conservative commentator's private life is nothing so extravagant but simple. He married his wife, Jill Rhodes in 1993 and hasn't separated from her ever since that time. They live in Long Island, New York along with their two children; a son, Patrick Hannity who was born in 1999 and their second, a daughter Merri Kelly born in 2002.
Sean Hannity Total Net Worth and Annual Salary
Hannity might have a TV career but he is one rich man. He was one of the names in the Forbes lists of people with high amount of salary. He has an annual salary of $36 million. As he is the only remaining original at Fox News channel, he garners a great mass of audience for his shows. The man has a total net worth of $80 million.