Staci Keanan is an American actress who came into fame for her portrayal of Nichole Bradford on the NBC sitcom, "My Two Dads". It was this role that won her the Young Artist Award for Best Young Actress Starring in a New Television Comedy Series in 1988. She is definitely one of the child actors Hollywood holds proudly.
While Staci achieved a great deal of fame as a child actress, she has been living under the radar in the recent years. We do know that she is good enough to keep pursuing greatness in Hollywood but her absence in the industry is clearly mysterious. Let us now get to know a bit more about Staci.
Caption: Stacy Keanan in Step by Step.
Source: imdb.com
Staci Keanan: Early Life and Education
Staci Keanan was born as Anastasia Sagorsky on the 6th of June, 1975, in Devon, Pennsylvania. She was born to parents Jacqueline and Irv Sagorsky. Her father worked as a car salesman but Keanan sadly lost her mother at a very young age. So she spent most of her early years with her sister Pilar whom she used to get along with pretty well.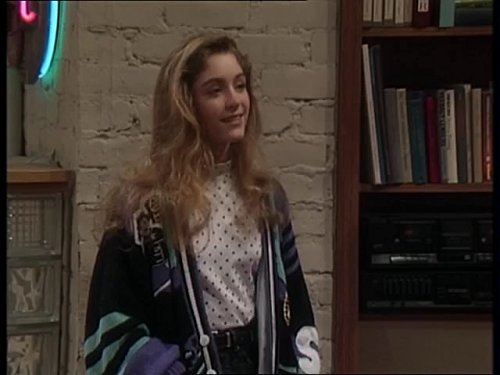 Caption: Young Staci Keanan in My Two Dads.
Source: imdb.com
Looking at her academics, Keanan went to join the Southwestern Law School and graduated with a license to practice Law in Los Angeles. She next joined UCLA and graduated from this reputed institution with a degree in Art History. Whilst an amazing student, she was also pursuing modeling from a very tender age of 5. She has gone on to make appearances for names such as Burger King, My Little Pony, and Hershey's Kisses.
Staci Keanan: Career
Staci made her official debut into the world of entertainment in 1987 for "I'll take Manhattan". She appeared as character Angelica Cipriani. She soon managed to land herself a role in My Two Dads. Her portrayal of the character Nicole Bradford brought her to the limelight. She went on to make 50 appearances for the show from 1987 to 1990. It was in the same year that she got to make her movie debut. It was for the movie Lisa where she appeared as Lisa. Her other movies include Sarah's Choice, Nowhere, You Again, etc.
She was next cast as Lindsay Bowen in the TV series, "Going Places" in 1990. She made appearances in 22 of its episodes. Staci was just getting started and next got the role of Dana Foster in the TV series, Step by Step. She went on to appear in 159 episodes and her performance for the show was critically acclaimed. You might also remember the beautiful Staci from her appearances in series like "Boy Meets World" "Lois and Clark: The New Adventures of Superman", etc.
Staci Keanan: Personal Life
Now coming to her personal life, Stacy is a married woman, well at least according to the rumors. She had previously been dating Guy Birtwhistle and were together for 8 years. They first met sometime around 2008 and reports suggest that Keanan got married to Birtwhistle on the 11th of February, 2017.
Staci also seems to love animals; she has her own cats named Scarlett and Fatty. She also has a golden retriever called Wally. Looking at the way she treats them, her love for these animals is evident. Continuing on the topic of the things that she likes, she is also a big fan of the book, "Gone With The Wind". Staci also seems to like tennis and the band Depeche Mode.
Staci Keanan: Net Worth and Social Media
While Staci might not be as active as we would have wanted her to be in this industry, she has certainly been able to earn a name for herself. She began acting from a very young age and is one of the most experienced actors out there. As per sources, Keanan has a net worth of $1 million. However, the figures are not official.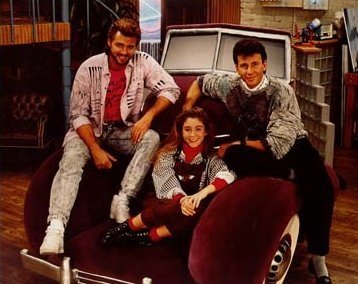 Caption: Staci on the set of My Two Dads.
Source: reddit.com
Sadly for us, Staci is not active on any social media platforms. As per our understanding, she is a very private person and likes to stay away from media. She is also focusing on her career and personal life and these platforms are mere distractions for her.