Tasha McCauley is the wife of the famous Hollywood superstar Joseph Gordon-Levitt. She though is a bit different from most spouses who remain under shadows of their successful partners. Tasha is far from a mainstream Hollywood spouse. She for many years has been a robotic scientist and is the co-founder of a company, "Fellow Robots."
Although Tasha is not someone who enjoys the limelight, her public profile has soared off the roof since she got married to the "500 Days of Summer" actor, Joseph. She is a person of intellect and does not fancy or even want to be part of gossips that flow around the media. Let us now get to know more about the robotic scientist.
Caption: Tasha in her Twitter Display Picture
Source: twitter.com
Tasha McCauley: Early Life, Education
Tasha McCauley was born in California, United States. Her date of birth though remains unknown but she is believed to be born in the 80's. Tasha grew up in Los Angeles and Santa Monica, California for the most part of her life and holds an American nationality. She is ethnically white and is multilingual, speaking over two languages in English, Spanish and Arabic.
Caption: Tasha and Joseph at the Hilarity Charity event on Halloween.
Source: livingly.com
Tasha, for her elementary school, attended the Stephen S. Wise Temple School in Los Angeles for 2 years. After that, she transferred to Franklin Elementary School in 1987 to complete her early education. For her high schooling, Tasha attended the Santa Monica High School and Crossroads High School from where she graduated in 1996. McCauley then went on to get her Bachelor's in Arts from the Bards College in 2004 and later got a degree in Robotics from the Singularity University in 2011. She has also earned herself a BA and an MBA in business from University of Southern California Marshall School of Business.
Tasha McCauley: Career
Tasha kicked off her career working in robotics and even taught Robotics and Artificial Intelligence at her Alma mater. After her graduation from the University, she was made the Director of Autodesk Innovation Lab, at the institution. Tasha then went on to start her own company in the form of Fellow Robots. Her company was based in NASA Research Park in San Jose but she stepped down in 2014. She got an offer with a role as a director of Business Development at GeoSim Systems Ltd- a company that designed 3D-models for actual cities for real estate planners.
Tasha is now a member of the board of directors of the "Ten to the Ninth Plus Foundation". The company works for technological innovation and advancement globally. She at such a young age has done so much and remains an inspiration for many, because of own work rather than her spouse's.
Tasha McCauley: Personal Life
The social media platform Twitter went to a frenzy when Hollywood's Mr. Charming, JGL got married to a relatively lesser known robotic scientist. Tasha and Joseph met in the early-2013 when they were introduced by a common friend. Soon after, the couple started dating and made their home in LA. Their wedding was quite discreet on the 20th of December, 2014 with only close friends and family in attendance.
Caption: Tasha and Joseph with their child.
Source: dailymail.co.uk
Now Tasha and Joseph have two sons and blessed the world with their genes. The couple welcomed their first son in 2015 and the second in 2017. However, the names remain unknown. McCauley is currently enjoying a delightful life with her family in California.
Tasha McCauley: Net Worth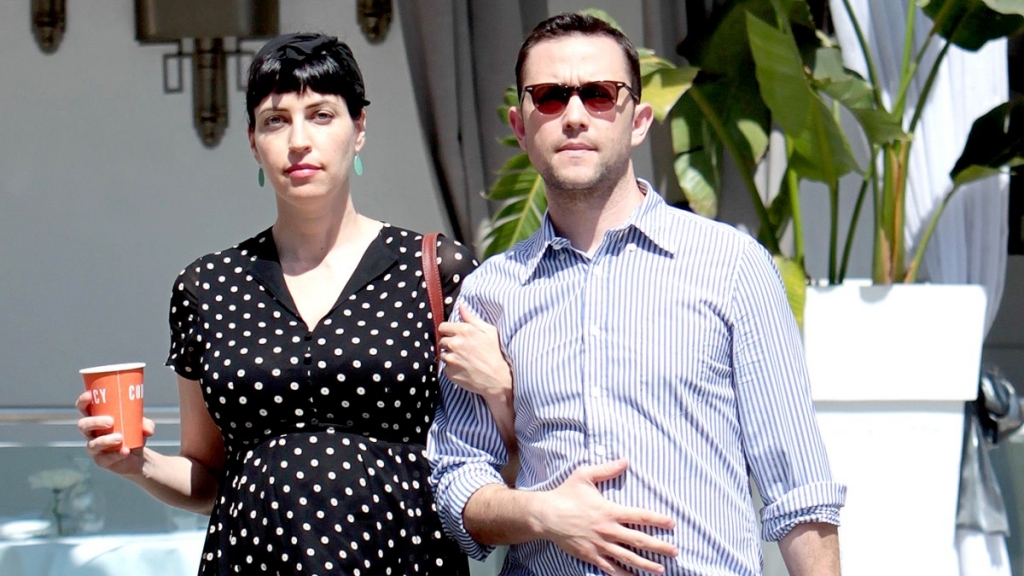 Caption: Joseph and Tasha walking in the streets.
Source: usmagazine.com
Tasha has marked her presence in the world of technology and has ventured in much innovative work. As of 2018, she seems to be making a good sum of money. Her net worth is in the range of $10 million. Though Joseph, being a prominent name in Hollywood, has his net worth set at $35 million.
The couple currently lives in a 1940 home in the Franklin Hills in Los Angeles which they bought at a reported price of $3.25 million.
Click to know about an unusual model, Lil Miquela and the robotics concept of the uncanny valley.