With over 28 million followers, Baby Ariel or Ariel Martin is a singer and an American social media personality. She is mostly known for her videos on the Music.ly app. Ariel and her videos are notable on the platform like music.ly, Instagram and YouTube and just like Susan Coffey, she seems to be doing extremely well for her age.
Caption: Baby Ariel Press Photos
Source:babyariel.com
Baby Ariel: Early Life, Education, and Career
Ariel Martin was born on November 22, 2000, in South Florida to her father Jose Martin, who is Panamanian by birth and mother Sharon Kremen Martin. Her parents have been very supportive of what she is doing throughout the years. Her mother even helps her manage her social media platforms at times. Ariel also has a brother Jacob who was born on March 21, 2004. Jacob like her sister is also a popular social media personality.
The meteoric rise of success for the 17-year-old began on one random, lazy summer day in 2015 after finding about the Music.ly app on Instagram. After indulging deeper into the app, she eventually rose up with massive fame and publicity with no looking back.
The app was started as a platform for creators letting them make videos, play around with songs. And she has used the platform really well, having done some incredible lip syncs to some to some of today's greatest hits.
Ariel is looking to expand her presence on multiple social media platforms. It is where she portrays her life activities. She also posts tutorials on music, fashion and fun videos with her mother or friends. For her interesting and creative personality, she seems to be loved and even worshipped by many.
Caption:  Baby Ariel attends The 20th Annual Webby Awards
Source:billboard.com
In 2016, Ariel signed for a talent agency CAA and won the Teen Choice Award of Choice Musor in 2016 and 2017. Baby Ariel was also listed by Time magazine in June 2017 as one of the most influential 25 people on the internet. This list had the likes of J.K. Rowling, President Donald Trump, and Kim Kardashian.
Baby Ariel: Personal Life
Ariel has tried to separate her personal and professional life but as it is the case with most celebrities, most seem to know things that happen behind the curtain. Ariel dated fellow musical.ly star Zach Clayton for a while before they broke up. She now is in a relationship with Blake Gray and their romantic life seems to be going well.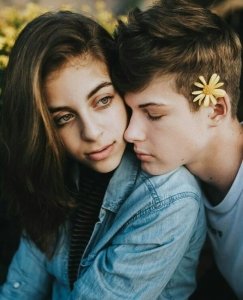 Caption:  Ariel and Blake
Source:pinterest.com
Baby Ariel is doing her best job without having to harm others. And for that very reason, she has not been involved in any controversy. Her adorable looks and work make her lovable. She also is too young to have rumors floating around.
Baby Ariel: Net Worth
The internet superstar is well ahead of her time. At just 17 she seems to be doing well, with schools to attend and careers she might pursue in. Her being one of the more influential social media users is certain to have perks and as of 2017, she seems to have a net worth of $1.75 million.
Ariel is modest and when enquired, in the light of her humility, accords the credit of her success to her fans and followers. Her personality and her character of always being cheerful, and personifying her confidence in things that she does make her do really well in what she chooses to do.