Bryan Chatfield Sanders is a famous America media and political consultant, best known for his association with the Republican Party. Sanders is married to Sarah Huckabee, the daughter of Mike Huckabee, and the current Press Secretary for the Trump administration(also see Rebecca Claire Miller).
While Sarah is serving as for the Trump administration, Bryan has been working for the Wickers Group. Like Sarah, Bryan has good knowledge in politics and has been on several campaigns. Without further ado, let us now learn more about him.
Caption: Bryan and Sarah at the White House Correspondents' Dinner
Source: cbsnews.com
Bryan Chatfield Sanders: Early Life, Education, and Career
Bryan Chatfield Sanders was born in the year 1982, on the 24th of October in Kansas, the United States of America and he is ethnically white. He grew up in Johnson County city, Mission Woods. Bryan graduated from 'Shawnee' Mission East High School and holds a degree in campaign media from 'Colby College' in Waterville, Maine. Bryan graduated from his college in 2006 and soon after commenced his career in politics.
Bryan's political career began when he joined as a staff in the office of the 46th Governor of Kansas, Samuel Dale Brownback. He did earn himself a promotion later as Samuel's press assistant. Brayan then got appointed as the campaign manager of Samuel's presidential candidature in 2008. After some time, Samuel withdrew his candidacy and then Bryan joined the presidential campaign of Mike Huckabee.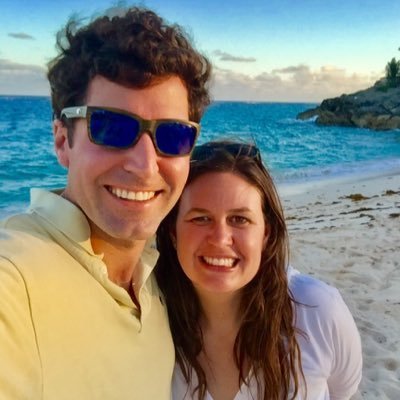 Caption: Bryan and Sarah enjoying on the beach.
Source: twitter.com
Bryan in 2009 got hired by the political media firm 'The Wickers Group'. Later that same year, his smart management and strategies for Robert J. Bentley's 2010 Alabama gubernatorial election campaign resulted in a victory. Since then, he became a key figure for the Republican campaigns.
Sanders served as a political advisor and campaign manager for many other politicians including Congressman French Hill, Attorney General Scott Pruitt, and State Treasurer Lynn Fitch. In 2016, he and his wife founded their own consulting firm, 'Second Street Strategies'. The firm specialized in research, polling, structuring strategies, advertisement campaigns, etc. Bryan has been the head of all the research, polling and strategy projects.
Bryan Chatfield Sanders: Personal Life
Sanders met Sarah during the presidential campaign of her father, Mike Huckabee in 2008. He had interactions with Sarah during that period which later started beginning into a relationship. The couple got engaged after the campaign was over. They exchanged their rings in August 2009 at Bryan's family house in Kansas. They then got married in the 25th of May 2010 in St. John of Virgin Islands.
Caption: Sanders family with Donald Trump and Melania Trump.
Source: celebrityxyz.com
Bryan and Sarah have two sons and a daughter. Their first born was Scarlett on May 10th, 2012. Their elder son William was born on October 16, 2013, and the youngest child George on June 8, 2015.
Bryan has been a supportive husband to Sarah and he often guides her. It is widely believed that Sarah's decision to join the 'Trump campaign' was solidly backed-up by Bryan. They did have a difference of opinion during the presidential candidacy but Bryan did support his wife's decision because he believed this was the best chance for Sarah to beat Hillary Clinton.
Bryan Chatfield Sanders: Net Worth
Bryan, throughout the years, has been serving different political parties as an intellectual. As of the year 2018, there have been estimations that Bryan Chatfield Sanders has a net worth of $5.7 million. On the other hand, his wife Sarah earns $165,000 as the Deputy Secretary and her net worth is in the range of $8 million.
Sanders is not very active on social media but can be found on Twitter with the handle '@sanders_bryan'.