Cleo Cole Elliot is mostly known as the daughter of actors Sam Elliot and Katherine Ross. She is their only child and also the granddaughter of Dudley Ross and Katharine Hall. Cleo pursued her career as a singer specializing in the classical music. She has also received training in classical music which adds to her musical pursuits. Furthermore, she is also a part of the American Society of Composers, Author, and Publishers.
Cleo showed a passion for music from a very tender age. The artist released her debut album, "No More Lies" in the January of 2009. She is also a member of the American Society of Composers Authors and Publishers. Elliot has performed in several musical events and prefers performing to recording. She still pursues her musical career and is finding a way from it. Let's get to learn more about the 33-year-old. Click here to read about the trained musician and singer, Arko Mukhaerjee. 
https://www.instagram.com/p/BZhe9FJgeGK/?hl=en&taken-by=cleoroseelliott
Cleo Cole Elliott: Early Life, Career, and Controversy
Cleo Cole Elliot was born on September 17, 1984, in Malibu, California which makes her nationality an American. This was the same year her parents got married, four months prior to she was born. Being the only daughter of Sam Elliot and Katherine Ross, Cleo garnered a lot of attention since childhood from the media. As she became interested in music from a very young age, she studied singing specializing in Italian Opera under the mentorship of Charity Chapman.
https://www.instagram.com/p/BWuvvDaAjx_/?hl=en&taken-by=cleoroseelliott
Meanwhile, for a short-term, Cleo also tried her luck in the modeling career with live hair styling show for "SEXYHAIR" in 2003. Later in the year 2006, she graduated from the  Joanne Barron/D.W. Brown Acting Studio. 3 years after graduation she trained herself as a classical singer. However, in the year 2008, Cleo released her own first solo CD. The solo track was called "No More Lies". She confessed to being influenced by heavy rock music and the artists like 'Pink Floyd', 'Jimi Hendrix', and 'Guns n Roses'. She is at present the member of ASCAP(American Society of Composers, Author, and Publishers.
https://www.instagram.com/p/BTZA3fdgyDB/?hl=en&taken-by=cleoroseelliott
Elliott despite being the only child of her mother Katherine Ross came into a controversy with her mother. In the year 2011, Cleo was accused of trying to kill her own mother. Katherine Ross claimed that her daughter followed her around the house saying that she wanted to kill her. When trying to reach the police, Cleo cut the telephone line with scissors and threatened to poke Katherine's eyes out. The whole situation was a big controversy as Cole was asked to stay at least 100 yards away from her mother. It is still not clear as to the unexplained behavior of Cole.
Cleo Cole Elliott: Personal Life and Boyfriend
As per controversies as Elliott might have faced with her mother, there is very less information regarding her personal life and dating history. Cleo Cole is currently is single as there is very less information about her relationships if there is any and Elliot is very private about it as well. So we can't really tell if she has a boyfriend or not.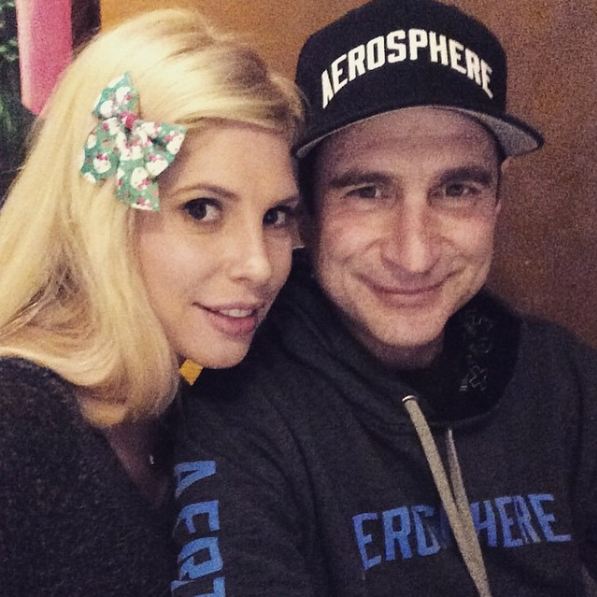 Caption: Cleo with her boyfriend Randy Christopher.
However, Elliot is unmarried but is believed to in a relationship with a professional cyclist boyfriend, Randy Christopher. The couple is together since 2013 and a lot about them can be observed on Instagram where they post pictures of each other.
Elliott is a single child of Hollywood superstar parents and was not in a good relationship with her mother. Growing up Cleo used to abuse her mother emotionally and verbally.
Cleo Cole Elliott: Total Net Worth
Cleo Cole Elliott with her music career is doing just fine. She has definitely not achieved what she was looking for in life. Having said that, she is still a strong figure. She has made a decent amount of money from her first album and then also from modeling. She also belongs to a wealthy family. Her father Sam holds the net worth of $10 million and her mother Katherine $5 million dollars. Elliot too earns a decent sum from many fashion lines and brands as an endorsement. It is assumed that her net worth must bo more than $1 million.
https://www.instagram.com/p/BhN0hhWAIzz/?hl=en&taken-by=cleoroseelliott
Elliott is also active on Social media. She shares glimpses from her personal life in her Instagram account where she currently has around 5K followers. From her Instagram posts, we can find out she is also an animal lover.