Richard Wayne Van Dyke is an American actor who contributed his life in the Hollywood film industry for more than seventy years. He is also a singer, dancer, comedian, writer and Disney legend. The actor is popular for his 1963 role in the musical comedy film 'Bye Bye Birdie' and his television comedy series 'The Dick Van Dyke Show'. He was hosting the tv show for 5 years that is 1961 to 1966.  Similarly, he played in the drama series 'Diagnosis Murder' and many other movies such as Chitty, Bang, Bang, Night at the Museum and Dick Tracy. Through these shows, he was able to give his best performances and even get awarded some of the honorable awards such as Emmy Awards.
Caption: Dick Van Dyke
Source: AOL.com
Dick Van Dyke: Early life, Family and Education
Van Dyke was born on 13 December 1925 in West Plains, Missouri, to 'Hazel Victoria' and 'Loren Wayne Van Dyke'. His mother was a stenographer and his father a salesman.  He along with his sibling brother 'Jerry Van Dyke' grew up in Danville, Illinois. His brother even starred in his show 'The Dick Van Dyke Show'. But his brother is best known for a role in the TV series 'Coach'.  Dick Van Dyke always had a group of people interested in acting like a child. Some of his high school classmates who turned out to be successful entertainers are Donald O'Connor and Bobby Short.
Caption: Young Van Dyke
Source: pbs.org
Before pursuing his acting career, young Van Dyke even considered a career in ministry, however it did not last for a longer period of time and soon he joined a drama class in high school to become a professional entertainer. According to his autobiography, he says, "I suppose that I never completely gave up my childhood idea of being a minister. Only the medium and the message changed. I have still endeavored to touch people's souls, to raise their spirits and put smiles on their faces." Although he became an actor, Van Dyke taught Sunday school in the Presbyterian Church and continued to read such theologians as Buber, Tillich, and Bonhoeffer. He served people by explaining the practical terms of the relevance of religion in everyday life. One of the reasons he worked as a Minister was because of the influence he got from his religious maternal family.
Dick Van Dyke: Career and achievements
In the beginning, Van Dyke struggled with his finance and profession but he never stopped working hard. Van Dyke started getting attention on radio and Broadway. Slowly he became famous for playing 'Rob Petrie' on the CBS television sitcom 'The Dick Van Dyke Show' for five years. The actor also earned popularity for roles in the musical films 'Bye Bye Birdie', 'Mary Poppins', and Chitty Chitty Bang Bang. His other phenomenal performances public remembers him for are 'The Comic', 'Dick Tracy', 'Curious George', 'Night at the Museum', 'Night at the Museum: Secret of the Tomb', and 'Mary Poppins Returns'.
In addition, Van Dyke is the recipient of five Primetime Emmys, a Tony, and a Grammy Award. In 1995, He was even included in the Television Hall of Fame. The actor received the Screen Actors Guild's highest honor, the 'SAG Life Achievement Award' in 2013. Also, he has a star on the Hollywood Walk of Fame with his name on it.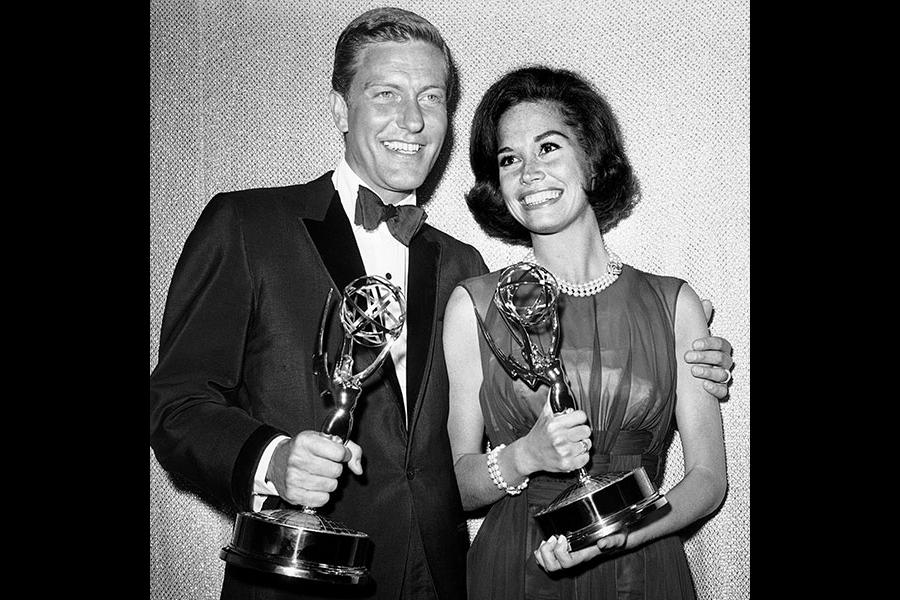 Caption: Van Dyke receiving awards
Source: Emmys
Dick Van Dyke: Personal Life
Van Dyke is a father of four children with his first wife, Margie. They two married on a radio show called 'Bride and Groom' in 1948. Lesser-known fact,  the program paid for their wedding ceremony and gave them a free honeymoon. But eventually, the couple separated officially in 1984. Afterward, Van Dyke in the late 1970s dated 'Michelle Triola', who Triola had been working as Van Dyke's agent's secretary. Since then, both of them were together for almost 30 years, until Triola's death in 2009. After that, the actor wed Arlene Silver in March 2012, when he was 86-year-old  and his partner was 40-year-old.
Dick Van Dyke: Net Worth and social life
The actor has a total net worth of $50 Million. His main source of income is his acting career. Van Dyke is available on different social media platforms like Instagram and Twitter. He has an Instagram account named 'official_dick_van_dyke' with 30.8k followers. Similarly, he is also available on Twitter with username 'imamrvandy' where he has 213k followers.
Dick Van Dyke: Body Measurements
The actor used to be one of the most charming personalities and even had thousands of female fans following earlier. He is 1.778 meters tall and had rectangular body type when he was young.