Eddie Money was a legendary American rock singer and songwriter who had career success in the 1970s and 1980s. Further, he was recognized as a working-class rocker with his Husky voice. He debuted his first album in 1977 and over the next decades, he became popular with 11 Top 40 songs including "Baby Hold On", "Two Tickets to Paradise", "Think I'm In Love", "Shakin'", and "Take Me Home Tonight".
The singer has also written and performed for films including "Americathon (1979)", "Over the Top, Back to the Beach (both 1987)", and "Kuffs (1992)". He had been an advocate for the animals and joined forces with Howard Perl Entertainment to raise funds for the animals. In 2018, he appeared in the reality television series followed by the plot on his family aired on AXS TV. Before his death on 13 September 2019, he has shared information on his cancer diagnosis as well.
Caption: The veteran singer, Eddie Money.
Source: Variety
Eddie Money: Bio, Family, Education
The veteran singer was born on 21 March 1949 in Brooklyn, New York as Edward Joseph Mahoney. He was born as the son into a big family of Irish Catholics and whose family members were into the police department. His father Daniel Patrick Mahoney was a police officer and mother Dorothy Elizabeth a homemaker. Growing up, he had spent time in Woodhaven, Queens, and raised in Levittown, New York. Additionally, his brother also worked in the New York City Police Department.
In his teenager, he tried to follow the path of his family in the police department. But he left in 1968 after working as a clerk and typist to make his career in music. Further, he had attended a few high schools and finished studying from Island Trees High School. In that context, he was suspended from one of the high schools he had attended due to forging a report card.
From a young age of 11, he had been a street singer and played in rock bands. However, in 1968, he moved to Berkeley California after his bandmates didn't recruit him and his father didn't support him. After that, he coached under the vocal coach Judy Davis as well as adopted stage name Eddie Money. During that period, he earned himself by selling bell-bottoms.
Eddie Money: Career & Life Achievements
Before debuting his professional music career in 1977, he became a regular performer at clubs in San Francisco Bay Area. Then he noticed by Bill Graham and signed a contract with Columbia Records. In the same year, he released his debut album with two charted songs: "Baby Hold On" and "Two Ticket To Paradise". In 1978, he opened the Boston's Music Hall for music band Santana followed by his uncredit contribution in the bridge section of the song "I'm Alright", written and sang by Kenny Loggins.
After gaining success in the late 1970s and early 1980s, he began to decline an unsuccessful 1983 album which leads him to struggles with drug addiction. He returned to the industry in 1986 with the album "Can't Hold Back" that gained a music recording certification of platinum. Following that in 1988, he recorded his seventh studio album "Nothing to Lose" with the Top 10 hit "Walk on Wate" and Top 40 hit "The Love in Your Eyes".
Since 1992, he had traditionally opened the summer concert season for DTE Energy Music Theatre in Michigan. In 2008, he was inducted into the Long Island Music Hall of Frame. Before his death in September 2019, it announced that he would release the track "Brand New Day" with the same album name on 10 May. Because of his death, the album set to be released on 17 April 2020.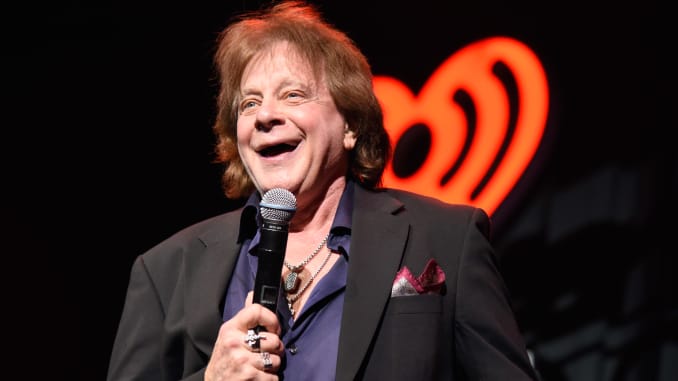 Caption: The late Eddie Money performs on the stage during the iHeart80s Party 2017 at SAP Center in San Jose, California.
Source: CNBC
His career in Television, film, and Radio:
He appeared in a documentary film Wonderland that showcases the town Levittown, New York where he went to high school. Then he played a fictionalized version of himself in an episode of the fifth season of "The Drew Carey Show" in 1999. Following that, he featured as himself in the sitcom "The King of Queens", starring Kevin James.
With his song "Two Tickets to Paradise", he featured in the 2012 GEICO insurance commercial as well. Before that in 2011, he became a host for the WSRV show "Money in the Morning" for three months. Then in 2018, he appeared in an episode of the American comedy-drama "The Kominsky Method" starring Michael Douglas and Sarah Baker. Then in 2018, he began to appear in his reality television show "Real Money" based on his home tour and the lifestyle of his and other family members.
Eddie Money: Personal Life, Wife, & Death
Money was a married man and had spent three decades of his life with wife Laurie Money till his last breath. Previously in 1984, he had married Margo Lee Walker at Valentine's Day. Though at the time, he tried to hide the fact, the life of a celebrity couldn't be hidden from his fan's crowd. However, the duo separated after a few years. Then he met his true love, Laurie Harris in 1985 as he told People Magazine in 1996.
Harris was working as a model when they first met, soon after the sparks began to build into a romantic relationship. Further, he had also said in the interview that he began to sober after meeting his future wife. Together, the couple had welcomed five children: Zachary, Jessica, Joseph, Julian, and Desmond. Just three months prior to his death, the couple had renewed their vows.
Previously, Money had struggled with his drinking and drugs habit. In 1980, due to an overdose of a synthetic barbiturate mistook for cocaine after drinking vodka, he suffered from damage to the sciatic nerve. For months, he was unable to walk and had a permanent limp. In 2001, he joined a twelve-step program to deal with his drinking habit and changed himself for his family. Then he became clean and sober by the year 2013.
Moreover, he had undergone the surgery of the heart valve and contracted pneumonia. As of 24 August 2019, he revealed that he diagnosed with stage 4 esophageal cancer. From the complications of the disease, he passed away at the age of 10 on 13 September 2019 in a Los Angeles Hospital.
Caption: Eddie Money with his family.
Source: Instagram
Eddie Money: Net worth & Social Media Profiles
During his lifetime, he has made a huge amount from his music career as well as appearing on the screen. He mainly earned a lot from his long run music career developing around 11 Top 40 songs over his life. Further, he has worked in several commercials as well as tried his hands-on business endeavors too. Therefore, his net worth has an estimation of around $15 million at the time of his demise.
He was very active over different social media platforms which we can see today as well. He had a verified Facebook account having more than 330k followers. On Instagram, he has an account @imeddiemoney with 19.5k followers. On Twitter, he goes by the account @ImEddieMoney with 31.1k followers.
Eddie Money: Body Measurements
At the time of his demise, he was battling from stage 4 esophageal cancer. The complications resulted in the death of Eddie in a Los Angeles hospital on 13 September 2019 at the age of 70. The singer had a height of 5 feet 10 inches tall in height and weighs around 68 kg at the time. He had light brown hair color with blue eyes color.