An Italian explorer, Giovanni da Verrazano, first explored the Atlantic shoreline of NA between New Brunswick and Florida in the year 1524, also including Narragansett Bay and New York Bay.
Furthermore, people also believe that he discovered Delaware Capes and Virginia, the Maine Coast, Rhode Island, New Jersey, and the Massachusetts Bay. Nonetheless, he put his life at risk by visiting Syria and Egypt too. Those places were not only considered difficult to reach but also dangerous and mysterious.
Who is Giovanni da Verrazano?
Giovanni da Verrazzano was an Italian explorer born in 1485 to 'Piero Andrea di Bernardo da Verrazano' and 'Fiammetta Cappelli' in Val di Greve, Republic of Florence. However, some believe that he was born in Tuscany, Italy.
On the other hand, French people say that he was born in Lyon, France. Moreover, they believe that he was the son of 'Alessandro di Bartolommeo da Verrazano and 'Giovanna Guadagni'. So, there has been a discussion going on about these topics from the past few centuries.
Giovanni da Verrazano's life as an Explorer
In 1506, Giovanni da Verrazano first began his career as an explorer after he moved to Dieppe in France. His first voyage would be in 1508 when he worked for Thomas Aubert's company. So, he explored some parts of Newfoundland during a fishing trip and the St' Lawrence river in Canada on a ship called 'La Pensee'.
It was the year 1523 that he explored the region between Terranova and Florida, with an objective to discover a sea route to the 'Pacific Ocean'. Four ships sailed for the venture, but it was caught up in a violent storm, and only 2 ships managed to return.
However, they set sail one more time, but this time, they chose calmer sea routes and headed South. But due to some complications, they had to get back to the home port for the second time. On January 17th, 1524, Verrazano's ship called 'La Dauphine' headed for the North American Continent.
The First Important Voyage
After a month and a half, Giovanni da Verrazano wrote a letter to Francis I that they were starting to hear the sound of the Pacific ocean. Furthermore, he told him how they could gain access to China if they manage to discover the whole route. Also, he believed that they would spot a route for the West Coast of North America if they move towards the northern coastline of the New World.
Almost after 50 days at sea, Verrazano steered his ship south, and upon reaching the northern side of Florida, they turned their ship north. On April 1524, they landed on the southern part of Manhattan. They stayed there until a storm pushed them towards Martha's Vineyard.
Later, Verrazano and the crew came to rest at what we called 'Newport, Rhode Island' today. They stayed and interacted with the local population for around 2 weeks, before finally going back to France in July 1524.
The Second and Final Voyage
In 1527, Verrazano planned for a second voyage and it departed from Dieppe with four ships. One of their ships went separated from the others near the 'Cape Verde Islands'. However, Verrazano and his crew had managed to reach the coast of Brazil with two of their ships. There, they harvested a cargo of brazilwood before returning back home in September.
The third ship also returned with a cargo of Brazilwood. Although they didn't find the route to the Pacific Ocean, it inspired Verrazano's Final Voyage. The ship left from Dieppe early in 1528.
Giovanni da Verrazano's Death
In 1528 March, Gio da Verrazano left for his Final Voyage searching for the route to India. Alongside his brother, Girolamo, they sailed along the shoreline of Florida towards the Caribbean Sea. People believe it was the mistake that they should have avoided.
While drifting South, they spotted an unpopulated island, and they dropped their anchor to explore it with just half of their men. However, soon the group of cannibalistic natives attacked and ate them all. And Girolamo and the rest of the members viewed the entire scene without being able to help them whatsoever.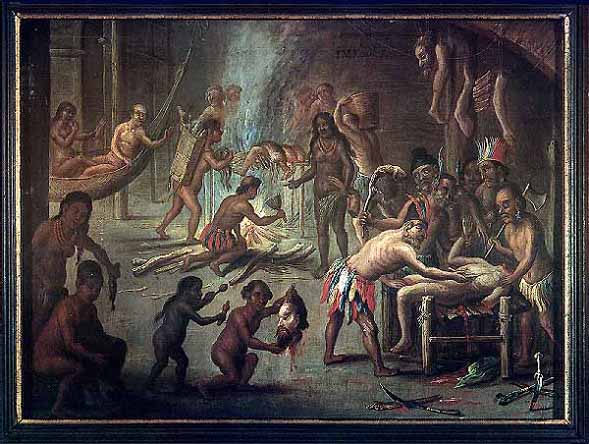 But there are conflicting stories behind Verrazzano's demise. One of the stories suggests, he was formally put to death for piracy by the Spanish at 'Puerto del Pico'. During their Final voyage, they also explored 'The Bahamas', and the 'Lesser Antilles'.
How did Giovanni da Verrazano discover New York?
It was around 10,000 B.C. when the first people arrived in New York. But back then, it was called something else. In 1524, Verrazano led his crew to explore the East Coast of NA in search for a passageway to the Pacific. They were sent by King Francis I and they wanted something to be found.
They arrived near the Cape Fear, North Carolina, in March. Later, the crew and Giovanni headed north to explore more. That was the time when he eventually discovered New York Harbor. But a century later, in 1609, the Dutch claimed the land. Also, that is how the war started back then.