John Felix Anthony Cena Jr. is a former American wrestler, actor, artist, and TV presenter. Cena was born in West Newbury, Massachusetts. However, later moved to California in 1998 to pursue a bodybuilding career. In 1999, he debuted with Ultimate Pro Wrestling (UPW) and moved into professional wrestling. After adopting the character of a trash-talking rapper, he gained fame in WWE. Similarly, in 2004 he won his first single title, the United States Championship. He captured the WWE Championship for the first time in the following year. After that victory, his character transformed into a clean-cut "Superman-like" hero, and then led the company for the next decade as its franchise player and the public face.
Caption: John Cena
Source: WWE
Cena has had leading roles outside of wrestling in movies such as The Marine (2006), 12 Rounds (2009), Trainwreck (2015), Ferdinand (2017), Bumblebee (2018), and F9: The Quick Saga (2020). He released The You Can't See Me rap album in 2005 which went platinum. He is also popular for his involvement in numerous charitable causes.
John Cena: Early Life, Education, and Family
John Felix Anthony Cena Jr. was born in West Newbury, Massachusetts, the son of Carol and John Felix Anthony Cena on 23 April 1977. Through his father, he is of Italian descent and his mother is of English and French-Canadian descent. His maternal grandfather was Tony Lupien, a baseball player with a French-Canadian heritage. He has an older brother, Stephen, and three younger brothers, Dan, Matt, and Sean.
Also, read Dave Rienzi, Stephanie Allynne, Reggie Bush, Noelle Margaret
Caption: Cena's childhood
Source: WWE
He then attended College Springfield in Springfield, Massachusetts. He was an NCAA Division III All-American center on the college football team in college. In 1998, Cena graduated from Springfield College with a degree in exercise physiology and body movement, after which he pursued a bodybuilding career and worked as a limousine driver.
John Cena: Career and achievements
1999–2001
In 1999, Cena began training as a professional wrestler at Ultimate Pro Wrestling's (UPW) California-based Ultimate University, run by Rick Bassman. After putting him in an in-ring situation, Cena began using a semi-robotic character known as The Prototype. Some of this time of his career was recorded in the Inside Pro Wrestling School Discovery Channel show. In April 2000 he retained the UPW Heavyweight Championship for 27 days. Before March 2001 Cena wrestled for the UPW.
WWE
Cena made his unofficial debut for the then World Wrestling Federation (WWF) on a SmackDown tap in a dark match against Mikey Richardson, which he lost, on October 10, 2000, while billed as The Prototype. On January 9, 2001, he received another tryout at a taping of SmackDown in Oakland, California, this time defeating Aaron Aguilera. He wrestled at a SmackDown taping on 13 March in a dark match.
The wrestler signed a development deal with the WWF in 2001 and was assigned to its Ohio Valley Wrestling (OVW) development territory. Cena wrestled under the ring name The Prototype during his time there, holding the three-month OVW Heavyweight Championship and the two-month OVW Southern Tag Team Championship (with Rico Constantino).
Mr. McMahon called the entire roster to the ring on June 24 episode of Raw and announced that he wanted them all to find some ruthless aggression from within themselves and that he was searching for one of them to stand out from the rest of the pack. Cena made his WWE television debut on 27 June 2002, SmackDown's episode by responding to Kurt Angle's open challenge. Cena lost by a pinning combination after declaring that he possessed "ruthless aggression".After the match, Billy Kidman, Faarooq, Rikishi, and The Undertaker congratulated Cena.
WWE Champion
Cena beat JBL to win the WWE Championship at WrestleMania, earning Cena her first World Championship. The wrestler then made a spinner WWE Championship belt, while JBL took the original title belt and claimed to remain a WWE Champion until Cena reclaimed the original championship belt at Judgment Day in an "I Quit" match. Cena asks Mark Henry for an STF. He started using that move in 2005. On June 6, 2005, Cena was drafted for the Raw brand, taking his title with him and becoming the first wrestler chosen in the annual draft lottery.
Caption: Cena wins WWE championship
Source: Flickr
Cena took part in the main event Elimination Chamber match at New Year's Revolution where he retained the WWE Championship when he ultimately eliminated Carlito. Immediately after winning a bloodied Cena, Edge made his way to the ring to cash in his Money in the Bank deal–a "guaranteed title match against the WWE Champion at a predetermined time and place for the promoter." Two quick spears allowed Edge to pin Cena and win the championship. Three weeks later, Cena won the championship back at the Royal Rumble.
World Heavyweight Champion 
Cena made a surprise return as the final competitor of the Royal Rumble match, winning the match, and the conventional WrestleMania title shot, by eventually eliminating Triple H.
Cena became a World Tag Team Champion for a second time on Raw's August 4 episode, teaming up with Batista to beat Cody Rhodes and Ted DiBiase but struggling to retain the title against the former champions the following week. At the November Survivor Series pay-per-view show, Cena made his in-ring debut, beating Chris Jericho to win his first World Heavyweight Championship. After Big Show interference, Cena lost the championship back to Edge in a Last Man Standing match at Backlash, chokeslamming Cena through a big spotlight. This prompted Cena to begin a Big Show rivalry in which Cena beat Big Show at Judgment Day.
Acting career
WWE Studios, a subsidiary of WWE that creates and funds motion pictures, produced Cena's first film–The Marine, which was theatrically released by 20th Century Fox America starting October 13, 2006. The movie made over US$ 7 million in its first week at the US box office. The film grossed $18.7 million after ten weeks at theatres. Once the movie was released on DVD, it fared better, earning rentals of $30 million over the first twelve weeks. His second film was 12 Rounds, also produced by WWE Studios. Filming began at New Orleans on 25 February 2008; the film was released on 27 March 2009.
Caption: Cena in the movie 'The Marine'
Source: newonnetflix
Cena co-starred for a limited time in his third film produced by WWE Studios, titled Legendary, performed in selected theaters starting on September 10, 2010, and released on DVD on September 28, 2010.
John Cena: Personal Life and girlfriend
Cena has repeatedly said that he doesn't want to have children because he doesn't want to be an absent parent while he's concentrating on his career, and he's had a vasectomy. Cena revealed his engagement to Elizabeth Huberdeau while promoting his 2009 movie 12 Rounds. They married on the 11th of July 2009. Cena filed for divorce on 1 May 2012, which was finalized on 18 July. He had started dating fellow wrestler Nikki Bella later that year. Both became engaged when Cena proposed to her on 2 April 2017, at WrestleMania 33 but ended their relationship in April 2018. They were due to get married on 5 May 2018. Recently, John Cena and Shay Shariatzadeh are in a relationship.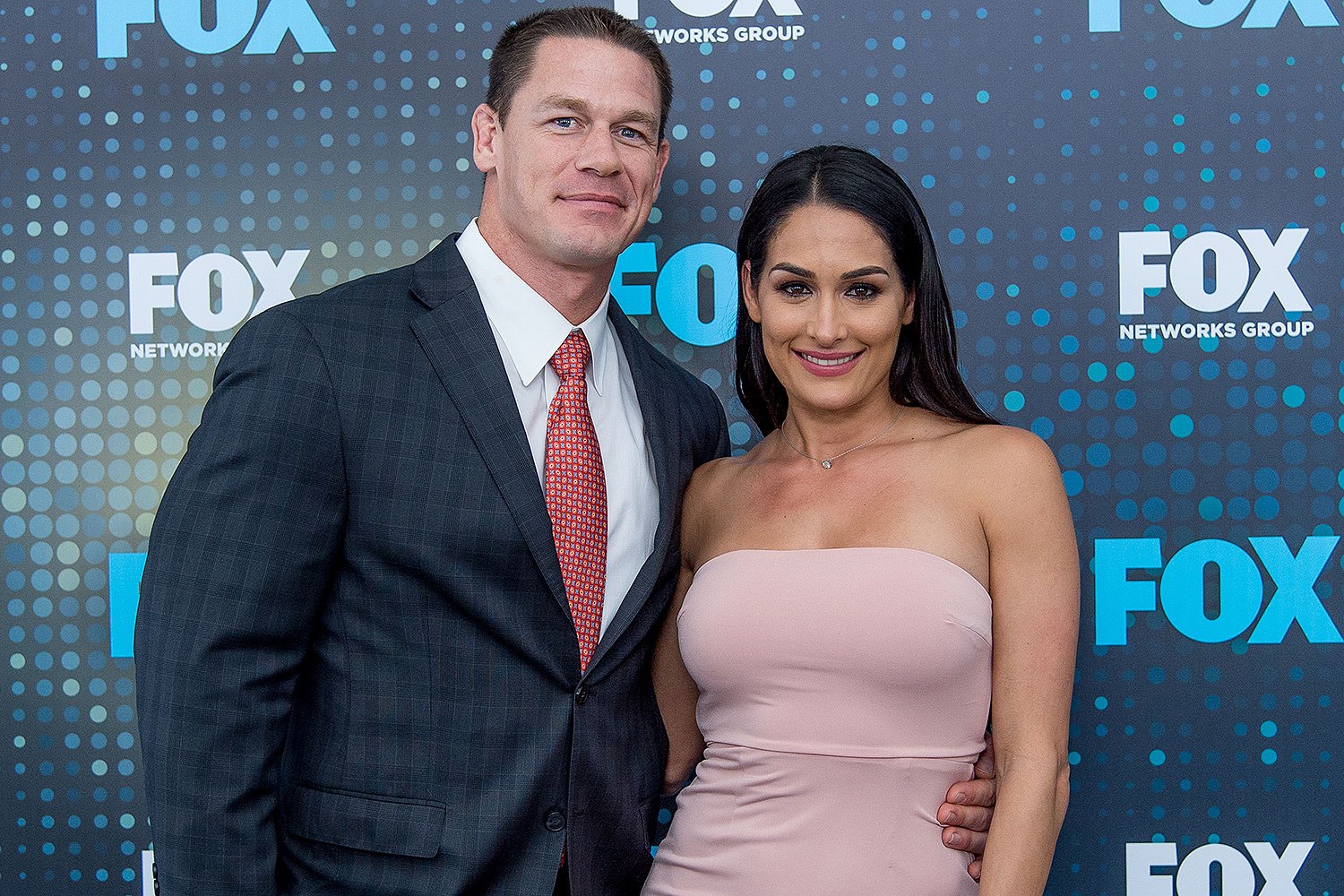 Caption: Cena with his ex Nikki Bella
Source: Flickr
John Cena: Net Worth and Social media
He is most notoriously popular for WWE for wrestling; a profession he has been in since 2001. Cena has also appeared in various films, other than the WWE, including Trainwreck, Sisters, Daddy's Home, and 12 Rounds. John Cena's net worth is $55 million in 2020, making him one of the world's richest wrestlers, only behind Dwayne Johnson.
Likewise, he is available on Twitter by the name JohnCena. However, he is not available on other social media platforms.
John Cena: Body measurements
The wrestler's height is 1.80 meters. He weighs 113 kg. Besides, his body measurements are Chest: 50 Inches – Waist: 36 Inches – Biceps: 19 Inches respectively.